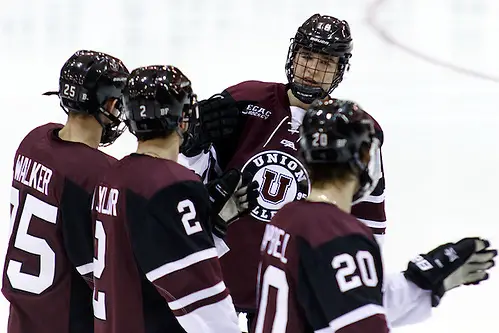 On Wednesday, the top ten Hobey Baker Award finalists were named.
To no one's surprise, Mike Vecchione and Spencer Foo are Union's representatives as they third and fourth in the nation in scoring with 62 and 59 points, respectively. While they have earned the accolades for the sixth-ranked team in the country, the sophomore class has also been the key to the Dutchmen's success, scoring 45 of the team's 139 goals this season.
Sebastian Vidmar and Cole Maier each have 14 goals each. Brett Supinski has eight goals on the season. Ryan Walker has five, Mark Dufour two, while Greg Campbell and Brendan Taylor each have one.
"I credit you on picking up on the sophomore class because I am not going to say that it's the class that led their senior year , and we are fortunate enough to have a really successful season," Union coach Rick Bennett said. "I will tell you what, they have the makings of just through their work ethic and the willingness to get better. I think through their extra work after practice and so forth – skill sessions during the days. I think that really led to their improvement."
The Dutchmen will face Cornell Friday night in the second semifinal game of the evening. While having the first-round bye, they feel like they have been a playoff mode for the past month with the amount of close games they have had at the end of the regular season.
One of those games was against the Big Red, where the teams skated to a 3-3 tie on the last day of the regular season.
"Going down the stretch, we were just trying to battle for a Cleary Cup, where we were fortunate to be co-champs," Bennett said. "I think though those battles weathered us a little bit, that will help us for the playoffs. I thought the first game against Princeton, we felt was a phenomenal matchup. That's going to be a team to be reckoned with because they certainly were this past weekend. Just by those battles, as you are knocking off the rust by having the bye week, the first game it wasn't so much. The second game, maybe we thought it was going to be pond hockey and drop some sticks, maybe we thought it was going to be easy.
"I tell you what, I credit the Princeton team for giving us two battles there. Hopefully, that will help us here against Cornell on Friday night."
The Big Red is making their first appearance at Lake Placid in three years. The current senior class was just freshmen back in 2014.
It's been a long road getting back to the 1980 Rink.
"I think being there their freshman year, coming back for their sophomore year, I think they thought no question we were getting there," Cornell coach Mike Schafer said. "We sustained some significant injuries to (Joakim) Ryan, Reece Wilcox and Joel Lowry. We had a good team that year and we had to play an unbelievable team in Quinnipiac back-to-back years. Both of those years, we had opportunities to move on to Lake Placid."
Quinnipiac getting contributions from freshmen on blue line, in goal
If you want to pinpoint Quinnipiac's success down the stretch, you can point to when freshman goalie Andrew Shortridge was given the keys to the crease in mid-February.
Since then, the Alaska native has won the ECAC Rookie of the Week twice and has led the Bobcats back to Lake Placid.
He has a 13-6 record with a 2.03 GAA and a .923 save percentage this season.
"He's really been good since Christmas," Quinnipiac coach Rand Pecknold said. "Jared Waimon is our goalie coach and Jarod has done a great job with Andrew getting him to adapt to change his game a little bit to be successful at this level. I give Andrew a lot of credit to his work ethic, which has been outstanding all summer, all fall and into the winter, now into the spring. He's battling and he's been getting better and he's got a lot of confidence right now."
The Bobcats will play Harvard Friday afternoon in the semifinals.
Shortridge made a relief appearance against the Crimson in early January.
Harvard coach Ted Donato is ready to face a goalie who playing very well right now.
"I think our league is full of excellent goalies [and] we've seen some great goalies this year," Donato said. "I think Quinnipiac, as a whole, deserves a ton of respect for their success over the years and this year. They finished real strong and beat up on a very good St. Lawrence team on the road, which is really tough to do. I think it appears to me, Shortridge has really continued to improve throughout the year. He's a big guy, very mobile. So we recognize we will have our hands full. I expect him to play excellent and we just got to continue to create opportunities and not get frustrated as he performs well."
On the blue line, Pecknold is getting contributions from two defensemen who applied their trade in the United States Hockey League last season. Brogan Rafferty is second among defensemen on the team with two goals and 22 assists while Kārlis Čukste is third on the team with five goals and 10 assists this season.
"They both have been very good," Pecknold said. "They are totally different players, Brogan is running our first power play now and really dynamic. He really has had a great year. Kārlis is kind of a shutdown (defenseman). We have been happy with both. We needed that with what we lost in our senior class last year, losing Devon (Toews) and Sam (Anas). We needed our freshmen to step in – Kārlis and (Rafferty) have been great. Certainly, we have gotten contributions from our freshmen class across the board."
Bayreuther signs with Dallas; Doherty signs ATO with Providence
Gavin Bayreuther, who just completed his senior year with the Saints, will sign with the Dallas Stars, the team announced Tuesday night.
TSN's Bob McKenize said it will be a two-year deal starting in 2017-18. In the meantime, he will sign an ATO with Dallas' AHL affiliate, the Texas Stars, for the remainder of this season.
He had eight goals and 21 assists in 30 games this season with St. Lawrence. He finished his career with 35 goals and 76 assists in 142 games.
Yale's Mike Doherty has signed an ATO with the Providence Bruins of the AHL, according to the Providence Journal. He had seven goals and nine assists in 33 games this season with the Bulldogs and 30 goals and 37 assists in 115 career games with Yale. He attended the Boston Bruins' development camp in 2014.
Players of the Week
• Mike Vecchione of Union won player of the week honors with a four-point weekend against Princeton. He had two goals and an assist Friday night in a 4-1 victory. He scored on a penalty shot in overtime Saturday for a 4-3 victory and series sweep.
• Alex Whelan of Quinnipiac won rookie of the week with a goal and an assist Saturday evening in a 3-2 victory, while scoring in another 3-2 victory Sunday in Game 3.
• Alex Sakellaropoulos of Union won the goaltender of the week honors going 2-0 against Princeton. He made 30 saves Friday night and 39 more on Saturday night.
My ECAC Hockey Media Association ballot
Player of the Year — Mike Vecchione, Union
Rookie of the Year — Adam Fox, Harvard
Goalie of the Year — Merrick Madsen, Harvard
Coach of the Year — Ron Fogarty, Princeton
Defensive Forward — Mike Marnell St. Lawrence
Defensive Defenseman — Josh Teves, Princeton
All-ECAC Team
F: Mike Vecchione-Spencer Foo-Ryan Donato
D: Adam Fox-Gavin Bayreuther
G: Merrick Madsen
All-Rookie Team
F: Jackson Cressey-Sheldon Rempal–Will Graber
D: Adam Fox-Ben Finkelstein
G: Jake Kielly