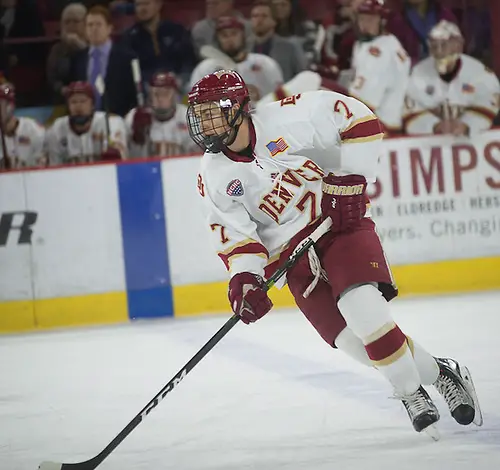 Denver enters this weekend's NCHC Frozen Faceoff in Minneapolis as the hottest team in college hockey, winners of 13 straight and currently ranked No. 1 in the polls.
While hockey players have a reputation for being superstitious, Denver coach Jim Montgomery isn't, something he discussed Friday night after winning for the 13th time in a row over rival Colorado College en route to a series sweep.
"The only thing that's good is I'm not superstitious; the number 13 doesn't bother me," said Montgomery
Denver isn't only ranked first in the polls. The Pioneers, who have some fearsome scorers in players like Henrik Borgström, Troy Terry and Dylan Gambrell, are ranked first in overall team defense, giving up only 1.84 goals per game.
"I think the one thing that has been the backbone of our success this year all year long has been our commitment to team defense, and I think with Tanner (Jaillet) in net, and five veteran 'D' that have brought along Michael Davies as a freshman, they kind of lead us in our in-your-face type hockey," said Montgomery. "I think because of our ability to play good defense, it leads to turnovers, which has led to a lot of transition opportunities, and I think that our younger group up front has gotten more confident and comfortable having those opportunities and being a little more relaxed and poised with the puck."
Another strong part of the team's defense is senior captain Will Butcher, who is also fourth on the team in points with 35.
"[Butcher] thinks of the team first," said Montgomery. "He doesn't think about his personal accolades [and] he doesn't think about pro hockey. He's immersed in the moment. I think his ability to stay focused and lead the team with a team-first attitude has permeated through our locker room."
Second-half success is nothing new to Denver.
Last season, the Pioneers won 11 in a row entering the Frozen Faceoff, and had a 16-1-3 record in the second half entering the Frozen Faceoff, where they promptly lost to St. Cloud, which Montgomery attributes in part to a slow start. However, he feels in both this year and last, the players have looked more calm as the season progresses.
"I think it's just players getting comfortable in their roles and really getting comfortable in what Denver hockey is when we have the puck in every situation," Montgomery said. "I think our team has really grown and we've continued to get better throughout the year, and we're really excited to be back at Target Center."
Another aspect of Denver's success has been offensive depth.
Last year, Gambrell played on the top line with Danton Heinen and Trevor Moore, a trio dubbed the Pacific Rim Line. This year, Gambrell is on the second line, but he is scoring at the same pace, which presents a challenge for opposing teams who may have to choose between shutting down Borgström and Terry on the top line or trying to stop Gambrell and his cohorts, Evan Janssen and Liam Finlay, on the second.
"Yeah, no question we think we are deeper," said Montgomery. "A huge part of the recruiting emphasis has been trying to get players that naturally have offense to their game and being able to teach them the defensive part of the game."
Denver has advanced to every Frozen Faceoff, though this will be their first appearance as the top seed. Friday, they get to play North Dakota, a team that will be playing with desperation to ensure their season continues, and the team that eliminated them last year in the Frozen Four.
"The intensity of this game is going to be great right from the start, just like it was in the Frozen Four last year, and you even look at the two games we played at North Dakota, they were intense games," said Montgomery. "They were back and forth. It's going to be great hockey and people better buy some tickets because you don't get to see great games like this very often, and we're expecting it just to be a barn-burner."
North Dakota takes playoff mode as key to success
North Dakota enters the Frozen Faceoff winners of four straight and in a good position to return to the NCAA tournament and attempt to defend its national championship.
Three weeks ago, their playoff lives were a lot more precarious; it even looked like the Fighting Hawks might go on the road for the first round of the playoffs for the first time in over a decade.
Those facts forced North Dakota to adopt a playoff mentality that has served them well, according to coach Brad Berry.
"Our lives were on the line," said Berry. "We were in playoff mode the last month here. There was an element of desperation in our game, but within that, we still played the same way we did. I think the adversity we've had with being a little inconsistent with a young team has helped us as far as maturing and growing from our past experiences. It was a testament to that Saturday night against St. Cloud, which by the way, is a top team in college hockey. We battled and battled and they did, too, and we found a way to win in overtime. I think earlier in the year, that didn't happen. We've made some great strides and great steps, but we still have to get better. We have a tough weekend with four top teams in Minneapolis, and we're looking forward to the challenge ahead."
Against St. Cloud, North Dakota won two tough games. Friday's 5-2 score was deceptive, as when Jimmy Schuldt scored for St. Cloud just past the midway point of the third period, it pulled St. Cloud to 3-2, something that led goaltender Cam Johnson to throw his stick in disgust or frustration, or both.
"I think that's who he is; he's a very competitive young man that wants to win all the time, as well as our whole group does," said Berry of Johnson. "There was a little frustration there, probably on behalf of our team and of behalf of himself, saying, 'Hey, I should have had that,' or we should have had that as a group. When we won the national championship, he was the goaltender and he was very impactful in that run to win that year, and he's a competitive player that wants to replicate that."
Though the Fighting Hawks are the defending national champions, most of their leadership from that team is gone. The team only has two seniors this year in goalie Matt Hrynkiw and defenseman Gage Ausmus, and only Ausmus, the captain, plays regularly. Besides Johnson, North Dakota only has four juniors, so some of the younger players have been stepping into leadership roles.
"You're seeing guys like Shane Gersich and Tyson Jost, who's a freshman, and Matt Hrynkiw is a senior, but he's part of our leadership in the locker room," said Berry. "Guys are stepping up and taking more of a leadership role and this is the time of year that you need that. The locker room, that's what drives it, and saying the right things, and doing the right things on the ice is a big part of it. It's by committee. We don't have a large contingent of upperclassmen, but we have guys leading by committee."
That committee approach has also played out in the offense.
Gersich, Brock Boeser and Jost lead the team in scoring, all averaging a point a game, nothing like the gaudy offensive numbers put up by players like Zach Aston-Reese of Northeastern, or even Omaha's Austin Ortega, who had 47 points, 10 more than Gersich. Yet North Dakota is 14th in team offense nationally because of the secondary scoring the team gets.
"This time of year the teams that go on are the teams that don't rely on one or two lines," said Berry. "It's by committee. I'll go back to last year: we had a lot of guys step up last year, like Coltyn Sanderson, Bryn Chyzk, guys like that who played big roles at key times in the regional and Frozen Four, and now we have Johnny Simonson, Cole Smith, Trevor Olson who seem to do a good job of chipping in. It's a situation where you need secondary scoring, and that's a big part of having success."
In addition to having been in playoff mode as a team the last month or so, Berry thinks that North Dakota's ability to overcome a St. Cloud team that was playing for its season will bear fruit down the line.
"I don't care if it's the NHL or college hockey, the toughest thing to do in sports, especially in hockey, is to end somebody's season," Berry said. "St. Cloud played that way. They played with desperation, with five guys who pinched up in the offensive zone to try to create opportunities, and they did create them. Our guys battled hard and found a way to get it done against a team that was trying to keep their season alive, and I think we have to remember that, and that's the way things are going to be going forward because everybody's season is on the line."
NCHC running online "Play of the Year" tournament
The NCHC is running an online fan-voting contest for the conference's "Play of the Year."
Each round shows video of two plays back to back and allows the fans to vote on them. The tournament is on to the quarterfinals, and started with 16 plays.
The winner will be announced at the Frozen Faceoff on March 18.