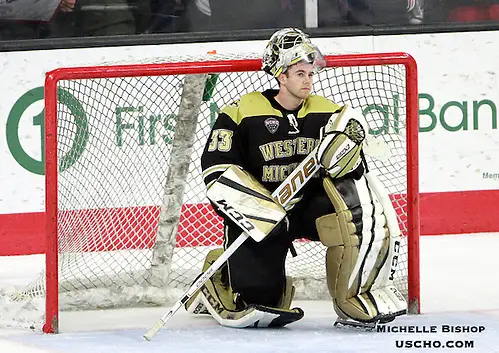 On the eve of the 2017 NCHC Frozen Faceoff, the conference announced its individual award winners from the 2016-17 season Thursday night at the annual NCHC Awards Celebration, held at the Muse Event Center in downtown Minneapolis.
Denver took home three of the top honors, while Western Michigan also won multiple major awards and Omaha took home three off-ice honors.
Denver senior defenseman Will Butcher took home two NCHC awards, including NCHC Player of the Year, marking the third straight year a blueliner won the award, including the second from Denver (Joey LaLeggia).
Butcher also captured NCHC Offensive Defenseman of the Year.
The Colorado Avalanche draft pick leads all NCHC defensemen with 35 points in 38 games this season, scoring six goals and adding an NCHC-best 29 assists. His 35 points tie for second nationally among defensemen. The Pioneers' team captain has logged a plus-23 rating, which was third in the NCHC behind only his own teammates, while his 73 blocked shots rank fourth in the conference. A Hobey Baker finalist, Butcher was a First-Team All-NCHC selection for the second straight season, a six-time NCHC Defenseman of the Week and is also a Senior CLASS Award Finalist this year. In 24 conference games, Butcher racked up 25 points, including an NCHC-best 22 assists.
Western Michigan head coach Andy Murray earned his first NCHC Herb Brooks Coach of the Year Award. The sixth-year bench boss guided the Broncos to a remarkable turnaround in 2016-17. After posting only eight wins last season and finishing in seventh place in the NCHC, the former NHL head coach has led WMU to a 22-10-5 record this season for a 14-win difference from a year ago, tops in the NCAA. The 22 wins are WMU's most since the 1995-96 season, while Murray coached the Broncos to only their second NCHC Frozen Faceoff appearance. In conference play, WMU took third in the NCHC, its best finish in four years in the conference, while compiling a 13-9-2-1 mark. Western Michigan is also in position to qualify for the NCAA Tournament for the first time since 2011-12, which was Murray's first season behind the WMU bench, and possibly the program's first ever No. 1 seed in the national tournament.
Also taking home hardware for the Pioneers was forward Henrik Borgström, who captured NCHC Rookie of the Year. The freshman had a major impact for the Pioneers and in the NCHC in his first season of college hockey. The Florida Panthers first round draft pick led all NCHC rookies with 19 points in conference play, appearing in 20 NCHC games, while scoring 12 goals, which led NCHC freshmen and tied for second among all NCHC players. The Finn also tallied five game-winning goals in conference play, which led all players, while his six game-winning goals on the season led NCAA rookies and tied for second nationally. Overall, Borgström racked up 38 points in 32 games, including 21 goals, which led all NCAA rookies, while logging a plus-21 rating on the season. He was named to the NCHC All-Rookie Team, All-Conference Second Team and was a three-time NCHC Rookie of the Week this season.
The third Pioneer to claim a major award was junior netminder Tanner Jaillet, who claimed NCHC Goaltender of the Year. He led the NCHC in almost all statistical categories, posting a 16-2-3 record in 22 NCHC starts with his .833 win percentage tops among NCHC netminders in conference play. Jaillet also was first in the NCHC with a 1.65 goals-against average and a .936 save percentage in conference play.  He was named First-Team All-Conference and was honored as the Bauer NCHC Goaltender of the Week four times this season.  Jaillet, who leads the NCAA with 24 wins overall and has a 1.84 GAA and a .929 save percentage in 33 games, is the second Denver netminder to win Goaltender of the Year after Sam Britain took home the inaugural award.
Miami senior Anthony Louis was voted the NCHC Forward of the Year. He finished third in NCHC scoring with 27 points in 24 games.  While he potted eight goals in conference play, his 19 assists tied him for second in the NCHC.  Louis finished with seven multi-point games in conference play and 10 multi-point games overall, including four in a span of five games.  He notched a point in 18 of his 24 NCHC games and tallied 11 points on the power play. Overall, the newest member of the Chicago Blackhawks organization racked up 39 points to also rank third in the conference, including a career-high 14 goals. The First-Team All-Conference forward was also a finalist for NCHC Player of the Year.
Earning NCHC Defensive Forward of the Year honors was Minnesota Duluth senior Dominic Toninato. He finished tied for fourth among NCHC forwards with a plus-13 rating in conference play.  The team captain tied for the conference lead with two short-handed goals and won more than 51 percent of his nearly 600 faceoffs in NCHC action. Toninato also blocked 16 shots during his 24 conference games and blocked 27 shots in 36 games overall.  Offensively, the Toronto draft pick added 19 points in conference play, including scoring 10 goals, and finished with a plus-19 rating and 25 points on the season.
On the flip side is North Dakota junior Tucker Poolman, who took home NCHC Defensive Defenseman of the Year honors. The Winnipeg Jets prospect led all UND defensemen and was fourth among NCHC blue liners with a plus-17 rating on the year, while logging a plus-6 rating in NCHC play. The two-time Bauer NCHC Defenseman of the Week was a staple on UND's blue line, playing in all 24 conference games and anchoring its penalty kill unit. Poolman also blocked 28 shots in conference play and had 47 blocked shots overall, while the junior committed just five penalties for 10 minutes in NCHC action.
Omaha senior forward Justin Parizek was selected the NCHC Senior Scholar-Athlete of the Year (previously Scholar-Athlete of the Year). He is a three-time NCHC Academic All-Conference recipient and two-time NCHC Scholar-Athlete Team honoree. The Mavericks' team captain has compiled a 3.786 GPA while majoring in business. In addition to his NCHC academic honors, he twice made the Omaha Chancellor's list with a perfect 4.0 GPA during his first semester (fall of 2013) as a freshman and again in his first semester as a senior (fall of 2016). Parizek appeared in 133 games as a Maverick, compiling 75 career points on 34 goals and 41 assists. This season, he compiled 20 points in 33 games.
For the first time the NCHC has co-Sportsmanship Award winners in North Dakota senior goaltender Matt Hrynkiw and Omaha junior forward Tyler Vesel. Hrynkiw originally walked on to North Dakota's team as a freshman and served as the third-string goaltender his first two seasons, without seeing a minute of playing time. He used that time to hone his game while representing his program at the highest level off the ice. A mechanical engineering major, Hrynkiw is a three-time All-NCHC Academic Team selection and has three times served as his team's Student-Athlete Advisory Committee (SAAC) representative. When injuries hit UND goaltenders in 2015-16, Hrynkiw got his chance and took advantage, appearing in 14 games, including 11 starts, and went 10-2-2. He also played in four contests this season and has a career 2.09 GAA in 18 games.
Vesel served as an alternate captain for the Mavericks this season after being chosen for the role by his teammates. He played all 39 games for Omaha in 2016-17 while committing only three minor penalties for six minutes. As the center on Omaha's top line, Vesel displayed a commitment to strong play at both ends of the ice, blocking 52 shots this season, which was second among NCHC forwards. Vesel also is a fine example of a student-athlete who is engaged in his community.  He holds a 3.88 GPA in physical education and has twice been a member of the NCHC Academic All-Conference Team, while volunteering in Nebraska Special Olympics and often visiting the Omaha Children's Hospital.
Splitting the NCHC's Postgraduate Scholarship was Western Michigan senior forward Aaron Hadley and Omaha student coach Kirk Thompson. Hadley is a finance major with a minor in management and carries a 3.79 grade-point average in the Haworth College of Business. He plans to get a master's degree in business administration at WMU to further his career in corporate finance with the hopes of becoming a Chief Financial Officer in the future. Thompson completed his undergraduate degree in criminology and criminal justice with a 3.91 GPA last year, and carries a perfect 4.0 GPA in graduate school at Omaha while serving as a student coach for the Mavericks in his final year of eligibility. He's currently working toward his master's degree at Omaha in the same criminology and criminal justice major.
The final award went to Western Michigan freshman goaltender Ben Blacker, who claimed the NCHC's Three Stars Award for earning the most "Three Stars" points in conference play. He was named First Star of the Game five times in NCHC play and totaled 30 points worth of "Three Stars," using a 5-3-1 scale. Blacker was also tabbed to the NCHC All-Rookie Team and was named Honorable Mention All-NCHC after compiling a 17-5-2 record overall with three shutouts and went 10-4-1 in conference play with a .912 save percentage.
For most of the awards, winners were determined based on voting by the conference's head coaches and one student-athlete from each team. The Senior Scholar-Athlete and Postgrad Scholarship winners were determined in a vote by the conference's Faculty Athletics Representatives, while the NCHC Awards Committee selected the Sportsmanship Award. Athletic Directors at each NCHC institution had a vote on the Herb Brooks Coach of the Year, rather than the student-athletes.