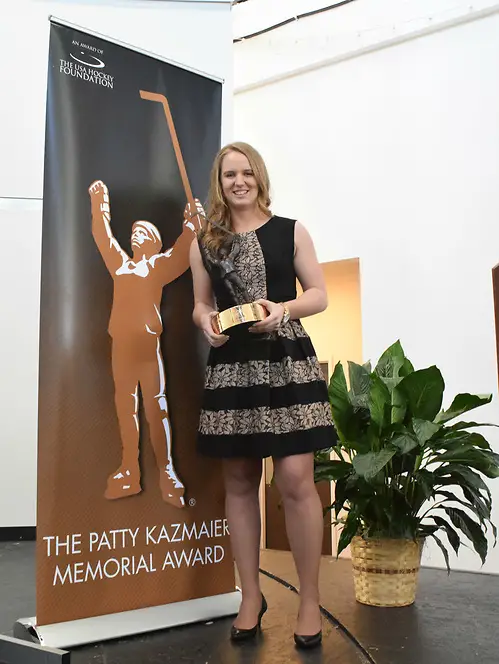 ST. CHARLES, Mo. — Wisconsin senior goalie Ann-Renée Desbiens was named the 2017 Patty Kazmaier Memorial Award winner Saturday, winning the award that is presented annually to the top player in women's NCAA Division I hockey.
She is the third goaltender to win the award and the fifth player from Wisconsin. She joins Badgers legends Sara Bauer (2006), Jessie Vetter (2009), Meghan Duggan (2011) and Brianna Decker (2012). Vetter and Brown's Ali Brewer are the only other netminders to have earned the honor.
Desbiens is a two-time first-team All-American and this was the second time she was named a Patty Kazmaier top-three finalist. She's had a storied career in the net, one her coach, Mark Johnson, calls "mind-boggling" and says we may not ever see the likes of again.
On the ice, Desbiens' successes at Wisconsin are numerous and off the ice, she's excelled in the classroom. She has a 3.367 GPA, was a three-time WCHA All-Academic honoree, received early admission to the Integrated Masters of Accountancy degree program at UW and barring training for Team Canada, will spend the summer interning with Deloitte in Chicago.
It would have been difficult to exceed what Desbiens accomplished during the 2015-16 season. She set NCAA single-season records in GAA and save percentage. But in 2016-17, so far, she has improved upon her own previous marks. She is 29-1-4 with 17 shutouts, a 0.67 GAA and a .965 save percentage in 34 starts this season.
Desbiens shattered the NCAA shutout record with 55 career blank slates, 12 more than the previous NCAA record. In 121 games in a Badgers' jersey, she is 99-13-19. Should the Badgers win the national championship on Sunday, she will tie Mercyhurst's Hillary Pattenden (2009-12) and former Badger standout Alex Rigsby (2011-14) for second-most total victories.
Prior to the title game, she holds a career 0.89 GAA and a .955 save percentage. Both of those career marks would set new NCAA records.
That her final place in history is somewhat in flux is what Desbiens said makes it so hard for a goalie to win the Patty Kaz. No matter what happens to a skater during the regular season, their stat totals cannot go down. They do not ever lose points. But every period of every game is a chance for a goaltender's numbers to rise. Though the award covers more than just statistics, they are the benchmark the committee uses to help understand how the finalists compare to each other.
Johnson, who has spent a lifetime around the sport of hockey, has never had the words to fully encompass the vastness of what Desbiens has accomplished. He compared her gaudy shutout numbers to a pitcher getting four or five no-hitters in a season.
Most players are happy to just get one in a career.
"You look at the history of women's hockey — her numbers got her to where she won the award," Johnson said. "She was No. 1 in, I think, all the categories the goaltenders have, and it's nice that people recognized her. In the big picture, if you look at her whole body of work, with the shutouts and win resume, you don't know if you'll ever see it again."
Desbiens was emotional in her acceptance speech and alternated between speaking in English and in French, especially when addressing her family. She thanked her parents for the sacrifices they made and gave credit to her older siblings, who forced their youngest sister into the net as a kid because they needed someone to shoot on.
She also thanked the young fans in Madison, with whom the gregarious goaltender has formed a special bond. Many of her smallest fans were in attendance at the ceremony to help Desbiens celebrate the win. She has embraced her part as role model and created a cadre of young fans devoted to her and the Badgers.
Desbiens was a late recruit to the NCAA and U.S. college hockey was not on the radar of folks from her part of Quebec. Johnson talked about the extreme leap of faith she had to take, leaving behind a family to move to a very different culture with a language barrier.
"There are a lot of things that had to fall in to place," said Desbiens. "I wasn't planning to come to the NCAA and then I ended up coming late. That was a pretty good decision I made, especially choosing Wisconsin."
It's been a season of overcoming hardships for Desbiens.
She had the spectre of her own prior season to live up to. She missed time for two different injuries. And now the Badgers finally won in a national semifinal, advancing to the national championship for the first time since 2012. But enduring those challenges, learning to accept them and ultimately prevailing have helped her to become a stronger person and player.
There's a history of outstanding goalies at Wisconsin – it would take another column to enumerate what Vetter and Rigsby accomplished before Desbiens. She isn't interested in comparing herself to them, just happy to add to the Badger legacy.
"Women's hockey has progressed so much that it's hard to compare past players with present players," said Desbiens. "So I'm just happy with where I am at right now, what we've done as a team and that we get the chance to play (in the national championship game)."