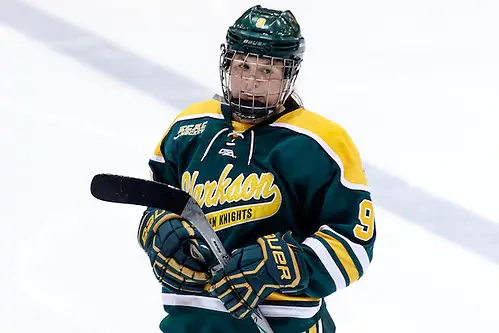 The Clarkson women's team returns to the national championship game for the first time since their historic 2014 win.
Just five players on the current roster were a part of that win.
But Genevieve Bannon isn't sure there's much she and her fellow seniors learned that year that will be relevant to their experience on Sunday.
For one, the Golden Knights are a much different constructed team than they were that year. Sure, there are the parallels with the Patty Kazmaier top-three finalist forward and the great goaltending, but the 2014 team relied so much on their upperclassmen, something this year's team hasn't had to do.
Bannon and linemate, senior captain Cayley Mercer, are certainly anchoring the team, but they've gotten a huge boost by having sophomore Loren Gabel with them. Clarkson's second line of Vassidy Vinkle, Michaela Pejzlova and Rhyen McGill is entirely comprised of underclassmen. And Ella Shelton, on their top defensive pair, is a freshman.
Both Gabel and McGill scored on Friday for the Golden Knights, proving just how valuable they are.
Clarkson will face Wisconsin and just like there's not a comparison for this Clarkson team in terms of not measuring themselves against the 2014 team, Bannon said she doesn't think the games the Golden Knights played against the Badgers early in the season have much bearing on the two teams that will take the ice in the national championship game.
"I think it's a blank slate," Bannon said. "Our team was really different at that time. I think that's when we were finding our chemistry and I think it's probably the same for them. It will probably be a different game tomorrow."
Bannon, Mercer and Gabel have been particularly prolific for Clarkson this year. Mercer is currently second in the country in scoring with 60 points (26g, 34a). Bannon is tied for ninth with 50 points (15g, 35a) and Gabel has been the goal scorer – she has 22 goals and 19 assists.
The production is nothing new for Bannon, who's improved her numbers every year at Clarkson. As a freshman, she found a way to be productive on a team of veterans and she's built on that every year since.
Though obviously another title would help the senior class end their careers on a high note, the best part of reaching the final for Bannon is that is shows the growth of Clarkson. The title or even their Frozen Four appearance in 2016 may have been written off.
But with a return trip to the championship game, Clarkson is proving they're one of the top programs in the country and they intend to stay there.
"I think it's just in our culture now," said Bannon. "We don't expect any less. We have goals. We believe in the process and that will help the team next year and the years after."