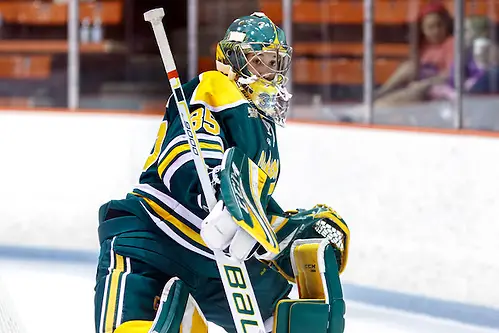 ST. CHARLES, Mo. — Heading into the women's Frozen Four, much of the focus around the country centered around the season-long excellence of Wisconsin goalie and 2017 Patty Kazmaier award winner Ann-Renée Desbiens.
In the championship game, however, it was the play of another goaltender that stole all the headlines: Clarkson's Shea Tiley.
In front of a crowd that heavily favored the Badgers, Tiley stood on her head all game long, stopping all 41 shots that came her way en route to a shutout victory to earn her team a national championship.
"In a setting and atmosphere like this, in a national championship game, to have a performance like that is just phenomenal," Clarkson coach Matt Derosiers said.
Tiley was under fire from the opening faceoff until the end of the game. In the first period, she stopped multiple odd-man rushes, and was forced to deal with extended possessions from the Badgers.
After Clarkson scored the game's first goal, the Badgers picked things up a notch, recording 17 shots in the second period and 18 more in the third.
For the final 40 minutes, Tiley saw red throughout, as the ice appeared tilted in Wisconsin's favor all afternoon long.
"I was just trying to think of it as a 0-0 hockey game," Tiley said. "The girls did a great job of getting that lead and I was trying to do everything in my power to make sure we maintained that lead."
The 41 saves Tiley made in the championship game were the most she had made in a game all season, and was one shy of her career high, set in Feb. 2015 against St. Lawrence.
Tiley said that facing a barrage of shots helped her to build personal momentum and kept her engaged throughout the afternoon.
"It's nice to get those first few shots in a game like that," Tiley said. "As the game went on, I was doing everything possible to make sure the puck was staying out of the back of the net."
As soon as the final horn sounded, the entire Clarkson bench stormed onto the ice and dogpiled on top of Tiley, who said she could not even describe how exciting it was to put on such an extraordinary performance on the largest stage.
"Honestly, there are no words to describe it," Tiley said. "I was just really tired."