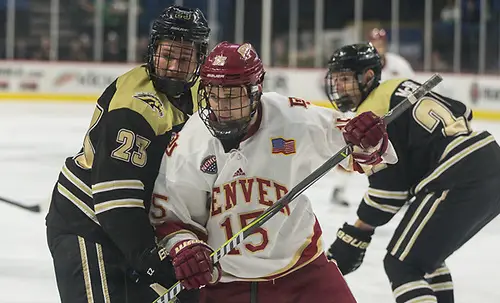 Of the four regionals in the 2017 Division I men's NCAA tournament, only the Midwest Regional can say it has three teams entering on the heels of a victory.
For top overall seed Denver, it was in a third-place game of the NCHC Frozen Faceoff in which it rested a number of regular players.
Midwest Regional, Cincinnati
• Denver vs. Michigan Tech, 1 p.m. EDT Saturday, ESPNews
• Union vs. Penn State, 4:30 p.m. EDT Saturday, ESPN3
• Regional championship, 6 p.m. EDT Sunday, ESPNU
For tournament newcomer Penn State, it was in a double-overtime marathon in the Big Ten title game. The Nittany Lions, however, had already clinched a spot in the NCAA field.
For WCHA champion Michigan Tech, a victory Saturday was what launched the Huskies into the tournament.
Union joins the group playing at U.S. Bank Arena in Cincinnati on Saturday and Sunday. Denver faces off against Michigan Tech in the first round, reprising a matchup that used to be common when both were in the WCHA.
Penn State plays Union in Saturday's second regional semifinal. The teams have played four times, with the Dutchmen winning them all.
The Nittany Lions, however, are one of the top stories of the 2017 tournament. Playing in just their fifth season as a varsity program, they sealed their spot with a double-overtime victory over Big Ten regular season champion Minnesota on Friday.
Another double overtime later — and in its third game in three days — Penn State won its first league title on Saturday with a victory over Wisconsin.
"I know how hard it is to get there and how you have to be really good and you have to be really fortunate," Nittany Lions coach Guy Gadowsky said after Saturday's game, "and we're going to enjoy every minute of it because it's really hard to do."
Union lost to Cornell 4-1 in the ECAC Hockey semifinals on Friday, ending a seven-game unbeaten streak.
The Dutchmen are back in the NCAA field for the first time since winning the championship in 2014.
Hobey Baker Award finalist Mike Vecchione is one of six players from that team on this year's Union roster. He leads the team and is second in the country with 29 goals this season.
Denver rebounded from a 1-0 loss to North Dakota in the NCHC semifinals to down Western Michigan 3-1 in the consolation game on Saturday.
Friday's loss is the only one the Pioneers have suffered since Jan. 20.
Senior defenseman Will Butcher is also one of the 10 Hobey finalists.
Michigan Tech hosted the WCHA championship game in front of a sold-out crowd of 4,466 on Saturday and outlasted Bowling Green 3-2 in two overtimes.
Senior defenseman Shane Hanna scored the winner for the Huskies, who made the tournament for the second time in three seasons.