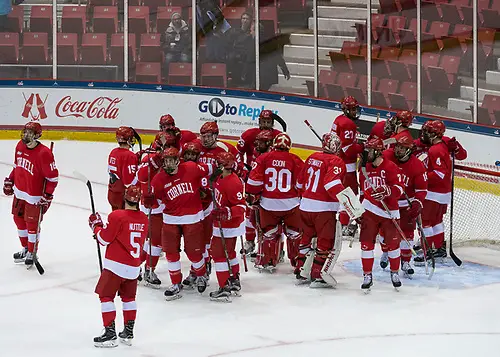 From a bracketologist's standpoint, this year's NCAA tournament field was a little more difficult than usual to predict. But that's only because seeding the tournament bordered on being too simple.
The NCAA tournament field that was announced by the men's ice hockey committee on Sunday might be the closest to maintaining "bracket integrity" since the tournament field expanded to 16 teams in 2003.
Those two words have become a bit of a catch phrase this time of year as many hope that the 16 teams in the NCAA field align perfectly — with the top seed playing the lowest, No. 2 playing No. 15, and so on.
And on Sunday, that was what the committee sought to do.
There was just one diversion — the 11th seed Cornell and 12th seed Air Force were swapped. The reason, according to committee chair Tom McGinnis, associate athletic director at Minnesota, was to place two eastern teams in both the Providence and Manchester regionals.
"We made the one switch with Cornell and Air Force just to get a second east coast team in the Manchester regional because then we had two [eastern teams] in Manchester and two in Providence," said McGinnis. "Other than that, we started looking at other options, you began getting into a two- or three-team switch and you're bumping into two teams from the same conference playing each other.
"There wasn't any move that felt like it would draw a crowd that would affect the atmosphere in one of the venues."
The move that threw off bracketologists the most was placing the top overall seed, Denver, in Cincinnati. Most believed that this was done to keep the Pioneers from having to advance to the Frozen Four by playing regional host North Dakota in Fargo. According to McGinnes, that wasn't the case.
"It worked out that the field was seeded 1 through 16 and then we kind of looked at placing the pods. Obviously, North Dakota had to play in Fargo as the host institution," McGinnis said. "So I don't know that it was as much of not placing Denver in Fargo as it was putting the group from a seed perspective that naturally had North Dakota in it, putting all of them [in Fargo].
"The only thing we wanted to do for Denver was making sure they were playing the No. 16 seed, and certainly did that with them lining up against Michigan Tech."
What the committee did bypass was its own directive that the top seed needs to play at the closest regional to its campus. Cincinnati is approximately 300 miles farther from Denver than Fargo.
But both trips require plane rides, so maintaining the bracket integrity was considered more important than adding a few hundred miles to Denver's trip.
"This year, in most cases, we kind of kept the seeds where they belonged," said McGinnis. "They lined up from a bracket integrity standpoint."
If there was any problems created on Saturday it was the fact that four of the six committee member's schools were in the field.
McGinnis, Michigan Tech coach Mel Pearson, Union athletic director Jim McLaughlin and North Dakota athletic director Brian Faison all had to recuse themselves when the final placements of teams was made. Backups representing each conference were inserted, something that was put in place when a similar situation arose two years ago.
"We've gotten to the point now where we have to work on having backups in place," said McGinnis. "Each league identifies a backup so that if someone can't participate in the call, someone else steps in each year."