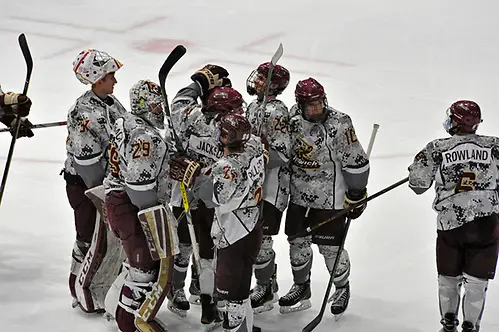 Norwich seems to play a lot of overtime games in the NCAA playoffs.
"It's exciting," Norwich coach Mike McShane understated.
Since 2000, Norwich has now played in eight NCAA overtime games, going 5-3. They include three quarterfinals (2-1), three semifinals (2-1), and two finals (1-1).
"We've done pretty well in overtime," McShane said.
The two championship games were also the longest and shortest NCAA overtime games for Norwich. Both are memorable in their own way.
The 2010 contest was perhaps the most epic championship battle in Division III history. Norwich scored in the first and St. Norbert tied it halfway through the second.
And that was it for a very long time. Through the second half of the second, through the third and through the first overtime, it remained tied. It appeared that would also be true of the second overtime.
However, with just 31 seconds left in the fifth period, Pier-Olivier Cotnoir scored to give Norwich the national championship. Many wondered whether players on both sides could have even made it for a third overtime.
The shortest overtime contest and the most heartbreaking for Norwich was in 2002. Norwich led Wisconsin-Superior 2-1 late in the game. Wis.-Superior forced overtime with just 1:26 to play on a fortunate deflection. Just 23 seconds into overtime, Wis.-Superior won the national title. Both clutch goals were scored by Colin Kendall.
Two years before that, Norwich got the better of Wis.-Superior, 5-4, at 8:44 in the semifinals.
Norwich lost their next semifinal overtime game to archrival Middlebury in 2004, in Norwich no less. That game went two extra periods, decided at 7:17.
Before Norwich beat St. Norbert, they also needed overtime to beat Elmira that year in the quarterfinals, 2-1, at 2:12.
The other quarterfinal overtime games were a win against Plattsburgh (3-2 at 17:43 in 2011) and a loss to Amherst (4-3 at 8:12 in 2015).
Then came tonight.
The back-and-forth contest seemed like Norwich's win until two late third-period goals by Adrian led to yet another overtime game for the Cadets.
"Going into overtime I felt like we had enough kids that we could get a couple of good chances," McShane said. "We're an older team and usually the older teams somehow find a way to win in overtime."
It almost wasn't the case, as Adrian not only had some good chances, but missed a golden opportunity, shooting the puck inches wide of a large gap on a semi-breakaway.
As it turned out, it was a freshman, Ian Williams, who got the winning goal, though a junior and senior got the assists for the 5-4 final.
The goal came at 11:40, which means Norwich has played 105:40 of additional NCAA playoff hockey since 2000.
"We'll take it," McShane stated the obvious. "I was proud of all my guys for how we stuck in there and we played tough. I would rather have won in regulation. I didn't have to go through all the stress."
Perhaps in the championship game against Trinity, he'll get his wish.