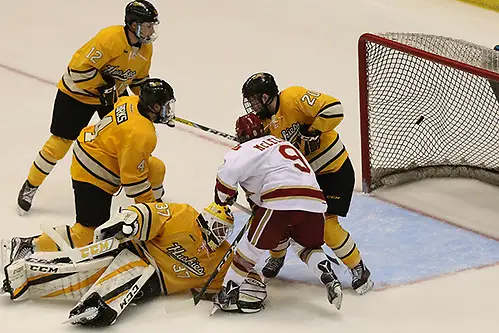 CINCINNATI — As the top-seeded team in the NCAA tournament as well as in the Midwest Regional, Denver let its experience speak for itself in a 5-2 victory over Michigan Tech. Three takeaways:
1. Denver's powered play
The Pioneers were awarded three power plays in the first period and they made good on two of them. Colin Staub and the second unit did what was necessary, take away the eyes of Huskies goaltender Angus Redmond, in order to be successful.
Staub and Evan Janssen caused all kinds of problems for Redmond by getting in his line of sight throughout the three power plays whenever possible to make things difficult on the excellent freshman.
Staub came up with a well-timed tip in the slot for his first tally of the night. His second goal came when he pounced on a rebound later in the period, setting off a run of three goals in a little under three minutes, which put the game out of reach before the first period ended.
2. Huskies youth is promising
After surrendering four goals in the first 15 minutes, Redmond essentially shut the door save for one more rebound tally by Tyson McLellan. He made two or three really key stops on Team USA hero Troy Terry in close as well as on Henrik Borgstrom and others.
The Huskies' two goals came from a freshman, Gavin Gould, and a sophomore, Jake Lucchini. The two represent the future of the Huskies and they proved that they were ready for the big stage of the NCAA tournament.
Both players will be big parts of the Huskies' offense next season.
3. Denver's depth is worth noting
While much has been made of the efforts of Borgstrom, Terry and Dylan Gambrell this season, it was Staub and others who led the way Saturday.
Coach Jim Montgomery praised the efforts of Staub, Janssen, Evan Ritt and Emil Romig after the game as the quartet were involved in the Pioneers' first three goals of the night.
Against Penn State at 6 p.m. EDT Sunday, the group will need to be just as good, considering that the Nittany Lions struck 10 times in a 10-3 victory over Union in the second semifinal.