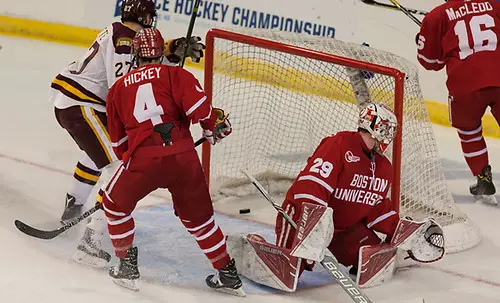 FARGO, N.D. — Here are three takeaways from Minnesota Duluth's 3-2 overtime victory over Boston University in the NCAA West Regional final on Saturday:
1. Overtime finale
For the first time since the NCAA went to four regionals and 16 teams in 2003, all three games of a region tournament went into overtime.
Both Duluth and Boston University advanced to Saturday's do-or-die matchup via overtime in Friday's seminal games, and continued that trend once again in the West Regional's final matchup of the weekend.
The Bulldogs, who will be advancing to the Frozen Four in Chicago, have played in 12 overtime games this season and are unbeaten in those games.
This situation strikingly mimicked Duluth's 2011 national title run, when it played in 15 overtime games. The Bulldogs took down Michigan in a 3-2 overtime victory to clinch the championship.
"When you're in a lot of these situations, you learn from them, good and bad," UMD coach Scott Sandelin said. "This group has been in so many close games. They believe they can win."
Boston University also was unbeaten in six overtime games this season — including a 4-3 double-overtime victory Friday over North Dakota — until Saturday's defeat at Scheels Arena.
2. Fatigue was no factor
Despite 91:48 of hockey for Boston University and 71:58 for Duluth on Friday, fatigue didn't seem to be much of a factor for either team going into Saturday's matchup. In fact, the Bulldogs couldn't keep away from the ice for long.
"Most of our players came over and skated this morning," Sandelin said. "They're goofy that way."
Boston University put itself on the board first, but finding momentum in the second period seemed to be an issue. The Terriers didn't back down, however, as they continued to find scoring opportunities and tied the game to force overtime. They just couldn't find a way to get the puck past UMD goaltender Hunter Miska again.
"Our strength coaches did an unbelievable job keeping our guys energetic and they helped them recover," BU coach David Quinn said. "We had legs tonight. I thought we had a lot of jump to our game. … I didn't think we looked like a team that had played a game and a half last night. There's nothing we would do different."
3. Finding a rhythm
The Bulldogs are unbeaten in seven games and aren't looking to end that streak any time soon. Despite three straight regional appearances entering the weekend, Duluth failed to advance to the Frozen Four in any of those chances.
This year's group of seniors wasn't going to let its last chance slip away, although there was a question mark at the end of last season as to whether or not its key players would be back. Had Dominic Toninato, Karson Kuhlman and others not returned, Duluth could have seen a very different outcome.
Goaltending was a big question mark for Duluth at the beginning of the season, but Miska wasted no time proving he's a crucial piece for this team's success. He's unbeaten in his last 18 appearances.
"He's a big reason we are where we are," Sandelin said. "He's got a great demeanor, he's a competitive kid that's very athletic, as you see. He just doesn't get bothered."