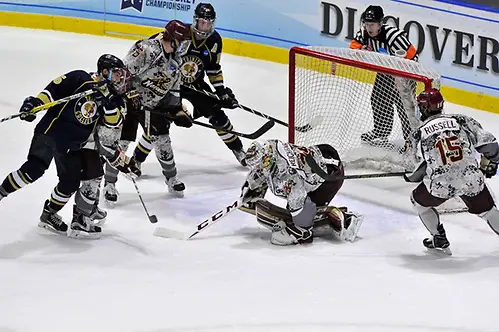 With this year's Frozen Four hosted in Utica, New York, one can't help but notice the many tandem container trucks making their way across the New York State Thruway delivering their goods in an ever dependable and reliable fashion. So it may be appropriate that the Norwich Cadets, who earned their first national championship since 2010 with their 4-1 win over Trinity, got their own special delivery from the goaltending tandem of Braeden Ostepchuk and Ty Reichenbach.
Where most teams have a true no. 1 goaltender, Norwich has gone with a 1 and 1-A model for the past six weeks, and has a conference title and NCAA championship to show for it. Ostepchuk, a junior, finished the season with a 16-0-0 record, including Friday's semifinal win over Adrian, while Reichenbach, a senior, finished at 11-1-3, capped off with the win and 35 saves in the national title game tonight.
The other significant stats are all but identical for the two netminders, with Reichenbach having the slightest of edges in save percentage (.937/.924), goals-against average (1.63/1.83) and shutouts (3/2).
"It's not a big choice; they both look good," said Norwich coach Mike McShane after the semifinal win over Adrian. "We have an excellent goalie coach in Cap Raeder and our guys have gotten better and better. They have played together for a few years. I haven't done it too many times in my career — I don't remember ever doing it, but every year is different and this works."
The two-man system wasn't just new to the experienced guy behind the Norwich bench, as it took some adjustment for the two goaltenders as well.
"I do it because they make me do it — they are both that good," said McShane. "Look at the guy tonight who played great and last night same thing. They both were concerned early in the year about how it was going to work out, but both adapted and got used to it and it has worked really well for us."
The tandem did deliver the goods when it counted most, stopping 68 of 73 shots in the Frozen Four for a 2-0-0 record, .932 save percentage, and, most importantly, the national championship trophy for Norwich.
Ice Chips
The All-Tournament Team
F Tyler Whitney, Trinity
F Ryan Cole, Trinity
F William Pelletier, Norwich
D Jake Erickson, Norwich
D Joey Colatarci, Adrian
G Ty Reichenbach, Norwich
Most Outstanding Player: William Pelletier
Entering the title game on Saturday night, Trinity had laid claim to one national championship. The Bantams won their sole title in 2015 by downing Wisconsin-Stevens Point, 5-2. Norwich entered the game having won the championship three times, in 2000, 2003 and 2010. The last title before tonight came in 2010 in a 2-1 double overtime win over St. Norbert.
The Norwich win extended a team-record unbeaten streak to 25 games. They finish the season at 27-1-3, with their last loss taking place on Nov. 18, 2016, at Skidmore by a 3-2 score.
Norwich at 27-1-3 had something in common with a Finlandia team that finished the season at 0-25-0: neither team scored a short-handed goal during the season, the only two teams in the country with that distinction.
The NCAA title for Norwich completed a season where they won four titles overall, including the Primelink Tournament, Northfield Bank Tournament, NEHC championship and the NCAA tournament.
The two teams last met in the 2015-16 season in the championship game of the Northfield Bank Holiday Tournament hosted by Norwich. Trinity won the title by a 5-4 score in overtime on a goal by Anthony Sabitsky.
The last time two teams from the East faced each other in the national championship game was in 2007. In the Frozen Four hosted by Wisconsin-Superior, Oswego beat Middlebury, 4-3, in overtime to end the Panthers' three-year championship streak.
McShane picked up the Edward Jeremiah Award as the top coach in D-III for the fifth time in the week and acknowledged that in his time coaching at Dartmouth, he coached Brent Cole, father of Trinity brothers Brandon and Ryan Cole, who played their final collegiate game on Saturday night against McShane's Cadets. "He was tough as nails and so are they."
Utica more than a gracious host city
Despite the absence of the local Utica Pioneers, who certainly would have brought out the local hockey fans in all of their numbers and passion, Utica and "The Aud" put on a great Frozen Four — one that was acknowledged by fans and the participants alike.
Attendance for each of the two semifinal contests on Friday night was recorded at 1,525 and the final drew a bigger crowd at 1,595. Total attendance for the weekend was 4,645.
"We really want to thank Utica for putting on a first-class tournament," stated St. Norbert coach Tom Coghlin following their semifinal loss to Trinity. "From the time we arrived, everything has been great and managed very well. It takes a lot of people to do this kind of event and I want to make sure to thank the city of Utica for being a great host."
"First, I would like to thank the city and people of Utica who have made this such a great event," noted Trinity coach Matt Greason in his semifinal press conference.  "It takes a lot to put an event like this on and we have been treated wonderfully this entire week. Utica has been a terrific host to the Frozen Four."
Next year's Frozen Four stays in New York when it returns to Lake Placid, but no future sites have been announced beyond the 2018 venue.