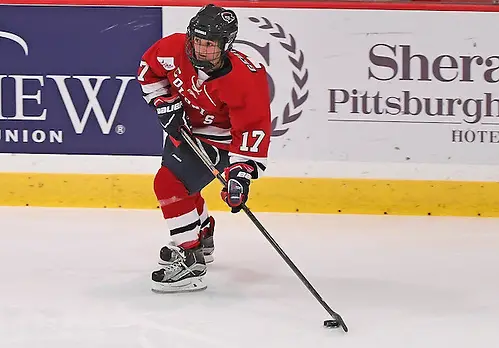 Robert Morris forward Jaycee Gebhard has been named the 2016-17 national rookie of the year by the Women's Hockey Commissioners Association.
Gebhard was the CHA rookie of the year and was rookie of the month in five straight months.
She scored 22 goals and had 46 points in 35 games for the Colonials, who made their first NCAA tournament appearance.
She led the nation with nine power-play goals and was the top rookie with 1.31 points per game.
"We are excited and so very proud of Jaycee for this wonderful accomplishment and honor," Robert Morris coach Paul Colontino said. "Jaycee had an outstanding freshman season from start to finish, and played a major role in the success of our program this year. Her character, drive, and work ethic were not only the keys to her success, but an inspiration for us all. RMU couldn't be prouder of Jaycee for all her successes this year. She is a tremendous athlete, but more importantly, an outstanding person and teammate."
The award was voted on by assistant coaches at the 36 Division I programs.