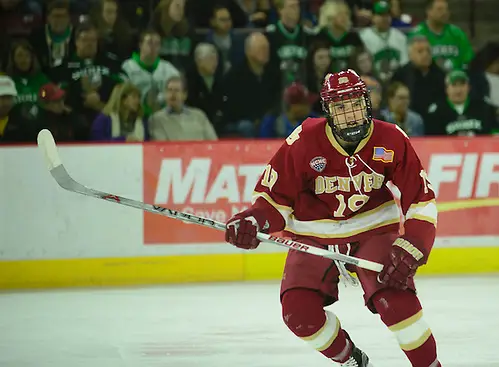 CINCINNATI — Jim Montgomery had to mull it over a moment.
The Denver coach had just won his 100th game with the program, sending his squad to a second-consecutive Frozen Four.
But what was different this time?
"Last year, I was on cloud nine," Montgomery began to explain. "Our team didn't come down from cloud nine until Saturday last year of the Frozen Four. Right now? I'm not on cloud nine."
Denver's 2017 Midwest Regional games bore a striking resemblance to its run the prior season in the West — a couple of offensive showings paired with sound defensive play paved the way last year, which was replicated this past weekend in Cincinnati during a set of 5-2 and 6-3 victories over Michigan Tech and Penn State, respectively. The latter win — which shared the final score of its 2016 iteration — was sealed by holding the Nittany Lions to a season-low 27 shots just one night removed from their 10-3 dismantling of Union.
"Going into the game, we knew they had a high-flying offense and they were capable," sophomore forward Troy Terry, who registered five points in the final, said of his Penn State opposition. "We just believed in our team and stuck to what's given us success all year and it worked."
"In this tournament, you can get bounces and things can go wrong right from the start," senior captain Will Butcher added. "You've got to play well for all 60 minutes of the game. It didn't faze our guys too much. We've got a resilient group."
Resiliency is a fitting trait for these top-seeded Pioneers. One of those aforementioned bad bounces lead to a Nick Schmaltz goal in the final minute of last year's semifinal — and an empty-netter to kill any hope of a buzzer-beater — that sent the Pioneers packing.
But like Montgomery explained, this isn't the same team, physically or mentally, that relished to opportunity to play in Tampa Bay.
A hard-nosed blue line and back-end first philosophy has rewarded this year's Pioneers with the best defense in the country at 1.83 goals against per game. Tanner Jaillet has been stellar between the pipes when called upon, too — his .928 save percentage ranks ninth among collegiate goaltenders.
The other end of the ice has been nearly as impressive. At 3.40 goals per game, Denver's offense is tied with NCHC rival and fellow Frozen Four contestant Minnesota Duluth for eighth-best in the nation.
Freshman Henrik Borgström leads the charge with 42 points, and along with Terry and sophomore Dylan Gambrell, has averaged north of a point per game. Borgström, the 23rd overall selection by the Florida Panthers in last summer's NHL Draft, has added yet another dimension to Denver depth chart and has helped his linemates to continue unlocking their potentials, as well as his own.
"The biggest thing I've learned is not to watch him, but to get up in the play and be ready all the time," Terry said of his first-year forward partner. "He makes really creative plays and you have to be ready."
For his part, Butcher has chipped in with 36 points of his own in a season that's seen him honored as a Hobey Baker Hat Trick finalist. Point to any name, really, on that Denver roster, and you'll find a player that performed when he needed to this season.
Now, as a team improved on all fronts, the pressure is on the Pioneers to blaze a trail to the team's first championship game since 2005. They face an upstart Notre Dame squad in the semifinal, a team that upset No. 4 Minnesota and stunned a formidable UMass Lowell team en route to Chicago.
But this isn't a group that seems starstruck at the opportunity to battle it out for the eighth national title in school history. The Pioneers aren't on cloud nine. They've tasted the Frozen Four and anything less than a championship won't cut it. The players know it. And so does Montgomery, whose words following Sunday's game summed up his team's situation rather well.
"The experience of having been there, you're just hungrier to go further and finish it off," said Montgomery