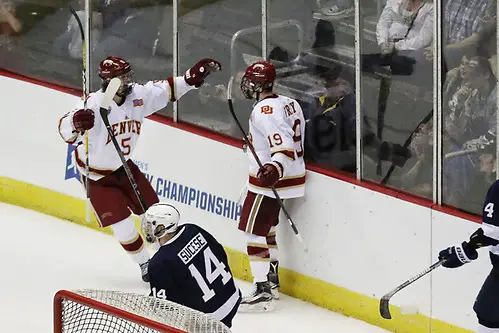 Watching Denver's players gather around goalie Tanner Jaillet after a rather routine 6-3 win over Penn State in the Midwest Regional, one striking thing was how subdued they were.
Unlike some other teams that celebrated with joie de vivre after advancing to the Frozen Four, you got the sense that for Denver, it was just one more step.
Frozen Four 2017
More coverage of the 2017 NCAA men's Frozen Four at Frozen Four Central.
"Obviously, we are excited to be back in the Frozen Four, but just to get there, that's not enough for us," said senior assistant captain Evan Janssen. "The feeling that we left with last year is the worst feeling that you could ever feel, and we don't want that again, so we're not satisfied.
"We still have a lot of business to take care of."
The feeling Janssen refers to is watching NCHC conference rival North Dakota celebrate a national championship in Tampa, one they advanced to after beating Denver on a late third-period goal in the semifinals.
"I think that loss drove us all summer to get better and work as a team on and off the ice," said star sophomore forward Troy Terry, who had five points against Penn State. "Now that we've started, we're taking it day by day and game by game, but I think that game has been driving us all year. All year, we've been working to get back to this chance, and I think our experience last year is something we have to use to our advantage. We're really excited for the opportunity to give it another shot."
Echoed senior captain Will Butcher: "We wanted to go, we wanted to win regionals and get to the bigger picture, which is the Frozen Four and having a chance to win a national championship. It wasn't too big of a celebration for us because like we said all week, it was a business trip for us."
One key for Denver in both of its regional games against Michigan Tech and Penn State was a fast start. Denver jumped all over the Huskies in the first game, opening up a 4-0 lead in the first period and a 5-0 lead early in the second en route to a 5-2 win, and then had a 2-0 lead on Penn State early in the first before the Nittany Lions rallied to tie it 2-2.
"I think we won battles and were in sync; we were on top of our game right from the drop of the puck, and I think we put both teams on their heels," said Denver coach Jim Montgomery.
With the game tied 2-2 against Penn State, Denver went on a power play, one they eventually scored on, but not before Jaillet made a huge save on a two-on-one rush to keep it tied 2-2. Penn State had already scored short-handed in the first, so the Nittany Lions were pressing in transition.
"We didn't manage the game well there for about 10 minutes, the last five minutes of the first and then the first eight minutes of the second, but once (Henrik) Borgström set up Terry for that goal, we really went back to it," said Montgomery.
Denver rode a 13-game win streak into the NCHC Frozen Faceoff against North Dakota in Minneapolis, and lost a close 1-0 battle, then rallied to defeat Western Michigan 3-1 the next night in the consolation game. Given the success Denver has had this year, many coaches would be content to just let the players play, but not Montgomery, who broke up his top line of Borgström and Terry right before the regional.
"We had the same lines going all week in practice, and then the night before the game against Michigan Tech, I woke up in the middle of the night and my mind was on our lines, and my gut was telling me we needed a change, because our top two lines had not scored five-on-five in the playoffs, except for maybe one goal, and I switch lines a lot throughout the year, in games a lot, and players are used to playing with everyone, so I decided at the morning breakfast that I was going to switch lines up and it was going to give us better success," said Montgomery. "Players just roll with it."
One reason players roll with it is Denver's top-ranked team defense, one that gives up only 1.83 goals per game and is anchored by Hobey Baker finalist Butcher and Mike Richter Award finalist Jaillet.
"That's just a staple of Denver hockey: play defense first and it leads to good offense," said Butcher. "In the tournament, you have momentum swings like that all the time, so you just have to deal with those when they happen. We have 'TJ' back in net there, so I'm not too worried about it. Guy has been playing really well this year and is up for a Richter, so stick to what Denver hockey is defensively and we'll be fine."
Denver faces Notre Dame in the second semifinal of the Frozen Four. Montgomery spent some time under the tutelage of Notre Dame coach Jeff Jackson as a volunteer assistant in 2005. Don't think, however, that it gives Montgomery any insight into Jackson's current team.
"I learned a ton from Jeff Jackson, how to run an elite program, recruiting to managing the dressing room, managing the bench, and video and tactical," Montgomery said. "As a coach my first year, I wanted to learn how to do things right, and I learned from whom I think is a great coach in Jeff Jackson. What can I apply for an advantage against him? Jeff Jackson continues to evolve and they play a lot differently than they did when I was there, so I'm just going to have to trust my own eyes and what I see on video and have a good game plan."
However, one thing Denver's players might lean on, in addition to last year's experience, is Montgomery's experience as a player at Maine. After losing in the 1991 Frozen Four to eventual champion Northern Michigan, Montgomery was the captain when Maine returned to the Frozen Four in 1993 and won its first championship; Montgomery was named the most outstanding player.
"There's a lot of similarities — my second time as a player in the Frozen Four, the first time we lost in the semifinals, second time we won it all," said Montgomery. "As a coach here, our first time we lost in the semifinals, hopefully we can replicate what I was able to do as a great team. I think we do have a chance with this team of being elite, but we have to get past Notre Dame first and then worry about the finals."