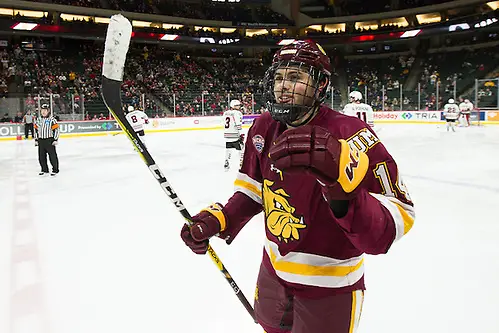 Minnesota Duluth was expected by many to be a top-half NCHC team this season, but it was difficult to predict in the fall where the Bulldogs would end up.
Plenty of question marks dotted the road map. One of three goaltenders with zero prior collegiate game experience between them had to step up, and scoring was going to be a concern for a team that only had one skater averaging over a point per game during the 2015-16 season.
Frozen Four 2017
More coverage of the 2017 NCAA men's Frozen Four at Frozen Four Central.
That campaign ended just like the one before it: with a loss in the Northeast Regional final. This postseason, UMD (27-6-7) got a friendlier draw where travel was concerned but not so much with the West Regional field.
Still, after a pair of overtime wins in Fargo, N.D., against Ohio State and then Boston University, the Bulldogs were through to their first Frozen Four since winning UMD's first national title to date in 2011.
Much of the credit goes to freshman goaltender Hunter Miska. Two of his 26 wins this season came at the West Regional when he made 40 saves against Ohio State on March 24 and 22 the following night against BU.
Miska, an in-state recruit from Stacy, Minn., experienced a bumpy ride to the start of his college hockey career. It wasn't long, though, before he made the Bulldogs' No. 1 spot between the pipes his.
"He's a big reason we are where we are, let's not lie about this," UMD coach Scott Sandelin said. "Obviously, we went into the year with three goalies, two of the freshmen, one of them a redshirt freshman and none with any college experience but all three of them with a lot of junior experience and very successful goalies in junior hockey, but Hunter was a top recruit for us.
"He wanted to stay three years in junior hockey because he wanted to come in (to college) and be ready, and obviously early in the year he started and then he got pulled and then he didn't see a game again until we played North Dakota (a 5-2 win on Oct. 28), but we knew he was kind of an elite guy and he just has never given up the net."
Sandelin feels the Frozen Four trip to Chicago is just deserts for an eight-man senior class.
They've had a positive effect on most aspects of UMD's success. Forwards Alex Iafallo (19 goals, 30 assists), Dominci Toninato (16-12) and Kyle Osterberg (12-11) have all enjoyed 20-plus point seasons, and defensemen Willie Raskob (4-12) and Carson Soucy (3-12) are among the NCHC's top blueliners.
"We felt good about a lot of the pieces, certainly, with Dom (Toninato) and Carson and Al (Iafallo) coming back," Sandelin told reporters after UMD's triump in the West Regional final. "Any time you get your key players that come back for their senior year, you always feel good about that. We would've probably been a totally different team without those guys.
"Obviously we had a goaltender question, but this team's kind of grown together through the year. We've got great leadership, very driven. Those guys, especially our senior group – not just our captains, our senior group – they kind of their little old saying that they keep bringing up every week (note: Sandelin didn't specify what it was) and give credit to those guys.
"They came back and they've shown our young guys the way and they've been real good leaders and they've been our best players," Sandelin continued. "They've been our best players and, again, when your best players are playing that way, you're going to have an opportunity to have more success, so I give more credit to those guys and everyone's fallen in line and we found our goaltender and we are where we are."
UMD's seniors also recognize their Frozen Four as the feather in the cap that it is.
"Absolutely incredible," Iafallo said. "It's the reason why we came back and I'm just proud of the guys for sacrificing their body.
"The last two years, we came short, and this year we didn't, so it feels absolutely phenomenal."
UMD's grueling schedule near the end of the season – the Bulldogs have only faced one unranked team since the second week of February – intensifies Thursday in a national semifinal game against second-ranked Harvard. A win there, and a national championship date against either Notre Dame or conference rival Denver awaits.
Can UMD rekindle the memories from its championship success six years ago? Tough to say, but the Bulldogs are relishing the chance to do so.
"Obviously pretty exciting for our program to get back to the Frozen Four," Sandelin said. "Certainly excited for our group of seniors that, I think I mentioned at the regional final, had a couple of opportunities in their sophomore and junior year to have the opportunity to get back there, so we're looking forward to it.
"It's a great field, and obviously playing a very talent team in Harvard, so we're looking forward to that opportunity and we're excited to get there."