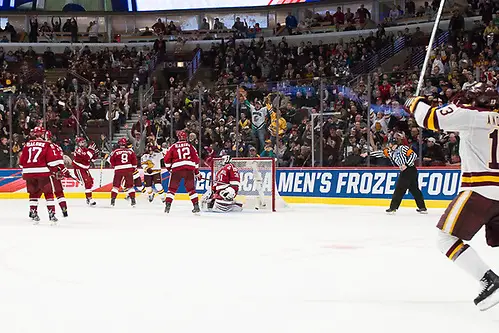 CHICAGO — There was beauty and creativity in Alex Iafallo's game-winning goal that sent Minnesota Duluth into Saturday's national championship game, but it wouldn't have happened without the Bulldogs winning a good old-fashioned puck battle.
The scrum developed off a Willie Raskob shot that went behind the net and up along the right-wing boards. There, Joey Anderson battled three Harvard players for the puck, a battle with two possible outcomes other than the one that led to Duluth's win.
In one, Harvard could have gotten the puck out of the zone, a missed opportunity Harvard coach Ted Donato rued after the game.
"It appeared we had a couple opportunities to get the puck out," he said, "[but] we got trapped with three guys on the boards."
In the other Crimson-flavored scenario, Harvard might have won control of the puck and broken out in numbers the other way.
"My initial thought was that I hoped it didn't go the other way because I was cheating a little bit into the zone," Raskob said. "But once Joe won that battle, there were three [Harvard] guys along the wall and another guy down low. The rest is history."
Alex Iafallo with a huge redirect goal to give UMD the lead over Harvard pic.twitter.com/PxNHc4qmKR

— CJ Fogler (@cjzero) April 7, 2017
Indeed. Anderson backhanded a pass from the right wing boards to Raskob, who'd snuck down a bit from the left point.
"I just kind of held it for a second, and saw Al passing through and saw Willie screening on the weak side," Anderson said. "I just threw a little pass over to him, and he did the rest from there."
With a two-on-one advantage, Raskob dragged the puck to the side to set up an even better opportunity.
"I wanted to try to sell the shot a little bit," he said. "I saw Al right away and I knew my play was going to be to him. So I tried to get [the defender] to come to me and try to commit to my shot. At times like that, guys are selling out, so I knew he was going to come hard, so Al ended up wide open.
"Obviously, Al is a little better player than I am, so I'm glad I found his tape and I wasn't shooting the puck. There are things he does that other guys aren't able to do."
For Iafallo, who scored his 20th goal on the play, it was just repeating what they had done in practice so many times before, just a simple redirection that went through goaltender Merrick Madsen's five-hole.
"We do it in practice all the time," Iafallo said. "Just had to shovel it in. Worked out well."
"Well" might be the understatement of the season, especially if on Saturday Duluth leverages the goal to secure its second national championship in seven years.