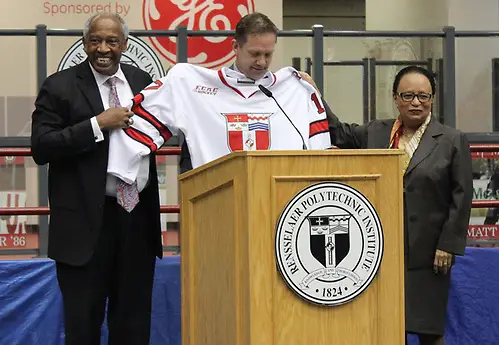 Dave Smith has been named head coach at Rensselaer, the school announced Thursday.
Smith spent the last 12 seasons in the same position at Canisius, compiling a 172-223-59 record and an Atlantic Hockey tournament championship and NCAA tournament appearance in 2013.
[youtube_sc url=https://www.youtube.com/watch?v=QSPj0oqXKkw]
"It was a very difficult decision to leave Canisius and something we were very proud that we built," Smith said at a news conference Thursday. "But it was very easy to look at the strengths of RPI — the history, the traditions."
Smith played at Ohio State before a six-season professional playing career. Before coaching Canisius, he was on coaching staffs at Mercyhurst, Bowling Green and Miami.
He takes over a team that finished 8-28-1 this season. Seth Appert was fired in March after 11 seasons.
The Engineers finished 11th in ECAC Hockey this season after finishing sixth in 2015-16.
"If we can gain success in our league, we can be on the biggest stage of all, which is playing today and playing Saturday," Smith said, referencing Harvard playing in the Frozen Four. "And that's the goal."
Assistant coach Trevor Large will serve as interim coach at Canisius while a search is underway.
"We are grateful for the tremendous contributions that Dave Smith made to the growth of our hockey program," Canisius athletic director Bill Maher said in a statement. "His dedication to building our hockey program and ensuring the student-athletes had a broad impact on our campus community were as important to Canisius as the championship success they achieved on the ice. Dave led our program to new heights, and the Smith family will always be an important part of Canisius. We wish him well in this next step of his career."