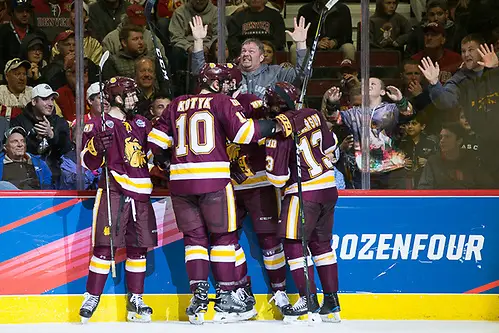 CHICAGO — Trailing 3-1 heading into the third period of Saturday's game, Minnesota Duluth had every reason to believe that the national championship was still within reach.
The Bulldogs won their last four games by a single goal and all four times in dramatic fashion.
Frozen Four 2017
More coverage of the 2017 NCAA men's Frozen Four at Frozen Four Central.
In their 4-3 NCHC playoff championship win over North Dakota on March 18 and in Thursday's 2-1 Frozen Four semifinal win over Harvard, the Bulldogs scored the game-winning goal in the last minute of regulation.
In their 3-2 West Regional wins over Ohio State and Boston University, the Bulldogs allowed the game-tying goal late in the third period but won in overtime.
"Maybe we ran out of puck luck against Harvard," said coach Scott Sandelin. "I don't know."
After two periods Saturday, Minnesota Duluth trailed Denver 25-23 in shots; in the third period, the Bulldogs outshot the Pioneers 17-3, doing all they could to even the game. The effort led to Riley Tufte's scrappy goal at 14:39 to bring them within one.
Early in the third — just after the injury to Denver defenseman Tariq Hammond that stopped play for several minutes — Tufte had another chance, a back-door attempt that rebounded out to Avery Peterson, who promptly hit the post.
Tufte was buzzing again midway through the period with another back-door attempt that went wide. On the shift that led to Tufte's goal, Alex Iafallo — who had the game winner against Harvard — had a shot that went wide and another that forced Tanner Jaillet to make one of those 17 third-period saves.
"I thought our guys went out there and played as well as they could," said Sandelin. "The effort — you saw the [third] period. I mean, you know, we went after it."
Between the second and third periods, said captain Dominic Toninato, there was never a doubt that the Bulldogs could catch the Pioneers.
"The talk in the locker room was to go out there and have our best period and give ourselves a chance," he said.
"We've been resilient all year," said junior Karson Kuhlman. "We've come back multiple times through the season and obviously in regionals there, we fought to come back just to get to this point, so I think we had a lot of belief in our team. Nobody doubted for a second that we couldn't come back and tie that game up and eventually win it."
After four one-goal wins to earn the chance to play for a national title — and 10 one-goal wins during the regular season before that — the Bulldogs found themselves on the other end of that one-goal differential and no time for redemption.
"Our guys were awesome in the third," said Sandelin, "and we gave ourselves a chance to get back in the game. And we just came up one goal short."