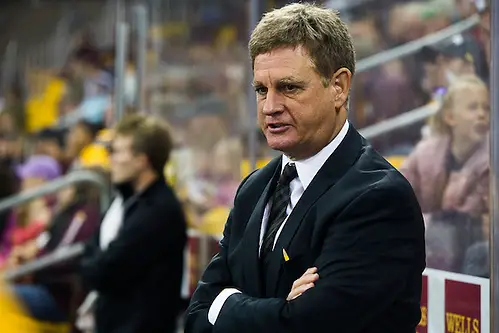 Michigan Tech head coach Mel Pearson has been named Michigan's new head coach.
Pearson, who becomes the ninth head coach in program history, returns to Ann Arbor after previously serving 23 seasons as an assistant coach for the Wolverines and the past six as head coach at Michigan Tech.
"I am very honored and proud for this opportunity to be the next head coach at Michigan," said Pearson in a statement. "I am looking forward to continuing to build upon the rich and successful tradition of Michigan hockey.
"I would like to thank President Schlissel, Warde Manuel and my long-time mentor and friend Red Berenson for entrusting me with this opportunity. I spent 23 years here and thoroughly enjoyed my time in Ann Arbor. I am excited to be back and am looking forward to meeting the team and getting ready for next season.
"Lastly, I would like to thank the former players, alumni and fans that have reached out to me with encouragement."
"I am thrilled to select Mel to lead our hockey program and for him to return home to U-M following tremendous success in leading the Michigan Tech program," added Michigan director of athletics Warde Manuel in a statement. "I've known Mel for years and experienced his leadership ability when I was the sport administrator for hockey and he was an assistant under Red (Berenson). Mel's qualifications are well known throughout the hockey community and reach far beyond his ability to coach. Simply put, I couldn't have selected a finer person to lead our ice hockey program into the future."
"I think Mel is a great fit for Michigan hockey," said Berenson, who remains at U-M as an advisor to Manuel following his retirement from coaching earlier this month. "He knows the program well from his time here, and I think he is exactly what Michigan hockey needs to be successful."
At MTU, Pearson guided the Huskies to two NCAA tournament appearances in the last three years while winning a WCHA regular-season title and a WCHA championship in that span. Pearson registered a 118-92-29 overall record, including a 75-34-14 mark over the past three seasons.
Under Pearson's leadership, the Huskies finished the 2016-17 season ranked in the top 20 for a third consecutive year, all of them featuring 20-win campaigns. Pearson also earned two WCHA Coach of the Year honors in his time at Michigan Tech, which claimed the program's first-ever No. 1 national ranking on Nov. 17, 2014.
Pearson served as a Michigan assistant coach from 1988-89 through 1998-99 and as associate head coach from 1999-2000 through 2010-11. He played an integral role in developing the Michigan program into one of the most successful in the country, being heavily involved in the Wolverines' recruiting effort and helping land the core of its 1996 and 1998 NCAA championship teams. Over the course of those 23 years, the Wolverines posted a 667-243-71 record while capturing 11 CCHA regular-season titles, nine CCHA tournament crowns and two NCAA championships (1996 and 1998), in addition to making 11 NCAA Frozen Four appearances.
After he helped Michigan to the 1999-2000 CCHA regular-season championship, Pearson was awarded the Terry Flanagan Award by the American Hockey Coaches Association, which honors an assistant coach's career body of work. Pearson also served as a coach with the 1996 United States World Junior Championship team, helping the Americans to a silver medal.
As a collegian, Pearson was a four-year letter-winner at Michigan Tech (1977-81), where he appeared in 97 games, accumulated 56 points (21 goals, 25 assists) and helped capture the WCHA tournament and a Great Lakes Invitational titles as a senior. Ironically, Pearson's most "famous" goal was scored against the Wolverines in the championship game of the 1979 Great Lakes Invitational. He broke a 4-4 tie at 2:28 of the third overtime to give the Huskies the GLI title. The game still stands as the longest in the 43-year history of the tournament.
After earning his bachelor's degree in business administration in 1981, Pearson remained at his alma mater to serve as an assistant coach on the Huskies' staff from 1982-88.
"Mel has been an incredible leader for our hockey program over the last six seasons, and we thank him for his efforts to lead Michigan Tech hockey back to national relevance," Michigan Tech athletic director Suzanne Sanregret said in a news release. "Winning the GLI, bringing home the MacNaughton Cup, winning the WCHA championship at home this season, and going to the NCAA tournament twice are moments that our fans will remember forever."
"We have a great hockey program in a great hockey town and we will hire someone to build on that tradition," Michigan Tech President Glenn D. Mroz added. "We thank Coach Pearson for his fantastic six years at Michigan Tech. He has put us in a position to hire a new coach who will build upon the tremendous success Mel has had here. We wish Mel and his wife Susie the best of luck."
"Mel has proven that you can win at Michigan Tech," added Sanregret. "This is an opportunity for us to continue to grow and advance our historic program, and we will begin a national search for his replacement immediately."
"I would like to thank President Mroz and Suzanne Sanregret for all of their support and for bringing me back to Michigan Tech and giving me an opportunity to become a head coach," Pearson said. "I just can't thank them enough.
"I would also like to thank all of the players that I've had at Tech that have helped make my time very enjoyable. I'm so proud of the guys I was able to coach, and I love those guys. I look forward to continuing my friendship with all of them. Being a head coach is never a one-man show. My assistant coaches and support staff worked tirelessly to help us win championships and were an important piece to our success."