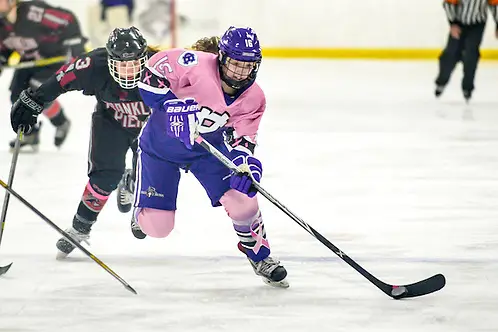 Holy Cross' women's hockey team will join Hockey East for the 2018-19 season.
"It is always exciting when we are able to grow our membership ranks and particularly so with an institution of such unique prestige and character as Holy Cross," said Hockey East commissioner Joe Bertagna in a news release. "We look forward to joining forces with the Crusaders to bring the Hockey East brand to Central Massachusetts and its great hockey fans."
The school and conference announced the move jointly Tuesday morning.
"This is a historic day for the College of the Holy Cross and for our women's ice hockey program," said Holy Cross director of athletics Nathan Pine in a statement. "I'd like to thank Commissioner Bertagna and the Women's Hockey East membership for their confidence in Holy Cross and for this wonderful opportunity to join their ranks. We are committed to competing for championships in Hockey East, and I'm confident all of our constituencies will be excited for this important move
"This is a great day for our Holy Cross women's ice hockey family," added Holy Cross coach Peter Van Buskirk. "The leadership on our campus has shown a great commitment to the future of our program, and everyone from our current student-athletes to our dedicated alumni base is looking forward to our new home in Hockey East."
Holy Cross just completed its final season as a member of the Division III New England Hockey Conference. As a Division I school, the Crusaders were ineligible for the postseason, and competed instead in the unofficial NEHC Women's Open Championship.
In 2016, the NEHC announced that all schools competing in the conference would have to be Division III schools for the 2017-18 season, meaning that Holy Cross and Division II schools St. Anselm, St. Michael's and Franklin Pierce needed to find a new conference.
Holy Cross announced in November that it would elevate its women's program to Division I and seek membership in either the CHA, ECAC Hockey or Hockey East.
For next season, Holy Cross will be playing an independent schedule and has a scheduling alliance with the former NEHC members, along with Post and Sacred Heart, to play each other four times each.