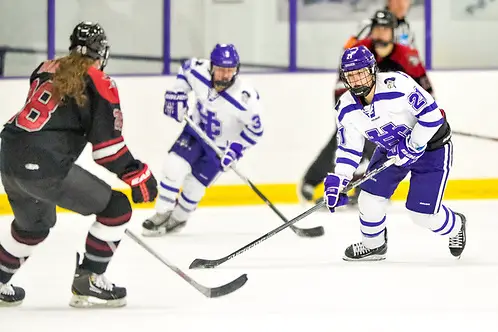 Today's joint announcement between Hockey East and Holy Cross that the Holy Cross women's ice hockey team would become the conference's 10th member for the 2018-19 season is the end of a long process.
In October 2016, Holy Cross announced that it would be officially elevating its women's hockey program to a full Division I level and seeking an alignment with one of the three existing Eastern college hockey conferences, the CHA, ECAC Hockey or Hockey East.
The move was prompted in part by the decision of the New England Hockey Conference to only allow Division III schools to play in the conference starting with the 2017-18 season, a decision which affected not only Holy Cross, but Franklin Pierce, Saint Anselm, and Saint Michael's.
While those three schools are Division II entities and had no interest in elevating their athletics programs to Division I status so that the hockey teams would have more competition, Holy Cross going to Division I made sense, as the team was technically a Division I school already, and the men's team has been competitive in Division I, making two appearances in the NCAA tournament and earlier this year beating two ranked teams in Providence and Union.
With the ECAC already being a 12-team league with every member school having women's and men's teams, the ECAC was unlikely, barring a current school leaving. That left the CHA and Hockey East. The former seemed like it could be a fit, given that several of the CHA schools have men's teams that play Holy Cross in the Atlantic Hockey Conference. However, Holy Cross almost immediately looked at Hockey East.
"I think there has been mutual interest for some time," said Holy Cross director of athletics Nathan Pine of joining Hockey East. "We've actually had conversations on the women's side for almost a year, as far as first exploring interest on both sides, what the potential was, and then doing our due diligence and understanding all that went into a move to Hockey East from the Holy Cross side.
"It wasn't something we rushed into. Fortunately, there was interest on both sides, so it was able to continue to progress from initial conversations to doing our due diligence to having the Expansion Committee come take a look at Holy Cross and then in its latest iteration to presenting at their annual meeting to being accepted for membership and extended an invitation."
One of the reasons for the announcement now was to give Holy Cross more of an opportunity to recruit the players it will need to have to be competitive against teams like Boston College, Boston University, and Northeastern, programs that have all played in the NCAA tournament in recent years.
"I think there is a transition and move up in competition, so it's something we are very excited about," said Pine. "Part of the announcement now a year early is we are getting into the recruiting conversations and I think young women are looking at Holy Cross a little bit differently as they explore their collegiate hockey opportunities. I think it's a very good thing. I think the timing is appropriate now a year out so that we can continue to enhance and build onto our program and our roster, and I think we've got young women on the team now that are capable of raising their game, so I think it's going to be a nice mix."
Next season, Holy Cross will play an independent schedule. The Crusaders also have a scheduling alliance with the former NEHC foes, plus Post University and Sacred Heart, for a total of 20 games. Filling out the schedule will games against Division I schools, including coach Peter Van Buskirk's alma mater, future Hockey East foe the University of New Hampshire.
"We have a Hockey East team on the schedule in UNH," said Pine. "We are going to be announcing our schedule here shortly. We've also added some ECAC competition in Dartmouth and Harvard, and the CHA and Syracuse. It's going to be a mixture of Division I schools and some of the Division II schools that we have been playing against. I think it's an appropriate schedule for the transition, and I think we'll be able to test ourselves against some very good Division I competition next year in preparation for the move into Hockey East."
With the women joining Hockey East, there has been some speculation about whether the men's program will follow in the footsteps of the University of Connecticut and move to Hockey East from Atlantic Hockey, especially since Notre Dame's departure for the Big Ten leaves Hockey East with 11 teams. One thing affecting that is Holy Cross' home rink. The Hart Center at the Luth Athletic Complex only holds 1,600, far short of the 4,000 required of Hockey East's men's teams.
However, last season Holy Cross hosted two Hockey East teams, Boston College and Providence, in games at the DCU Center, which holds nearly 15,000. The DCU Center has been the site of several NCAA regionals, and Holy Cross will host a 2018 regional there. It is also where the ECHL team the Worcester Railers will play. The Railers playing at the DCU Center would be one hurdle for Holy Cross to overcome before the men's team could join Hockey East
"Our men play in Atlantic Hockey, so I'm not going to comment on other league affiliations right now," said Pine. "What I will tell you is that progress would need to be made on the availability of the DCU Center for Holy Cross to play downtown before those options can be further explored."