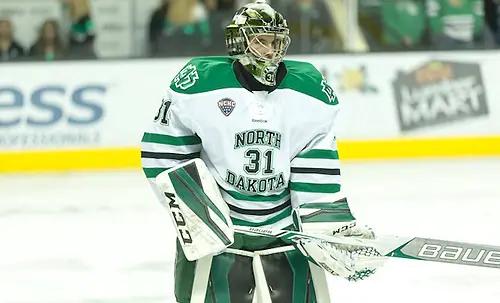 In two seasons at North Dakota, goaltender Matej Tomek has seen action in just two games.
With Cam Johnson returning for his senior season, Tomek has decided to play in the United States Hockey League in 2017-18 after being drafted in the second round this past week in Phase II of the USHL draft by the Waterloo Black Hawks.
A Philadelphia Flyers prospect, Tomek has just one season of junior eligibility left before he can choose another school or turn pro for the 2018-19 season.
"Honestly, I have a lot of mixed feelings," Tomek said to the Hockey News. "I'm very excited to get an opportunity in a new place, but at the same time, I'm really upset at leaving everything I've built here. I've found friendships that will last a lifetime."
This past season, Tomek played parts of two games against Miami and Colorado College, seeing 32 minutes of action and allowing four goals for a 7.46 GAA and a .692 save percentage.