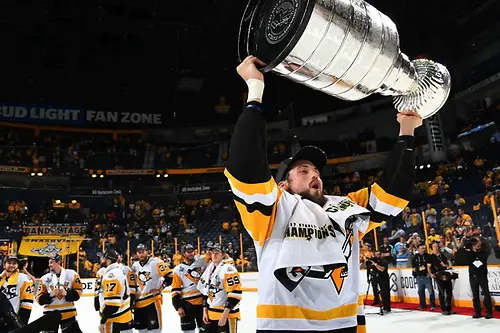 Brian Dumoulin may not be able to win any more NCAA championships — but he might not yet be done claiming Stanley Cups.
A defenseman from Biddeford, Maine, who helped Boston College to two national titles, Dumoulin won his second Stanley Cup in June when his Pittsburgh Penguins outlasted the Nashville Predators in a six-game final.
The Penguins also became the first back-to-back Stanley Cup champion since the 1997-98 Detroit Red Wings.
"It's special to win it once," said Dumoulin in August. "Twice is awesome. You dream about it  — and to do it, celebrate, and have it on your résumé with the same team again, is very special."
He contributed a goal and five assists in 25 playoff games to the Pittsburgh repeat effort, one year after notching two goals and six assists in 24 appearances and then bringing the Cup to his home rink in Maine for his first individual day with Lord Stanley's prize.
"I'll never forget my two days with the Cup," he said. "It was a lot of excitement, and a lot of good things come when you win the Cup."
Dumoulin, 26, won NCAA titles with BC in 2010 and 2012, and earned Hobey Baker Memorial Award finalist status and first-team Hockey East and All-America accolades as a junior. He finished with 11 goals and 83 points in 123 career games with the Eagles, before leaving early to go pro.
Though winning championships at both the NCAA and NHL levels carries a certain degree of satisfaction, Dumoulin explained there are differences between the two.
"In college, you play with your brothers the whole year," he said. "You live with them; you go to class with them. Winning with those teams meant the world, and created a bond we'll have the rest of our lives.
"The Cup is more of a grind on us, our families and friends," added the Penguins' No. 8. "There's 20 some-odd games, so emotions get the best of them, too. I'm proud to say I've won both national championships and Stanley Cup championships."
This summer Dumoulin brought the Cup back to the Heights, just as former Penguins blueliner/Eagles alumnus Brooks Orpik did in 2009.
"I brought it to BC in the morning, and to the Spaulding Rehabilitation Center in Charlestown, and then out on the harbor for a boat cruise," he recalled. "It was cool. I got to see a lot of familiar faces — teachers and people I saw every day — and Coach (Jerry) York was excited.
"I was [at BC] for three years. There's a lot of special memories, and I still work out and take classes there. It was cool to share it with all of them. I learned a lot at BC, how to be a player and a person, and I'm grateful for that."
Dumoulin was also part of the largest former NCAA contingent to play on the same Stanley Cup championship team. Also on the Pittsburgh roster this spring were Josh Archibald (Omaha), Nick Bonino (Boston University), Ian Cole (Notre Dame), Ryan Guentzel (Omaha), Ron Hainsey (UMass Lowell), Phil Kessel (Minnesota), Chris Kunitz (Ferris State), Bryan Rust (Notre Dame), Carter Rowney (North Dakota), Chad Ruhwedel (UMass Lowell), Justin Schultz (Wisconsin), Conor Sheary (Massachusetts) and Scott Wilson (UMass Lowell).
The Penguins' hockey staff included head coach Mike Sullivan (Boston University) and goalie coach Mike Bales (Ohio State), along with assistant general manager Bill Guerin (Boston College).
According to NHL.com, the 6-foot-4 Dumoulin averaged almost 22 minutes per game in the playoffs. He skated a team-high 26 minutes in the Cup-clinching contest in Nashville, while also providing an assist.
"Dumoulin is the one who got the most minutes because he's a good skater, he sees the play well, he moves the puck," said Penguins assistant coach Jacques Martin.
Dumoulin spent three seasons with Wilkes-Barre/Scranton in the American Hockey League for current New Jersey Devils head coach John Hynes before becoming a blueline mainstay in Pittsburgh. He has gotten used to sharing a locker room with the likes of Sidney Crosby and Evgeni Malkin.
"I always try to be one of the guys," said Dumoulin. "You're in awe when you first get started practicing with them, and see the things they can do with the puck. You get over it, and want to help them to do those things. They're great teammates, and you get to go to work with them every day."
Selected by Carolina in the 2009 NHL Entry Draft before being traded to Pittsburgh three years later, Dumoulin starred with the New Hampshire Junior Monarchs and also won two state championships with Biddeford High School before enrolling at BC. He earned a bronze medal with Team USA at the 2011 World Junior Championship, and is on the verge of earning his bachelor's degree in marketing from BC.
"Every year, it gets harder to go back, but you just suck it up and do it," he said. "I've got one more class to go."
He also participated in the Commonwealth Avenue Classic between BC and Boston University hockey alumni at BU's Walter Brown Arena in July. The annual event raised nearly $65,000, with proceeds benefiting Compassionate Care ALS.
"It was a blast," said Dumoulin, who signed a six-year, $24.6 million contract with Pittsburgh over the summer. "I saw a lot of old teammates. It was so much fun, and it raised money for a good cause."
Concerning the future, Dumoulin was due to report to training camp with the Penguins in mid-September. He spent summer in the Boston area, taking some time off to hit the beach while also getting his new house in order. He also skated and worked out at his alma mater in preparation for a chance at a third consecutive Cup with Pittsburgh.
"I like to go back early, see the guys and get settled," he said. "It's one thing to go all the way. There's not much time for rest and relaxation, but that's a good problem to have."