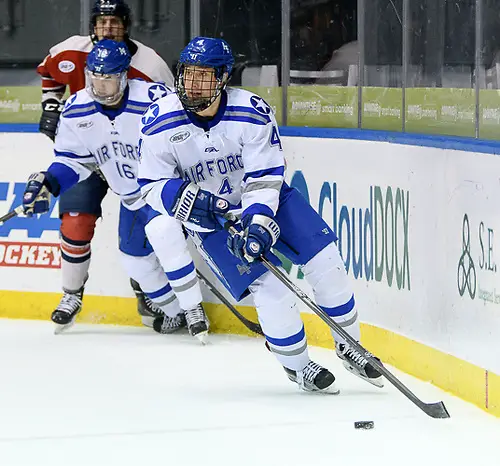 There's a wealth of talent in Atlantic Hockey this season, possibly the most skilled and experienced group of players the league has ever produced.
With a few exceptions, teams were not hit hard by graduation, retaining the vast majority of their top players.
Remarkably, only five of the top 35 scorers in the league graduated. A whopping nine of the eleven AHC teams return at least eight of their top ten scorers; another returns seven of ten.
The exception is goaltending. All three all-league goalies have moved on. Canisius' Charles Williams and Army West Point's Parker Gahagen have graduated, while Air Force goalie Shane Starrett turned pro at the end of his sophomore season, signing a deal with Edmonton.
But teams like Mercyhurst, Robert Morris and Holy Cross will have experience between the pipes in addition to bevy of skilled skaters.
"Depth is the best that it's ever been," said Air Force coach Frank Serratore. "There are more teams than ever that can win the regular season, and even more teams that are capable of winning the playoffs. I think every team in this league can win the playoffs and go on to the NCAA tournament."
"Every team has five or six guys that are worthy of all-star status," said Bentley coach Ryan Soderquist. "Where before, you had two or three. I think the league has made tremendous strides in getting and developing talented players."
"Looking at the league I can only say 'wow'", said Army coach Brian Riley. "Teams from one to eleven, you legitimately have a chance to win every night. I don't think you used to have the parity that we do now."
"The good news is I think we're better," said American International coach Eric Lang, now in his second season at his alma mater ('98). "The bad news is that everybody's better. It's exponentially better from when I was a player. It's hard to climb up in this league."
Deeper rosters means more parity as well as hopefully more non-conference wins, something the league has struggled with.
But for now the coaches are focused on competition within the conference, which they expect to be as fierce as ever.
I think (the final standings) will be the closest we've ever been when it's all said and done," said Riley. "If you don't improve, you're going to get passed."
New faces behind the bench
After several seasons of stability in the coaching ranks, last season saw Lang begin his head coaching career at American International. This offseason brought more turnover, albeit for different reasons.
Dave Smith, fresh off leading Canisius to its first regular season title, was snapped up by Rensselaer. At Niagara, consecutive last-place finishes for the Purple Eagles led to the school cutting ties with coach Dave Burkholder after 16 seasons as a head coach and 21 seasons overall.
Canisius stayed the course and promoted assistant Trevor Large to head coach. While Large expects to put his own mark on the program, one important aspect will stay the same.
"We hope to continue the culture that Dave was able to create here," said Large. "Legacy is our culture. I heard that message from the team through the (coach selection) process.
"We're always looking for things to improve. We're targeting some areas to improve, goal scoring being one of them. We had some success last year and we want to grow that."
In April, Niagara announced Jason Lammers as its new head coach. Lammers came from Dubuque of the USHL, where he was the head coach and general manager. He was previously the top assistant coach at UMass-Lowell.
"I'm excited to be a part of this program and a part of this league," said Lammers. "I'm impressed by this group of players, and the intent they've shown to work hard, and be hard to play against."
"An addicting drug"
Air Force's participation in the NCAA tournament last year, when the Falcons defeated Western Michigan and lost 3-2 to Harvard, brings extra motivation for Serratore's team this season.
"It's like an addicting drug," said Serratore. "Once they go there, they want nothing more than to get back."
The Falcons have made six NCAA appearances since joining the league in 2006, but prior to last season, the most recent appearance for Serratore's team was in 2012.
"For all of our players last year, it was their first trip to to the NCAA tournament," he said. "And it was a great experience that they want to have again."
Earning it
According to the league's coaches, Air Force has the best chance of making a return trip to the NCAA tournament. The Falcons were ranked No. 1 in the preseason coaches' poll, getting eight of 11 first-place votes.
"Now we have to go out and earn that ranking," said Serratore. "It's going to be more difficult than it's ever been. We lost our best player (Starrett), but we have the deepest team that I've coached here. We're five lines and eight defensemen deep."
Looking ahead
* The league continues to ramp up its scholarship limit, increasing it by one each season until reaching the NCAA maximum of 18 in the 2020-21 season, It's at 15 for 2017-18.
* The conference championship will stay at Rochester's Blue Cross Arena through 2020. It will be interesting to see if Atlantic Hockey follows suit with the WHCA and Big 10 and move to a completely on-campus tournament. Attendance has been dismal at BCA for games that don't involve RIT. Last year's championship game between Air Force and Robert Morris drew only 650 fans.
* This year marks the 15th anniversary for the Atlantic Hockey, and the league is commemorating it in several ways, including a new logo, a 15th anniversary team, a look at the professional careers of famous alumni, as well as the "Top 15 Moments in Atlantic Hockey" that will be announced periodically throughout the season.
Predicted order of finish:
1. Air Force
2. Robert Morris
3. Army West Point
4. Canisius
5. Holy Cross
6. RIT
7. Bentley
8. Mercyhurst
9. AIC
10. Sacred Heart
11. Niagara
TEAM PREVIEWS (in order of predicted finish)
Air Force
Last Season
27-10-5, 19-6-3 (second) in the AHC. Lost to Harvard in the NCAA East Regional finals.
Names to know
The Falcons return almost everyone from last year's banner squad. All top ten scorers return, led by senior Jordan Himley (22 goals and 37 points last season) and junior Kyle Haak (33 points last season).
Senior Ben Kucera, hampered by injuries last season, was Air Force's leading goal scorer in 2015-16 and is capable of doing that again if he stays healthy.
Senior blueliner Phil Boje (30 points) was first-team all-league last season, and heads up a defensive corps that features six upperclassmen, including fellow seniors Kyle Mackey and Dylan Abood.
The unexpected departure of all-star goaltender Shane Starrett has created opportunities for junior Billy Christopoulous (3.09 GAA in 18 career games) and a trio of rookie netminders.
"Last year we needed Shane Starrett to win some games for us," said Air Force coach Frank Serratore. "The last three games of our tournament, two of them elimination games, we won and we scored a total of five goals. Goaltending won those games."
Serratore says that this year's team is deeper and more experienced and that may take some of the pressure off his goaltenders.
Besides the three new goalies, there are nine newcomers (six forwards and three defensemen) looking to crack a lineup that lost just three players to graduation.
Forward Zack Theisan had 97 points in 161 games for Coulee Region (NAHL), while classmate Walker Sommer put up 71 points in 78 games for New Jersey (USPHL).
Defensemen looking to make an early impact include USHL products Alex Mehnert (Omaha) and Zak Mirageas (Bloomington).
And finally, fans might do a double take when they see the nameplate on forward Alex Falconer's jersey. He's hoping to fit in well as a Falcon after posting 63 points in 156 NAHL games.
Three questions
1. How much will the unexpected loss of goaltender Shane Starrett affect the Falcons? Last season, Serratore was unabashed in his praise for Starrett, calling him the main reason for the Falcons' success. Air Force returns almost intact, with this one glaring exception. Is the job Christopoulous' to lose?
2. Is a Frozen Four possible? Before Starrett's departure, this team would have been in the running to be just the second Atlantic Hockey school ever to reach the Frozen Four. Air Force was a goal or two away last season, losing 3-2 to Harvard in the East Region Final. Are the Falcons still a contender at that level without their all-star goaltender?
3. How much does the large rookie class need to contribute? The Falcons have eight seniors but also have 12 freshmen. Serratore often plays freshmen sparingly in the early part of the season, but the Falcons, as deep as they are, will need its rookies to step up as well.
Crystal ball
Air Force is coming off one of the best seasons in school history, including a trip to the NCAA East Regional Final and its highest ranking in school history (No. 12) in the final USCHO Poll.
This looks to be one of, if not the deepest Air Force teams in school history. The Falcons may take a step back in terms of goaltending, but they still have more than enough to defend their title. Anything less than another trip to Rochester will be a disappointment.
Robert Morris
Last Season
24-11-4, 15-10-3 (tied for third) in the AHC. Lost to Air Force in the AHC tournament. final.
Names to know
Stop me if you heard this one before: the Colonials return a load of talent. Like most of the league, star players return to build on their already successful careers. Senior Brady Ferguson already has 118 career points, including 58 last season. He's the top returning scorer in Division I. Junior forward Alex Tonge had a breakout season in 2016-17, scoring 20 goals and adding 24 assists.
Senior Timmy Moore doubled his offensive output from his sophomore (12 points) to junior (25 points) seasons.
On defense, Robert Morris has four seniors including Brett Beauvais, who transferred from Bemidji State.
"(Beauvais) gives us even more depth and experience," said RMU coach Derek Schooley. "He's played in over a hundred WCHA games."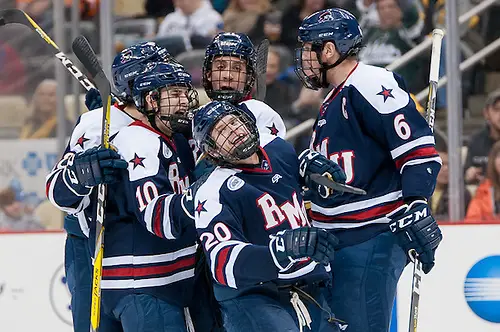 Junior blueliner Eric Israel was an offensive powerhouse last season, tallying 30 points, including six power play goals. He'll again quarterback a power play that was tops in the league and No. 7 nationally (22.7%).
A small rookie class includes forward Nick Prkusic, who had a whopping 76 points in 56 games last season for Brooks (AJHL).
In net, Francis Marotte had a fantastic rookie campaign, posting a 2.07 GAA and a .931 save percentage. He'll be backed by senior Andrew Pikul and rookie Dyllan Lubbesmeyer.
"Frankie went through the wars last season, playing in 30 games," said Schooley. "He came in and did an unbelievable job. We're looking for him to do just what he did for us last year. And we're confident Andrew Pikul, who played in some big games for us last year, can do the job for us as well."
Three questions
1. Can the Colonials go dancing? RMU has been the most successful team in the league in terms of ins (70) over the past three seasons. But while claiming two regular season titles over that span, nobody on the roster has played in the NCAA tournament.
2. Will experience pay off? Robert Morris has just four freshmen compared to eight seniors and 13 upperclassmen overall. "We're very deep right now," said Schooley.
"We've got a group that's comparable to the group that won 24 games a couple of years ago. We're not so much teaching as refining our game."
3. Is a fourth Three Rivers Classic in the cards? The host Colonials have claimed three of Three Rivers Classic tournaments, upsetting some top competition. The field this year (Providence, Arizona State, Lake Superior State) is not as strong as it has been in the past.
Crystal Ball
At the beginning of last season, the Colonials were expected to drop off a bit after graduating a class that contributed to one playoff and two regular season titles. But RMU won 22 games, just two less than it had racked up in 2014-15 and 2015-16.
Don't expect that to change. If anything, RMU could put up even more victories in 2017-18.
"The window for winning is wide open right now and hopefully it doesn't close any time soon." said Schooley.
Army West Point
Last Season
18-14-5 overall, 15-10-3 Atlantic hockey (tied for 3rd place). Lost to Air Force in the Atlantic Hockey semifinals.
Names to Watch
The Black Knights return 10 of their top 11 players from last year, including five 20-point scorers. They have all three 10-goal scorers from a year ago back, including Brendan Soucie and Zach Evancho. Along with Conor Andrle, Dominic Franco, Tyler Pham, and Trevor Fidler, there's enough firepower around to keep opposing defenses occupied.
Defensively, four players who played 30 or more games return, including Alex Wilkinson and Dalton MacAfee. Only Ryan Nick, who played in 133 games over four years, graduated.
Three Questions
1) Can Cole Bruns seamlessly replace Parker Gahagen as the team's goalie? The firstie only played in four games last year and has only 21 games on his career, but he posted a .949 save percentage and a 1.30 goals against average in four appearances. Starting two games in place of an injured Gahagen, he's made a believer out of his coach.
"Cole's been waiting for this opportunity," head coach Brian Riley said. "He has a different style than Parker, who was a big kid with size. But he's very competitive, so we won't change our style of play in front of him. The guys who play in front of him have confidence in him."
It's going to be tough to replace an all-conference goaltender who was one of the best in the nation. But with a defense designed to help him, Bruns could create a transition and make an immediate impact in his final season.
2) Can the offense replicate last season's 100-goal output? Riley likes to say a team "can't teach experience." As a third place team returning a huge crop of veteran players, the Black Knights have the offense to remain as one of the league's most explosive teams.
"This is a team with some of the most depth we've had up front and on defense," Riley said. "I think the big difference for us over the last four years is that we've been able to change the mentality. We went from being a team hoping to win to a team that expects to win. That change in the culture made a huge difference to us and all the credit to the players in our program who did that."
3) Is Army West Point the eastern team that can finally break the west's stranglehold on the league championship trophy? The Black Knights outscored league opponents by over 20 goals last year and ripped off a 4-1-2 stretch at the end of the season to earn a first round bye.
But a loss in the semifinals to their archrival Air Force left them unsatisfied. So this year begins with the intention of not allowing the team to feel like last year's accomplishment achieves anything for the upcoming season.
"We have experience up front and on the blue line," Riley said. "But we haven't done anything this year. We brought in nine new players, and we feel they're pretty good. They're pushing the older guys and that's important. Once you think you've arrived, that's when you run into problems, so none of our players have that attitude. If you don't improve, then you're going to get passed."
Crystal Ball
An eastern-based team hasn't won an Atlantic Hockey championship since Holy Cross lifted the trophy in 2006. Even with a change in goal, the Black Knights are still one of the teams to beat entering this season. If their returnees can move forward from last year's run and if Cole Bruns becomes the natural heir, that 11-year streak of western dominance could come to an end in West Point.
Canisius
Last Season
21-11-7, 18-4-6 (first) in the AHC. Lost to Robert Morris in the AHC semifinals. .
Names to know
Canisius' situation entering the 2017-18 season is similar to that of Air Force: on the heels of a record-breaking season, the Golden Griffins return all but a few players but lose their all-star goaltender.
League MVP and Hobey Baker finalist Charles Williams graduated, so new coach Trevor Large will be considering a quartet of hopefuls for the starting position. Back are junior Simon Hoffley (two appearances last season) and sophomore Daniel Urbani (five games) a well as sophomore Blake Weyrick and freshman Tucker Weppner (OJHL).
Up front, Canisius returns nine of its top 10 scorers from last season, including captain Ryan Schmelzer (30 points last season) and leading scorer Dylan McLaughlin (14 goals and 33 points). Both Schmelzer and McLaughlin were Atlantic Hockey all-stars in 2016-17, as was defenseman Cameron Heath (18 points).
Forward Nick Hutchinson's 24 points was tops among all freshmen in the league last season, and classmate Matt Hoover looks to improve on a great rookie season (20 points).
Heath, the Co-Defenseman of the Year in Atlantic Hockey in 2016-17, leads a defensive corps that lost just one member (Geoff Fortman) to graduation. Juniors Jimmy Mazza and Ian Edmonton helped the Golden Griffins post the second-lowest goals allowed (2.18) in the league last season.
Three questions
1. Who will be the go-to guy in net? Canisius had Charles Williams, a graduate transfer from Ferris State, for just one season, but what a season it was. In order to repeat as regular season champions, the Golden Griffins will need goaltending that while probably not at the level of Williams last season, good enough to give Canisius a chance to win each night. Williams was particularly important in the first half of last season when the Golden Griffins found goals hard to come by.
"Our expectations are very high in net," said Large. Our goalies have seen the effort that Charles put in last season. It helped seeing what it takes to be an all-American goalie."
2. New coach, same result? Dave Smith, last year's AHC Coach of the Year, parlayed his best season behind the bench at Canisius into the head coaching position at Rensselaer. Large, Smith's top assistant, was elevated to head coach. While Large will certainly make some changes, there's much to be said for sticking to the formula.
3. Can the offense pick up to where it left off? Canisius managed just 2.3 goals per game in the first half of last season but then turned on the jets, scoring 4.5 goals per game after the Holidays. With every forward back, Large's team will look to keep things rolling as opposed to a slow start.
Crystal Ball
The question's the same for every team coming off a championship season: Is a repeat possible? While Air Force has to be considered the favorite, it's hard to ignore the Golden Griffins' chances of repeating as regular-season champions, especially if they have good goaltending. Expect another first-round bye and another trip to Rochester.
Holy Cross
Last Season
14-15-7 overall, 11-10-7 Atlantic Hockey (5th place). Lost to Robert Morris in the quarterfinals of the Atlantic Hockey playoffs.
Names to Know
Paul Berrafato enjoyed a breakout junior season in goal for the Crusaders, starting all 36 games en route to a 2.77 goals against average. He posted three shutouts and returns this year for his senior season.
An talented defensive unit helped buoy his transition into the starter's role, and the Crusaders bring back a good chunk of that talent. Johnny Coughlin and Spencer Trapp both return for their junior season. Trapp had 17 assists en route to a 20-point season, while Coughlin posted a team-high +6 rating. Charlie Barrow and Tommy Muratore both return as well.
The offense lost Mike Barrett to graduation after nearly 150 career games, but it returns every other major contributor. Danny Lopez had 33 points as a junior, including 17 goals and a hat trick against AIC last season. TJ Moore recorded 13 goals and 25 assists, and Scott Pooley had 21 points. All three are seniors this year.
Three Questions
1) Can a consistently solid Crusader team take the jump and once again become a league powerhouse? Holy Cross won 14 games last year for the seventh straight season. An Atlantic Hockey blueblood, they earned a first round bye for a second straight year. But after failing to win a playoff series for the third straight year, they enter the 2017-2018 season with something to prove.
"This is the best team we've had from a depth perspective," head coach David Berard said. "We have a strong senior class that played significant minutes during their first three years. We have a group of freshmen that we think will be really good, and coupled with a lack of playoff success over the last couple of years, we're going to be really hungry and motivated to have a good year."
2) Where do they find balance for their existing talent? The Crusaders only had two seniors on last year's roster, and only one – Mike Barrett – saw significant time. So the coaching staff tinkered with the roster, bringing in five new freshmen to create new matchups and deepen the bench.
"From a coaching perspective, we played guys last year too much," Berard said. "We didn't play four lines or six defensemen with consistency. Sometimes it was a coaching decision, and sometimes it was an injury issue. We placed an emphasis that we can roll out four lines or six defensemen and play the way we want to play throughout the game and season."
3) With four non-conference games against ECAC, is Holy Cross the team to elevate Atlantic Hockey's profile in the region?
Holy Cross's schedule establishes them as one of the early teams of intrigue. They have five straight home games to open the season, and they play the bulk of their non-conference schedule against ECAC teams. The ECAC is arguably the east's best league in recent years, making the Crusaders a potential "team zero" to elevate the league's stature.
Crystal Ball
Holy Cross is always good, and they continue to prove they deserve consideration for first round byes. There's a natural hump to cross, which is winning a playoff series. Capable of receiving that bye, winning that first playoff series for David Berard would put them in the conversation for Rochester.
Rochester Institute of Technology
Last Season
14-22-1, 13-15 (tied for sixth) in Atlantic Hockey. Lost to Niagara in the first round of the AHC tournament.
Names to know
Twin defensemen Chase and Brady Norrish enter their senior campaigns as co-captains along with classmates Myles Powell and Matt Abt. Last year, the Norrish brothers suffered season-ending injuries within weeks of each other, and RIT struggled as a result, falling to a sixth place finish and a first round playoff exit.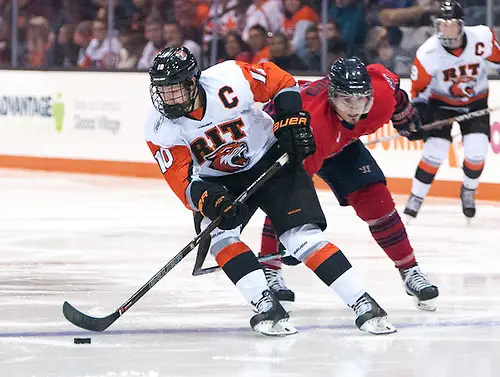 If they can stay healthy, the RIT defense could be a dominant force, with the Norrish twins, Abt (18 points last season) and 2017 AHC Rookie of the Year Adam Brubaker (23 points).
The Tigers, like many teams in the league return most of their offense, with nine of their 10 scorers returning, led by junior Erik Brown (16 goals and 27 points last season) and Powell (23 points).
RIT had the third best offense in the league last season and looks to improve on that with newcomers Nick Bruce (67 points for Johnstown (NAHL)), Aiden Dupuis (68 points for Bonnyville (AJHL) and Bryson Traptow (58 points for Whitecourt and Camrose (AJHL).
Goaltending will be the biggest question mark for the Tigers. Junior Christian Short appeared in just three games last season. He'll be pushed by rookies Logan Drackett (Goalie of the Year in the AJHL last season) and Ian Adriano, a two-time CCHL all-star.
Three questions
1. Was last season an outlier? After consecutive playoff titles in 2015 and 2016, RIT won only five games after the Holidays and made its earliest-ever exit in the conference tournament. The Tigers had a similar season in 2014 but returned to form the next year. Will history repeat?
2. Goaltending is a big question mark. Besides the injury bug, RIT suffered from inconsistent play in net last season. Two promising freshman and the former backup will compete for the starting job.
3. Can the Tigers take advantage of its early season home games? The Tigers are notorious for slow starts (they opened the 2009-10 season 0-5 before winning 28 games and making a trip to the Frozen Four) but they need some early success to help put last season behind them. RIT will have that opportunity, playing five of their first seven games on home ice.
Crystal Ball
When coach Wayne Wilson was asked if the Tigers were using last year's struggles as motivation or looking to put them firmly in the rear view mirror, he said it would be a little of both.
"Last year obviously wasn't what we hoped for," he said. "We're looking forward to redeeming ourselves.
"If I had to pick a word to describe this team, I would say 'determined'".
Expect RIT to have a better season than last time out, but there's several teams ahead of the Tigers that could keep them from rising to the top of the standings. A middle-of the pack finish is most likely, with a first-round bye an attainable goal.
Bentley
Last Season
13-19-7, 10-12-6 Atlantic Hockey (tied for sixth). Lost to Air Force in the quarterfinals of the Atlantic Hockey playoffs
Names to Watch
Kyle Schmidt had 18 goals and 15 assists last year and is the front runner to continue Bentley's top-flight goal scoring tradition. In 116 career games, he has 89 career points entering his senior year.
He headlines a young roster brimming with talent. Ryner Gorowsky had seven goals and 16 assists last year, finishing with a +6 rating. His lone game-winning goal came in a huge spot, clinching Game Three against Sacred Heart in last year's AHC first round in double overtime. They'll pair with Jonathan Desbiens, a fellow rising sophomore who scored nine goals last season.
Bentley's defense returns its entire unit, including five players who appeared in 30 games or more last season. Brett Orr (one goal and 17 assists) and Alexey Solovyev (seven goals and nine helpers) both have two way capability on a team that's scored 100 goals every season since 2010-2011.
But the Falcons' best asset might be in net. While other teams have to replace goaltenders, Bentley has two potential conference leaders on their roster. Jayson Argue has a career .915 save percentage, while Aidan Pelino posted a 2.41 goals against average with a .930 save percentage and two shutouts last season.
The Falcons had 13 players with 10 points last year; all but two are back in uniform. Of the returnees, eight played in more than 35 games. That sets the team up to deliver a new look harnessing the skill of multiple lines and incredible depth.
"We've had great success with one or two goal scorers," Soderquist said. "Our depth is where we kind of got bit. We're excited for this opportunity. These guys have stepped up, and our incoming class is one of the strongest classes we've ever had. I can't say enough of how excited I am to get out on the ice every day."
Three Questions
1) Can Bentley get off to a fast start despite a road-heavy schedule in the first month of the season? This year provides the Falcons with plenty of optimism. They return the bulk of their roster, including two first-string goaltenders. And there's a new home on the horizon with an on-campus rink due to open later this year.
But the spotlight is "focused on October," according to head coach Ryan Soderquist. The Falcons open the season for all but five games in the first half of the season, including eight straight conference games. They'll play one non-conference game before Christmas, making a fast start critical.
"We had an extremely slow start last year," Soderquist said. "We only had four wins prior to Christmas break last year, so it's going to be our main focus to get out to a quicker start this year."
2) Will the offense keep the streak of 100-goal seasons alive in what might be the league's most competitive climate? They lost Max French's 143 career points to graduation, but the Falcons are shaping up to change the perception of a team relying on one line or one superstar player.
"We have six seniors who are great leaders," Soderquist said. "We have a much different team that we've had in the past. We're not going to be relying on one or two goal scorers and have great depth in scoring. Nine out of our 10 top scorers and both goalies are back, and that makes us excited to get the season started."
3) What's in store for Jayson Argue and Aidan Pelino? Two of Atlantic Hockey's top-flight goaltenders, they're on the same team and split time last year while producing solid numbers. Both goalies saved over 90% of shots faced, with Pelino slightly better with a 2.41 goals against average.
Over the past three years, Argue's had one of the best big game flairs, while Pelino established himself with two shutouts. Regardless how Soderquist chooses to use them, they have a player capable of putting the team in a position to win. Few teams can say that with one goalie, let alone two.
Crystal Ball
If they achieve a fast start, the Falcons stand to become a major player. Seven of their last nine games are at home, including their last five games of the regular season. So it stands to reason that Bentley could rise once again to the ranks of the top Atlantic Hockey teams. A year after they finished eighth only due to mathematical tiebreakers, a good Falcon team could challenge for a first round bye.
Mercyhurst
Last Season
15-20-4, 11-13-4 (seventh) in the AHC. Lost to Army in the AHC quarterfinals.
Names to know
Like several other Atlantic Hockey teams, the Lakers' losses to graduation were minimal. Mercyhurst said goodbye to just three players from last season and returns nine of its top ten scorers as well as both starting goaltenders.
Mercyhurst placed two players on the league's all-tournament teams last season: forward Derek Barach (a team-leading 37 points last season) and defenseman Lester Lancaster, who was also named Co-Defenseman of the Year in Atlantic Hockey.
Jonathan Charbonneau (16 goals last season) leads a group of six senior forwards, including redshirt senior Jack Riley (18 points). Also expected to keep pace are junior Taylor Best (18 points) and sophomore Matthew Whittaker (18 points).
Sophomore defenseman Joe Duszak's 21 points last season were fourth on the team and second only to Lancaster in points by a blueliner.
Senior Brandon Wildung and sophomore Colin DeAugustine split time in net last season. DeAugustine had a slightly better save percentage (.913 vs. .908) while Wildung's GAA was marginally better (3.08 vs. 3.11)
A small rookie class includes forward Corey Caruso, who scored 56 points in 57 games last year for Brockville (CCHL).
Three questions
1. Can the Lakers reverse the trend? Mercyhurst has made it to Rochester six times in the 11 years that the championships have been played at Blue Cross Arena. But a close quarterfinal loss last season to Army marked consecutive campaigns that the Lakers failed to get to the semifinals, the first time Mercyhurst was shut out twice in a row.
2. Will someone win the goaltending job outright? Wildung and DeAugustine split time last season, but that wasn't by design according to Gotkin, who says he'd like to have a go-to guy.
"We're hoping one guy will emerge and be that guy for us," he said. "Right now it's Wildung but we like all of our goalies."
3. Will the offense improve? The Lakers are known for their high-tempo offense, but were a middle of the pack team in that department last season.
Crystal Ball
The Lakers return almost intact from last season, that saw them lose a close three-game series to Army in the quarterfinals. Picked to finish seventh in the preseason coach's poll, they're a legitimate dark horse to go much farther. Expect solid goaltending and a return to form on offense, which means a fight for home ice and a possible bye.
American International
Last Season
8-20-8 overall, 7-14-17 Atlantic Hockey (10th place). Lost to Mercyhurst in the first round of the Atlantic Hockey playoffs
Names to Know
AIC brings back virtually its entire core, including four forward who led the team in points as freshmen. Dominik Florian was the team's only 10-goal scorer, but he finished one point behind Blake Christensen's 21 for the team lead. Martin Mellberg and Hugo Reinhardt finished behind the duo in points in their respective rookie year, tying with 19 points.
Along with Shawn McBride, who had 14 points last season, the Yellow Jackets return five of their top six producing forwards from a year ago. Johno May only had eight points last year as a junior, but racked up 16 goals and over 30 assists in his first two seasons.
Andrew Debrincat is the team's top blueliner, returning after a year in which he tallied 14 points in 34 games.
In goal, Zackarias Skog won five of the team's games, saving over 90 percent of shots faced. He recorded one of the two shutouts while splitting time with Alex Murray, who finished the season with 15 appearances, including 13 starts, and the team's other shutout win.
Three Questions
1) Can AIC take the next step in their program's development? Eric Lang returned to AIC as a first-time head coach looking to create immediate change at his alma mater. He succeeded by creating infrastructure and a orchestrating a change in culture. If the program continues marching forward, it will be the foundation on which the school built the project.
"From the end of last season through the summer, our goal has been to improve the program and the team," Lang said. "We celebrate small victories, and we feel our preseason was a complete success. We had so much uncertainty (last year), and it's just a completely different feel around campus right now."
2) Is home ice a real possibility? AIC finished five points behind Bentley for the last home ice slot in last year's playoffs. If they convert some of last year's ties into wins, it's a very real possibility, especially since this team went on two distinct runs last year; they lost three games in an 11-game stretch early on, then bookended it with a 1-0-2 stretch to end the season.
"In no way have we arrived," Lang said of the team's modest accomplishment. With an emphasis on taking the next step, the Yellow Jackets can make tangible progress by catching the teams in front of them.
3) Can they keep improving defensively? Last year shaved more than a goal and 10 shots off of opponents' totals per game. It established AIC as a team capable of learning how to defend, even as it forced them back into the film room.
"We just asked our group to defend harder (last year)," Lang said. "A lot of our video sessions were teaching habits and concepts. We have a way that we want to play, and we're married to a structure we want to play in. But we mandated our guys to defend harder and backcheck better – some real simply hockey principles. We started it in day one, and it continued through the end of the season."
Crystal Ball
AIC is all about converting nonbelievers, and the process is already started. The coaches picked them ninth, which is more of a credit to them than it is a knock against Sacred Heart. There's going to be skepticism because of the program's historical record, but if it stays on an upward trajectory, the Yellow Jackets will start the climb upwards.
Sacred Heart
Last Season
13-19-5 overall, 10-15-3 Atlantic Hockey (9th place). Lost to Bentley in the first round of the Atlantic Hockey playoffs.
Names to Know
The defense returns a foundational core that will buoy changeover up front. Three solid blueliners are all back – Liam Clare, Ruslan Rakhmatov, and Mike Crocock. Clare and Rakhmatov illustrated puck-moving capability last year, producing 32 assists from the point, while Crocock was a more traditional, stay-at-home option.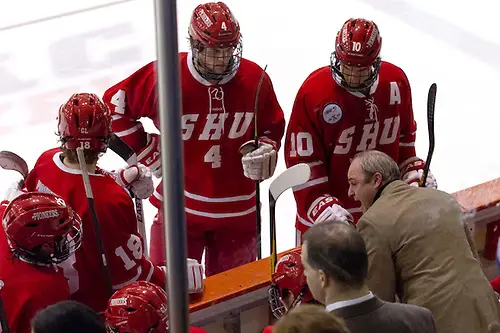 They'll form the core in front of junior Brett Magnus. After producing a 2.99 goals against average and a .901 save percentage, he's now a mainstay in the Pioneer lineup with 62 starts over two seasons.
The biggest question will be who plays up front. The Pioneers bade farewell to its triad of scorers when Justin Danforth, Jordan Minello, and Evan Jasper graduated. Each played in over 145 career games, meaning this year creates a void at the top of the scoresheet.
There's a silver lining, however, with the development of three new scorers. Junior Stephen Hladin scored 15 points last year, and Vito Bavaro debuted with seven goals in his first season. Zach Tsekos rounds out the list after adding 12 assists.
Three Questions
1) Can the young Pioneers' youth be their advantage? Sacred Heart doesn't return the same level of experience as some of the other teams in the league, and the Pioneers lost five major contributors from last year's team – including their three top forwards and two defensemen. That will create opportunity for young players who are something of an unknown entering the year.
"We have a young, talented, motivated group that is really meshing together closely this fall," head coach CJ Marottolo said. "Most importantly, they have a lot to prove. We have 10 new faces in the locker room. That's been very refreshing during practices where we're doing a lot of teaching in practice. This league is a challenge every night, but it's something this young group is really looking forward to."
2) Who steps to the front of the scoresheet? Sacred Heart needs to replace Jordan Minello, Justin Danforth, and Evan Jasper – three of the finest hockey players to suit up in the red and white.
But they return players who have some scoring touch. Stephen Hladin had nine goals last year while Vito Bavaro added seven lamp lighters. Zach Tsekos had 12 assists. These three players seem like candidates to become the next triumvirate of talent.
"Our returning guys are where we want them to be, and in some ways better, which is really great," Marottolo said. "It's hard to evaluate what you have until you play a game, but we feel our returning guys have all taken a nice jump. It's been a really eye-opening month on the ice and it makes for an exciting time."
3) Is Brett Magnus and the defense this year's breakout goaltender? The Pioneers return three defensemen with experience in Liam Clare, Ruslan Rakhmatov, and Mike Crocock. They'll work collaboratively with the goaltender Magnus, who gave the team its third straight season with goals against average under 3.00.
"We have three returners that played a lot of hockey for us," Marottolo said. "We have three open spots that the freshmen are currently fighting for. But with Brett and even Nathan Perry back (in goal), we have some experience in net, which is nice to have. They've added a calmness to our game. But we need to do a better job with our team defense, especially five-on-five. That's really been an emphasis."
Crystal Ball
The coaches poll indicated Sacred Heart would take a step backwards after finishing consecutive seasons in ninth place. But there's a palpable excitement in Connecticut as the Pioneers ready for the next generation of stars. If those freshmen can assimilate immediately, it stands to reason that SHU will shock and open some eyes as the season progresses.
Niagara
Last Season
5-31-3, 3-23-2 (eleventh) in the AHC. Lost to Canisius in the AHC quarterfinals.
Names to know
Niagara lost five players to graduation and another six to transfers and cuts. The Purple Eagles return four of their five top scorers: senior Stanislav Dzakhov (17 points last season), sophomore Kris Spriggs (16 points), junior Johnny Curran (15 points) and sophomore defenseman Noah Delmas (15 points).
The D-corps will be young this season as they look to improve on a league-worst 4.31 goals allowed per game. Senior James Roll, a transfer from Lake Superior State, looks to provide some leadership along with fellow seniors Keegan Harper and Larry Smith.
A pair of sophomores, Guillaume Therien and Joe O'Brien will compete for playing time in net with junior college transfer David Krejcik and rookie Brian Wilson.
A large group of newcomers include another transfer. Sophomore Jared Brandt, comes on board from Miami, where he had 10 points in 33 games as a freshman. Looking to make an impact right away are Nic Mucci (76 points in 50 games for Wellington (OJHL)), and Justin Kendall (50 points in 65 games for Coulee Region (NAHL)).
Three questions
1. Can the Purple Eagles stay healthy? Injuries have decimated Niagara the past two seasons, often leaving then-coach Dave Burkholder to play with less than a full complement. Staying healthy will be key if this young team wants to be in the chase.
2. What effect will the coaching change bring? Unlike Canisius, which stayed the course and promoted assistant coach Trevor Large to the top position, Niagara looked outside its program to land Jason Lammers, who was a head coach in the USHL and before that, a top assistant at UMass Lowell. He'll look to bring a clean slate to a program that just a few years ago was at the top of the league.
3. Can Niagara traverse the rocky waters than come with a young roster? Eleven newcomers may make for some growing pains, but it may also bring a renewed atmosphere.
Crystal Ball
At the start of last season, the attitude at Niagara was, "We'll be better because things can't get any worse."
And then they got worse. Even more injuries and even less success. The Purple Eagles posted the worst offense (1.95 goals scored per game) and the worst defense (4.31 goals allowed per game). Niagara didn't help itself by taking a league-highest 20 penalty minutes per game.
Assuming the injury bug doesn't hit as hard, and with the fresh slate that comes with a new coach, expect Niagara to still struggle, but be better than last season.
"Our goal is to be a hard team to play against," said Lammers. "Do that and the wins will come."