As the fifth season of Big Ten hockey begins, so much seems new.
The field of teams increases to seven with the addition of Notre Dame, which pushes the number of regular-season conference games from 20 to 24.
The conference playoffs will move from a single, neutral site on a single weekend at the end of the season to a three-week format with all games played in the campus rinks of teams with higher seeds, including the championship game. The first week of quarterfinal play will be a best-of-three series.
We'll also see actual Big Ten conference hockey in October, far earlier in the season than we have in the past.
And, of course, there are two new coaches, Mel Pearson at Michigan and Danton Cole at Michigan State.
But there is so much about this league that seems like old times. Notre Dame once played in the WCHA with Michigan, Michigan State, Minnesota and Wisconsin, and the Fighting Irish beat the Wolverines in the last-ever CCHA playoff championship game at the end of the 2012-2013 season – in the now-defunct Joe Louis Arena.
While Penn State is new to college hockey since the formation of the Big Ten, Guy Gadowsky was no stranger to this general vicinity when he took the job at PSU, having coached Alaska-Fairbanks in the CCHA from 1999 to 2004.
Pearson spent 22 years as a coach at Michigan, first as an assistant behind Red Berenson and then as an associate head coach before returning to his alma mater, Michigan Tech, as head coach in 2010. Cole played four years with Michigan State (1985-1989), served as an assistant at Bowling Green in the CCHA for a season (2006-2007) and has spent the last four years coaching for the U.S. National Development Program in Plymouth, Mich., a quick drive from both Yost and Munn Arenas.
The addition of Notre Dame feels so much like the return of an old friend that Pearson himself slipped and called it that – in a manner of speaking – during the Big Ten preseason coaches teleconference call. "With Notre Dame coming back in the league," said Pearson, "I think it bodes well for us and renewing the rivalry we had back from the CCHA days."
It was a small but telling slip: Notre Dame has never played in the Big Ten, having spent the last four years with Hockey East. Pearson has never coached in the Big Ten, having left for Michigan Tech before B1G hockey was a thing.
But – oh! – it sure feels good to get the band back together. And everyone seems to agree that the Big Ten is on the verge of big things.
Ohio State's Steve Rohlik said, "I really believe this is going to be the most competitive year of the Big Ten. I think adding Notre Dame to our league just adds another quality opponent with a quality coaching staff and a quality program."
Said Gadowsky, "With adding Notre Dame to the Big Ten, I think the league is getting tougher and tougher and better and better."
Tony Granato, in his second year as Wisconsin's head coach and tapped to lead the 2018 U.S. men's Olympic team, said that the Big Ten "is going to be respected nationally" and "could have four and potentially five teams talked about making it to the tournament."
Ah, the tournament – as in, the NCAA championship tournament, an event in which the Big Ten as a whole has been glaringly underrepresented since the conference's inception. B1G hockey has made seven NCAA appearances since the end of the 2013-2014 season, including Minnesota's three appearances (2014, 2015, 2017). Last year, the league had three representatives in the tournament for the first time, with Penn State's first appearance and Ohio State's first return since 2009 as well as Minnesota's return after having missed the 2016 tourney.
This is a conference that is all too aware that it should be a bit more visible on the national stage, and adding a seventh team – any seventh team – helps the league in that regard. With just six teams in its first four years, the Big Ten played a lot of nonconference hockey and a lot of that nonconference hockey did not work to the league's advantage. Last year, the league finally began showing signs of a national presence, finishing with a .583 nonconference win percentage, edging out Hockey East (.573) but falling far behind the NCHC (.670), the league that everyone has been chasing since it debuted the same year as B1G hockey.
But Big Ten hockey didn't add just any seventh team. Notre Dame made NCAA tournament appearances in three of its four seasons with Hockey East (2014, 2016, 2017) and the Fighting Irish are picked to finish second in the Big Ten coaches preseason poll. Notre Dame also came in at No. 8 in USCHO's preseason poll.
"I think that a combination of adding Notre Dame, having 24 league games as opposed to 20 … the strength of the conference is really growing right now," said Minnesota coach Don Lucia. "You kind of saw it start to happen last year. With Michigan and Michigan State, they're going to be on the rebound now and better days ahead. I just look as the conference as going to be ultracompetitive. The league is going to be without question better than it has been."
There is a lot to be said for the optimism surrounding the start of any season, but the 2017-2018 season could be the Big Ten's breakout year. There are questions surrounding goaltending, which was shaky throughout the entire conference last season. There are questions about two teams with new coaches, but maybe Granato's turnaround of Wisconsin in a single season last year mitigates some of those. The conference didn't lose as much offense as it had in previous seasons – but, then again, it didn't have a lot to lose.
For a league that has every resource at its disposal, the Big Ten has been underwhelming. The addition of Notre Dame heightens the league's profile even more, and every coach in the conference seems confident that the usual start-of-the-season optimism is more than just hype.
"We're adding conservatively, a top-ten program to the conference and that bodes real well for us in the competition," said Cole.
"I think the conference is going to be extremely tight and I think it's going to be extremely tough," said Notre Dame coach Jeff Jackson. "I think anybody can finish anywhere in the conference. It's going to be like finishing in Hockey East without the bottom five teams, so I think it's going to be a challenge every night."
Tough competition, renewed rivalries, more conference hockey play – but will this lead to anything beyond a few "shows improvement" marks on the end-of-season report card? Mel Pearson seems to think so.
"We saw some growing pains," said Pearson, "and I think now that the Big Ten is ready to prove itself as the premier conference in college hockey."
TEAM PREVIEWS (in alphabetical order)
Michigan
Last season
13-19-3, 6-12-2-2 Big Ten (fifth).
Lost to Penn State in the quarterfinals of the Big Ten championship tournament.
Names to know
The Wolverines return their top four point-scorers from a season ago, but only one of them, senior forward Tony Calderone, netted more than 10 goals in 2016-2017. Other forwards to watch are junior Cooper Marody and sophomores Will Lockwood and Jake Slaker. Michigan returns all but one contributing blueliner from a year ago, and freshman Quinn Hughes is a highly touted defensive prospect.
"We had an off year last year, but when you go through the roster, you'll see it's sprinkled with a lot of youth," said first-year head coach Mel Pearson. "Some of those young players were put in positions that they weren't ready for, but I think that experience that the young men got last year will really help us going forward."
Three questions
1. How will Michigan respond in its first season after Red Berenson's 32-year tenure?
2. Will the Wolverines be able to build on the little late-season improvement they saw last year?
3. Will Michigan's sophomore netminders provide the Wolverines with the kind of goaltending that has been missing from this program for at least the last five years?
Crystal ball
The Wolverines will show real improvement under their new head coach, but this will be a rebuilding year for Michigan as everyone adjusts and the talent on the team slowly begins to realize why it's playing for a program that was once one of the elite of Division I hockey. There is a good chance that Michigan will finish higher than its predicted sixth place, but not that much higher.
Michigan State
Last season
7-24-4, 3-14-3-1 Big Ten (sixth)
Lost to Ohio State in the quarterfinals of the Big Ten championship tournament.
Names to know
Picked to finish last in the Big Ten this year, the Spartans have no names on the league's preseason watch list, but that doesn't mean that the team isn't returning talent. Sophomore Sam Saliba is the only returning player who scored 10 goals or more last season, but both he and classmate Tiro Hirose showed promise a season ago. Two freshmen forwards from Michigan, David Keefer and Mitch Lewandowski, put up good numbers in the USHL last year. Senior defenseman Carson Gatt was a bright spot on a bad blue line for the Spartans last year. Freshman Tommy Miller is expected to help shore up the defense.
"We have a lot of guys returning. I think it's going to be a pretty young team," said first-year head coach Danton Cole. "I think we're at 19 freshmen and sophomores this year, so we'll get a lot of ice time for a lot of young guys. We'll look at our three seniors to give us some leadership. Interestingly enough, the three seniors are just 21, so even our old guys are young. The energy and enthusiasm is commiserate with that and seems to be really good around here, and I've been impressed with how hard they've worked."
Three questions
1. Who will emerge as Michigan State's goaltender, senior Ed Minney or sophomore John Lethemon?
2. After finishing the 2016-2017 season with a defense among the bottom five teams in college hockey, will the Spartans be able to improve defensively enough to be competitive regularly?
3. What kind of bounce will Michigan State get from having a new coaching staff?
Crystal ball
The Spartans are picked to finish last in Big Ten play and that's as safe a bet as any in this league this year. There is significant rebuilding to be done beginning with this season, but even last year, Michigan State showed real signs of life and a tenacity that was second-to-none in college hockey. They'll struggle, but they'll improve and they should not be taken for granted.
Minnesota
Last season
23-12-3, 14-5-1 Big Ten (First)
Lost to Notre Dame in its first game at the NCAA Northeast Regional
Names to know
Tyler Sheehy was Minnesota's point leader last season with 20 goals and 33 assists. Forwards Leon Bristedt and Rem Pitlick, whom both had 32 points, will also help pace the Gophers offense.
"I think we'll be pretty good up front," head coach Don Lucia said during the Big Ten preseason teleconference. "And deeper, maybe, than we were a year ago."
One promising player that the Gophers have coming in is freshman Casey Mittelstadt. The Eden Prairie, Minn., native had 21 goals and 43 assists during his high school senior season and accumulated 30 points in a 24-game stint with the Green Bay Gamblers of the USHL. He was drafted eighth overall in the 2017 NHL Draft by Buffalo.
"We've only had some 30-minute practices, but obviously he's a talented player," Lucia said. "You don't get picked that high in the draft without a tremendously high skill level."
Lucia added that he was particularly impressed by Mittelstadt off the ice, using words like "humble" and "team-based."
Lucia also noted that Tommy Novak, who sat out the rest of the season after suffering a lower-body injury in January, and Ryan Lindgren, who suffered a broken leg late in the season, have both recovered from said injuries. Novak had five goals and 9 assists last season and Lindgren had seven points.
Three questions
1. Who will pick up the goal-scoring void left by Justin Kloos and Vinni Lettieri?
Sure, the Gophers are returning their goal-scoring leader in Sheehy, but the two players that ranked second and third in that category have moved on. Mittelstadt, Bristedt and Pitlick look to have the most potential to rival the 20-goal mark.
2. How will the Gophers navigate their early-season schedule?
Minnesota will open the season by playing Minnesota-Duluth on the road and then face the winner of Union and Michigan Tech the nest night.
Next there is an early-season conference bout with Penn State. Minnesota went 4-1 against the Nittany Lions last season, with most of the contests being close.
Then there's the series that fans on both sides probably have circled, North Dakota. The Gophers tied and defeated the Fighting Hawks last season at home and this year's series will be at North Dakota.
After the first six games the schedule, at least on paper, looks a little lighter so a good mark could set Minnesota up for a successful first half of the season.
3. Can the Gophers get back to having postseason success?
Minnesota's run to its last Frozen Four was three seasons ago, it has since missed the tournament all together and the last national championship has become a distant memory.
With an experienced roster, a veteran goaltender and a freshman phenom that could realistically only be on campus for one season this could be Minnesota's best chance to make a deep postseason run in recent memory.
Crystal ball
Minnesota was picked to win the Big Ten and Gophers should win the league.
Notre Dame
Last season
23-12-5, 12-6-4 Hockey East (fourth).
Lost to Denver in the semifinals of the NCAA championship tournament.
Names to know
The Fighting Irish return a talented team with several players to watch, including a trio of sophomores. Andrew Oglevie netted 21 goals last year as a freshman, while his classmates Jake Evans and Cam Morrison had 25 between them. Freshmen forwards Pierce Crawford and Colin Theisen are expected to contribute, and the Irish are interested in what freshman Dylan St. Cyr may do in net following the departure of Cal Petersen. Senior defenseman and co-captain Jordan Gross will lead the blue line.
Coach Jeff Jackson said that the entire Notre Dame team will have to adjust to playing in a new program.
"Our whole current team has never played against Michigan or Michigan State – we did play Michigan in the NCAA tournament two years ago," said Jackson. "We played Minnesota a few years back and Penn State's the only team recently that we've played, so these guys have not played at Yost Arena. This group has not played at Wisconsin, they haven't played at Ohio State or Munn Arena for that matter. It's going to be an adjustment for the whole team, not just the young guys."
Three questions
1. How will Notre Dame adjust to playing in a new conference?
2. With two freshmen and a sophomore who played 20 minutes in his rookie year last season, will the inexperienced Notre Dame netminding be up to the task?
3. Can the Irish get past reliance on a small committee of high-octane scorers to propel their offense into the top 10 this season?
Crystal ball
While the Big Ten is a new experience for every player on Notre Dame's roster, this is hardly new territory for Notre Dame's coaching staff. In fact, this season may feel like a bit of a homecoming for the Fighting Irish, who renew old rivalries and board the bus more often than they've done in recent years. Picked in preseason to finish second, Notre Dame will contend for the Big Ten title.
Ohio State
Last Season
21-12-6, 11-8-1 Big Ten
Lost to Minnesota-Duluth in its first game at the NCAA West Regional
Names to know
Forwards Mason Jobst and Matthew Weis were named to the Big Ten Preseason Watch List. Jobst led the Buckeyes in scoring last year with 19 goals and 36 assists. Weis had 31 points last year.
"He's certainly been incredible for us for two years," head coach Steve Rohlik said of Jobst during the preseason teleconference. "I look at his the same as our team, he can never be satisfied, certainly he has holes in his game that he wants to continue to improve. With his work ethic on and off the ice, I really believe that he can continue to become a better player."
Junior Dakota Joshua was Ohio State's fourth-leading scorer last season with 12 goals and 23 assists. Tanner Laczynski had 10 goals and 22 assists.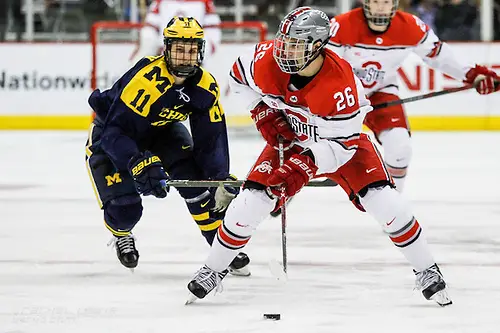 Maine transfer Sean Romeo and freshmen Tommy Nappier and Evan Moyse will compete for time between the pipes. Romeo started 21 games for the Black Bears during his freshman season, but only played in two games during the 2015-16 season. He sat out last season due to NCAA transfer rules.
"We're going into a unique situation with all three new goaltenders," Rohlik said. "The one thing that Sean Romeo has is he does have some college experience and he is going to be a junior and he was around our program all year last year."
Three questions
1. How much will Nick Schilkey be missed?
The Buckeyes return a decent portion of their scoring from last season, including the top points scorer in Jobst, but gone is the guy that scored 27 goals. Schilkey led the Big Ten in goals and was third in the nation.
Ohio State returns five of the seven players that scored 10 or more goals last season, so one would think that the offense will be fine, but it's not going to be easy to replace a guy that scored as often as Schilkey.
2. Will a goaltender grab the starting job?
Rotating goaltenders is fairly common in college hockey, but it's always nice to have a bona fide starter in net. Romeo may get the early looks due to his previous college experience, but both Nappier and Moyse had winning records in the USHL last season.
3. How will the Buckeyes navigate the start of the season?
Bucking a trend of starting slow, Ohio State went 9-2-4 during the first half of the season last year. That start paved the way to an at-large bid into the NCAA tournament. This season, Ohio State starts with a pair of tough games at Wisconsin. A start that is similar to last year's will go a long way towards the team's postseason goals.
Crystal ball
The Buckeyes will finish middle of the pack in the Big Ten. They won't be close to the top tier teams, but shouldn't find themselves with the cellar dwellers either.
Penn State
Last Season
25-12-2, 10-9-1 Big Ten (Fourth)
Lost to Denver in its second game at the NCAA Midwest Regional
Names to know
Denis Smirnov led the Nittany Lions in scoring as a freshman last season. He scored 19 goals and had 28 assists. Most of his goals came during even-strength play, too, with only two being scored on the power play.
Penn State had coach Guy Gadowsky said during the preseason teleconference that he wouldn't be surprised if Smirnov improved this season.
"What is going to make him get better and better is that he's still a young guy," Gadowsky said. "We're very fortunate that Pegula Ice Arena has great training facilities, and he's really taken advantage of that. He's improved his strength and conditioning greatly since we saw him in September last year."
Five of six Penn State players that scored 10 or more goals last season will return, including Andrew Sturtz who lit the lamp 22 times.
Freshman Evan Barratt joins Penn State after spending the last two years with the U.S. National Under-17 and Under-18 teams.
"I love his instincts," Gadowsky said of Barratt. "He thinks so quickly, he processes what's going on so quickly. I think when we finally get in and are able to practice for an extended period of time, I'm looking forward to see how he can create on the ice but initially he's going to elevate our hockey I.Q. and the way we process the game."
Three questions
1. What will Penn State do as an encore?
The Nittany Lions made their first NCAA tournament last year and won their first game in said tournament. They also won the Big Ten tournament and were briefly ranked No. 1 in the nation.
This season Penn State's goal should be to finish closer to the top of the conference so maybe it doesn't need results from the conference playoffs to make it to the NCAA tournament.
2. Can Peyton Jones follow up his successful freshman season?
A big reason Penn State made the NCAA tournament was Peyton Jones' performance at the Big Ten tournament, where he went 3-0 and only allowed five goals over those three contests.
Gadowsky said it was funny how goaltending went from being a question mark going into last season to a strong point at the end of the year. If Jones can consistently put up strong performances behind what should be a good defensive unit, Penn State should find success again this year.
3. Will Penn State's nonconference doom their postseason chances?
A .500 conference record last year meant that the Nittany Lions had to win the Big Ten Tournament to advance to the NCAA tournament, even though the team had an impressive nonconference record.
The problem was Penn State's nonconference opponents didn't help out its PairWise ranking much, and this season's nonconference opponents look to have a similar skill level on paper. With the Big Ten postseason moving to campus sites, and the introduction of a best of three first round, winning the automatic bid will be more difficult than winning a couple games in a row over the course of one weekend at a neutral site. That will make the possibility of an automatic bid to the NCAA tournament even more of a luxury going into the conference playoffs.
Wisconsin
Last season
20-15-1, 12-8-0 Big Ten (Second)
Lost to Penn State in the Big Ten Tournament final
Names to know
The Badgers return three of their top five scorers from last season. Trent Frederic scored 15 goals and tallied 18 assists. Senior Cameron Hughes had 32 points last year and Seamus Malone had 10 goals and 19 assists.
Senior defenseman Jake Linhart will anchor the blue line for Wisconsin, he had six goals and 17 assists last season. In net, graduate transfer Kyle Hayton will more than likely be the starting goaltender. He won 16 games for St. Lawrence last year and posted five shutouts.
Three questions
1. How much of an impact will Luke Kunin's departure have?
The first ever sophomore captain in school history signed with the Minnesota Wild after two seasons at Wisconsin, meaning someone else will have to cover for the 22 goals and 16 assists he had last year. Frederic, the reigning Big Ten Freshman of the Year, certainly looks like he has the potential to surpass the 20-goal mark.
2. Can the Badgers build on Tony Granato's impressive first season?
Wisconsin won 20 games last season after only managing eight victories during the 2015-16 campaign. After coming up one game short, the only way Granato can really outdo last season is to lead the Badgers to the NCAA tournament. The Badgers last made the tournament in 2014 when they lost to North Dakota in the first game of the Midwest Regional.
3. Will Granato coaching at the Olympics affect Badgers' finish?
The head coach is expected to miss at least four games at the end of the season. That included a road series against Minnesota and a home series against Ohio State.
The NHL not allowing its players to participate means that multiple college teams will have to deal without some top players, but it'll be interesting to see how the Badgers manage without their head coach.
Crystal ball
Wisconsin finishes third in the conference and makes the NCAA tournament.