ECAC Hockey has sent a team to the Frozen Four in five of the last six years, with two of its teams winning a national title.
The league's presence on the national stage is unquestioned, but it's making an impact internationally as well.
For the third straight season, the ECAC will send representatives to the Friendship Four tournament in Belfast, Northern Ireland. Clarkson and Rensselaer will meet on Friday, Nov. 24 in the opening game of the tournament.
The league will also be represented in the Winter Olympic Games in PyeongChang, South Korea, this coming February as Yale head coach Keith Allain was named to the coaching staff for the U.S. men's hockey team over the summer.
"I've been blessed with the opportunities that USA hockey has given me," said Allain, who prior to coming to Yale was an on the U.S. staff for the 1992 and 2006 Olympic Games.
Allain, who said he will be involved with pre-game preparation and pre-scouting as well as work with the goalies, will miss a part of the stretch run in ECAC Hockey, but knows the Bulldogs will be in good hands.
"I hate to even miss a practice with our hockey team at Yale," he said. With Allain gone, the coaching duties will be handled by assistants Josh Siembida and Ryan Donald. "They're great young coaches," Allain said. "My absence will give them an opportunity to step outside their comfort zone a little bit, give them a different voice and give our players the opportunity to hear from a different coaching staff. So I do think that over the long haul that we'll all be better for that opportunity."
Allain could potentially end up working with some familiar players, as the NHL has said it will not allow its players take part in the winter games. That opens the door for college players to make Team USA's roster.
"The Olympics to me is one of the greatest sporting events on so many levels," said Harvard coach Ted Donato, who played for Team USA in the 1992 winter games. "We'll be pulling hard for any of our players that get that opportunity and certainly it will be a lifetime memory that they will cherish."
In addition to Allain, Quinnipiac coach Rand Pecknold was on the coaching staff for Team USA in the IIHF Men's World Championship last spring, and will look to use his experience to help the Bobcats this season.
As for the league itself, several teams enter the year with plenty of questions, especially in goal. Harvard and Quinnipiac look to be in good position to finish in the top two spots in the standings, but after that the league looks to be wide open.
Three of the five top goalies in save percentage in ECAC Hockey play are gone, and one of the holdovers, Quinnipiac sophomore Andrew Shortridge, could get pushed for playing time by incoming freshman Keith Petruzzelli.
Petruzzelli was a third-round pick by Detroit in the third round of June's NHL draft, which is the second highest a Quinnipiac player has been drafted.
Overall, five teams lost their leading goalie in terms of minutes played, while several others, including Brown and Dartmouth, will be looking for more consistency this season.
Shortridge and Petruzzelli give the Bobcats a solid duo in goal, while Harvard returns junior Merrick Madsen, who played well down the stretch for the Crimson last season.
Harvard graduated a trio of dynamic seniors in Alexander Kerfoot, Tyler Moy, and Sean Malone, but return plenty of skill and have several talented freshman, including a pair of third-round picks from June's NHL entry draft in forward Jack Badini (Anaheim) and defenseman Reilly Walsh (New Jersey).
Quinnipiac dropped out of the top four and failed to make the NCAA tournament for the first time since 2012 last season. Inconsistent scoring was a problem last season for the Bobcats, but goaltending and a deep defensive group should be strengths for QU this year.
Cornell is one of the league's team that will need to replace its primary goalie following the graduation of Mitch Gillam, but the Big Red appear to be in good position to finish with another first-round bye.
The Crimson, Bobcats and Big Red should finish in the top of the league this season, but move past these three teams and it's hard to find a team without a lot of questions entering the year. St. Lawrence and Union, the other two teams with a first-round bye last year, took a hit in the offseason, losing the league's best goalie (Kyle Hayton) and forward (Mike Vecchione), respectively.
Those departures could open the door for Clarkson or Princeton to earn a top-four spot in the league standings. But the Golden Knights lost their top four scorers, while Princeton returns virtually its entire impressive young core, but will need to find a goalie to replace the graduated Colton Phinney.
Like nearby Quinnipiac, Yale also had a bit of a down year last season, finishing below .500 overall for the first time since the 2006-07 season, which was Allain's first season as coach in New Haven. The Bulldogs have several important players to replace on offense, but for any real improvement to take place it needs a better performance its own zone. Yale finished with a .898 save percentage last season.
Dartmouth, Rensselaer, Brown, and Colgate all finished last year in the bottom four of the standings. The Big Green might have some of the pieces necessary to move up in the conferene, but will need more consistency in goal. The same could be said for Brown, although coach Brendan Whittet said it's on the whole team to improve defensively, not just the goalies.
Colgate graduated goalie Charlie Finn, but looks to have a solid replacement in Colton Point. But any really improvement for the Raiders will need to come offensively, where Colgate averaged just over two goals per game last season. The Raiders got off to a good start with a 5-1 win over Niagara in the season opener.
It might be a rough season for RPI under first-year coach Dave Smith, but it can't possibly be any worse than last year, when the Engineers won only eight games, the fewest wins in a season for the school since 1970.
TEAM PREVIEWS (in alphabetical order)
Brown
Last season
4-25-2, 3-18-1 (12th)
Lost to Quinnipiac in the first round of the ECAC tournament
Names to know
After a tough year, the good news for the Bears is that they have their top returning scorers — Sam Lafferty, Charlie Corcoran, Max Willman and Tyler Bird — all returning.
Lafferty led the way with 13 goals and 22 assists. Corcoran led the club in goals with 15 while adding 13 helpers. Willman, a Buffalo Sabres draft pick, lit the lamp 11 times and chipped in 15 assists. Bird who heard his name called by the Columbus Blue Jackets, had seven goals and five assists. All four will be seniors.
Three questions
1. Will the goaltending get help in front? After allowing 132 goals, their 4.26 goals allowed per game was second worst in the country.
"I think it's all encompassing," Brown coach Brendan Whittet said. "Statistically, you look at our goaltenders [and] we have struggled. It's not all on them — we have to be much better defensively and I think some of those things get sorted out through competition through our goaltenders the opportunity to grow. We put a lot on Gavin Nieto last year as a freshman for a team that struggled defensively. Statistically, it's not a year (Nieto) would look back on, upon reflection I should say. It's a situation we need to get better."
2. Who will provide secondary scoring? Brent Beaudoin had seven goals and five assists as a freshman. Will anyone else step up?
"Secondary scoring is something everybody could use," Whittet said. "It's nice to relieve the pressure off the top guys. It's something we are constantly preaching and working at. We've had some injuries, but I think somebody will step up to the forefront. Our goal is to put them in roles where they will succeed."
3. Lack of nonconference games early on — will that hurt them? With any team who struggled the year before you want to build early on the following season. Brown starts ten ECAC games in their first eleven games. Being behind the eight ball can happen very early for them. Who knows it may be a blessing in disguise as they could start hitting their stride once they get to the non conference schedule which will lead into the second half of the season for them.
Crystal Ball
Expectations are low for the Bears as the media tabbed them to finish 11th and the coaches put them in the basement. They are starting from the bottom up, so they can easily make vast improvements on a dismal 2016-17 in terms of wins and losses. They have pieces they can build around not only for this season, but for the future.
Clarkson
Last season
18-16-5, 10-9-3 (6th)
Lost to Cornell in the ECAC Hockey quarterfinals
Names to know
Clarkson lost its top four scorers from last season, but returns the freshman trio of Sheldon Rempal, Nico Sturm and Devin Brosseau. That group played together for much of the year and will be counted on to improve their offensive production. Classmate Haralds Egle had a solid freshman year as well, posting 17 points on six goals and 11 assists.
There is potentinal for the Golden Knights to have more chemistry among its newcomers this year, as incoming freshmen forwards Jack Jacome and Josh Dickinson spent last season together with the Georgetown Raiders of the Ontario Junior Hockey League. Jacome led the OJHL in points and was named the top forward in the 132-team Canadian Junior Hockey League as well as the OJHL's MVP.
Sophomore goalie Jake Kielly started 35 of Clarkson's 39 games last season, finishing with a .911 save percentage and 2.56 GAA. He'll be backed up this year by incoming freshman Chris Janzen and Nicholas Latinovich, the latter who was a teammate of Jacome and Dickinson last season in Georgetown.
Clarkson lost last year's ECAC Hockey top defenseman James de Haas to graduation, but returns plenty of talent on the backend. Seniors Kelly Summers (Ottawa) and Terrance Amorosa (Philadelphia) are both NHL draft picks and excellent two-way players on defense, while freshman Jere Astren attended Clarkson last season as a partial qualifier and practiced with the team despite not seeing any game action.
Three questions
1. The Golden Knights have appeared to be on the verge of putting together a top-four season in ECAC Hockey for several years. Will this be the year everything finally comes together?
2. Will Kielly build upon a solid freshman year? He had some bumps, but played well overall for the Golden Knights. A step forward would be a big boost for a team that lost a lot of offense from last season.
3. How will the Golden Knights handle the first month of the season? Clarkson opens its season by playing seven of its first eight games against teams that made the NCAA tournament last season. It could be a valuable learning experience for a team that has 16 freshmen and sophomores. "I think the ECAC is a fantastic league," coach Casey Jones said. "A few of my years here, and I've said this before, I didn't think were prepared when ECAC opened play and we got hit hard in the early season games. That set us back in the league games."
Crystal Ball
At a minimum, the Golden Knights should have home ice in the first round of the playoffs. However, if things go right for Clarkson, it could push for a first-round bye and make a trip to Lake Placid for the league's championship weekend.
Colgate
Last season
9-22-6, 6-13-3 (tenth)
Lost to Princeton in the first round of the ECAC Hockey playoffs
Names to know
There are two ways to look at the Raiders entering the 2017-18 season. The first is that Colgate, a team that finished last in ECAC Hockey in scoring last year, lost its two top scorers in graduated seniors Jake Kulevich and Tim Harrison. The second is that the Raiders return two of its top four scorers in freshman Bobby McMann and Jared Cockrell.
Regardless, Colgate will need to possess the puck more this season if it wants to improve offensively. The Raiders' opponents averaged nearly seven shots more per game in league play last season.
"We chased a lot of games and it was frustrating all of us," Vaughan said. "First and foremost, we have to find a way possess the puck a lot more. A big part of that is that you have to work pretty hard to go get it back after you lose it. I think are young guys last year didn't quite understand how hard you do have to work at this level to retrieve pucks and get them back."
In addition to McMann and Cockrell, Colgate returns sophomore forward Adam Dauda, who missed time with an injury last year but had the highest faceoff percentage in the nation.
Incoming freshman Josh McKechney played alongside Cockrell in junior hockey with the Brooks Bandits of the AJHL.
"Having those two together has been fun already," Vaughan said of the duo.
Senior forward Evan Peterson hasn't scored much at Colgate, but put up good numbers in junior hockey, and Vaughan is looking for him to contribute this year.
In their season opener Saturday, the Raiders scored five goals in a win over Niagara. Cockrell scored twice, while McMann added a goal of his own. Colgate only scored five goals once all of last season.
Sophomore Colton Point, a Dallas Stars draft pick, is set to take the place of graduated senior Charlie Finn in goal. Vaughan said Point would have played more last season, but missed eight weeks with an illness. Point finished strong, posting a .936 save percentage over his final six appearances, but Vaughan noted that seniors Bruce Racine and Zac Hamilton were ready if Point didn't pick up where he left off last season.
Three questions
1. Can Colton Point continue his strong play in goal from the end of last year? A good performance in net could take some pressure off a Raiders team that will need to press for goals this year.
2. Where will the goals come from? Colgate only has two players with more than ten career goals.
3. Will Don Vaughan reach his 400th career win? The long-time Raiders coach enters the year ten shy of that mark and won't reach it this year if Colgate repeats in nine-win performance from last season. The Raiders play at St. Lawrence in February – what a story it would be if Vaughan got his 400th win at his alma mater, although he'd surely prefer to reach it a little earlier in the season.
Crystal Ball
Point should be solid in goal, but until the Raiders can prove they can score, Colgate might have a hard time getting home ice for the playoffs.
Cornell
Last season
21-9-5, 13-4-5 (3rd)
Lost to UMass Lowell in the first round of the NCAA tournament
Names to know
It was a return to form last year for the Big Red, who made the NCAA tournament for the first time in five years and posted its best overall winning percentage since the 2009-10 season.
Cornell had made the NCAA tournament three times in four years prior to its five-year drought that came to an end last spring.
The Big Red return plenty of important players from last year's team, including leading scorer Mitch Vanderlan, who had only six penalty minutes all season and was an important part of Cornell's penalty- kill unit.
Classmate Anthony Angello, who skated with Vanderlan for much of last season, is back as well. Sophomore defenseman Yanni Kaldis added a playmaking presence on Cornell's blueline last year and will look to continue to do as a sophomore.
Kaldis' style of play represents a shift that coach Mike Schafer and his staff have implemented at Cornell, as the Big Red have focused on recruiting players with more speed to match the changing style of play throughout the game.
Still, Schafer said speed isn't the only aspect a player needs to be successful.
"I think [graduated senior] Jake Weidner was one of our best players last year and he wasn't the fleetest afoot. Players come in all different shapes and sizes and we just hope this group of freshman can contribute."
The Big Red's incoming freshman group includes eight skaters and two goalies. Forward Morgan Barron was taken by the New York Rangers in the sixth round of June's NHL draft, while defenseman Matt Cairns was drafted by Edmonton in the third round of last year's draft. Fellow rookie Cam Donaldson was named the BCHL's rookie of the year last season after scoring 32 goals and adding 37 assists in 54 games.
In goal, senior Hayden Stewart saw a decent amount of time as a freshman, but only played in four games the last two years as graduated senior Mitch Gillam took hold of the starting job.
Three questions
1. Who starts in goal? Gillam was a stalwart in goal for the last three years. In addition to Stewart, Cornell has freshmen Matthew Galajda and Austin McGrath. Last year, Galajda was the MVP of the BCHL's Island Division, while McGrath was a finalist for the Alberta Junior Hockey League's rookie of the year award.
2. Vandeerlan and senior forward Trevor Yates both increased their production last season. Which returner will do so this year?
3. Can the Big Red stay healthy? Cornell was among the best defensive teams in the country despite have a number of injuries on its backend. Senior Ryan Bliss returns after missing all of last season due to an injury.
Crystal Ball
Cornell might not be at the level of its Ivy League rival Harvard, but there's no reason why the Big Red shouldn't secure a first-round bye and make a push for its second straight NCAA tournament appearance.
Dartmouth
Last season
10-18-3, 7-13-2 (ninth)
Lost to Yale in the ECAC first round
Names to know
Cory Kalk has improved each of his first three seasons. Now in his senior year, will he have a giant year after an 11-goal, 13-assist campaign? He's Dartmouth's top returning scorer. Connor Yau is expected to lead the blue line as the team's top returning defenseman. He had a goal and 11 assists in 29 games.
Cameron Roth could be a major contributor on the back end as a junior after his two-goal and six-assist sophomore year and is a solid defensive defenseman.
Three questions
1. Can Devin Buffalo put everything together? He kept Dartmouth in games, but will he be able to steal games for the Big Green in 2017-18?
"(Buffalo) came in great shape this fall," Dartmouth coach Bob Gaudet said. "It was his first season as a starter last year. He was behind (Charles) Grant and Jim Kroger for a couple years, so as a junior he had a chance to play. He did a good job for us. What we are looking for from (Buffalo) is a little bit of more consistency. He's a mature kid and he's an older kid now. He will have great competition with Adrian Clark and Dean Shatzer. They will be pushing Devin Buffalo. Buffalo is a great guy and worked really hard for us and a real leader on our team."
2. How will the nonconference schedule help the Big Green? In addition to playing two league games against Harvard, they also face the two other Frozen Four teams in the national title participants in Denver and Minnesota Duluth.
"As like Casey (Jones, Clarkson coach) mentioned, we want to play a great schedule," Gaudet said. "A schedule that helps us that's gets ready for a tough ECAC league. I think it's the finest league in the country. It's respirical thing, we played Denver a couple of years ago and we are going out to Denver to play the defending National Champions. We also have minnesota-Duluth at home. Those are a couple fine teams outside the league along with a bunch of other ones. I think it will help us prepare for the ECAC schedule. We play seven ECAC games in 2017 so we play the bulk of our schedule is in 2018."
3. Breakout year for the sophomore class?
If the Big Green will have success, the 11 player sophomore class will have to have an impact. Will Graber made solid contributions as freshman with five goals and 14 assists. Cam Strong was third in goals with ten last season. If the class as a whole steps their game up, the Big Green could surprise some people.
Crystal Ball
Dartmouth is young so if they can survive and build off the early season challenges of a tough non conference schedule. The Big Green who are predicted to finish ninth by both the coaches and the media. If everything goes right for them, they could end up in the top half of the league.
Harvard
Last season
28-6-2, 16-4-2 (first)
Lost to Minnesota Duluth in the Frozen Four
Names to know
The biggest name to know on the Crimson is Ryan Donato. He really picked up his play in the second half of the season, where he had 25 of his 40 points after the new year. He will be the main guy in 2017 with the graduation of Sean Malone, Alexander Kerfoot, Tyler Moy and Luke Esposito. The 2014 second-round draft pick of the Boston Bruins is on the short list of college players for consideration for the Olympic team.
Lewis Zerter-Gossage and Nathan Krusko should be guys Ted Donato looks to for support for his son Ryan. Zerter-Gossage was a solid contributor as a sophomore as he had 11 goals and 14 assists in 36 games played. Krusko had 17 points as a freshman as he had nine goals and eight assists in 35 games.
Newcomer Jack Badini has had himself quite the 2017 so far. He helped the Chicago Steel to the USHL's Clark Cup championship as he had 28 goals and 14 assists in 5. regular season games. He added another ten goals and seven assists in the playoffs. He saw his named called in the second round of the NHL Draft by the Anaheim Ducks. Had a good showing at the USA World Junior camp to cap his summer off.
Three questions
1. Is their unfinished business? The Crimson were two wins away from a National Championship and Harvard is hungry for those two wins.
"If you make it that far and you don't finish the job, you want to get back and get another opportunity," Donato said. "To echo what Ron (Fogarty, Princeton coach), every year is different, but I think there's benefit of having your players in those big games and in those big venues. I think there's a balance to it that you don't to forget all the hard work and preparation and improvement that you need to undergo to have success at the end of the year. Certainly it was a nice run, we have to start at scratch like everybody else."
2. What's Donato's mindset if one of his players gets the Olympic call?
"The Olympics to me is one of the greatest sporting events on so many levels," Donato said. "To have a chance to represent yourself, your community, your university, your family in that kind of world event is unique and special. In general, we will be pulling hard for any of our players that get that great honor and opportunity I think it will be a live memory that they will cherish."
3. How will Adam Fox follow up his freshman campaign?
The Calgary Flames draft pick made an immediate impact in Cambridge in 2016-17 as he had six goals and 34 helpers 35 games. Can he eclipse those numbers as a sophomore or do teams catch up to the dynamic offensive threat. How far the Crimson go in 2017-18 depends on the play on Fox
Crystal Ball
Despite the loss of impact seniors, the Crimson come into the 2017-18 season as the team to beat in the ECAC. They were named the top team in the conference by both the coaches and the media in the preseason polls. Ryan Donato, Fox and Merrick Madsen were named to the coaches All-League team.
Princeton
Last season
15-16-3, 8-11-3 (seventh)
Swept by Union in the ECAC quarterfinals
Names to know
Jackson Cressey nearly averaged a point per game as a freshman for the Tigers and was the Tigers' third leading scorer, He had seven goals and 26 assists on the year. Coach Ron Fogarty said while he had a good year, he didn't do it all by himself, nor are they expecting him to carry the offense as a sophomore.
"It's just not him — Jackson is a byproduct of his two wingers that he played with last season and he's going to play again this year," Fogarty said. "For us to be successful, we can't rely on one player, we have to be collectively improved from last year and collectively good each and every game to give us a chance to win. If we rely on one player, we will have a lot of downfall. We need players like Jackson to improve what he did last season."
The two players ahead of him in team scoring will be juniors in 2017-18 in Ryan Kuffner and Max Véronneau. Kuffner led the team with 19 goals and added 17 assists for 36 points. Véronneau had 11 goals and 24 assists.
Three questions
1. Can Princeton make that next step and get a first-round bye? They made a 10-win improvement from the 201-16 season and were the No. 7 seed in 2016-17 season. They won their ECAC first-round series against Colgate before ultimately falling to Union in the quarterfinals. Forgarty isn't looking ahead.
"We aren't even looking at that," Forgarty said of a first-round bye in 2017-2018. "If you are looking at the end product, especially how our philosophy is, we aren't even close to making that. There are so many good teams, everyone in the media bases everything on last year's performances, people returning, people coming back. If you believe you are getting a bye or be in the top four, if we do, we will be in dead last."
2. Will there be more offense from the defense this season? Only Josh Teves had a double-digit point totals last season as he had four goals and 21 assists as a sophomore. Forgarty isn't overly concerned about the blue line putting up points.
"We need our defense to better in our (defensive) zone," Forgarty said. "We still have a number of defensemen that were minuses from last year. They realize that. Everything starts from your own zone and taking care of your responsibilities, identifying your player in that zone. We have to get better in that area, we have to get better in special teams and we have to get better in every area."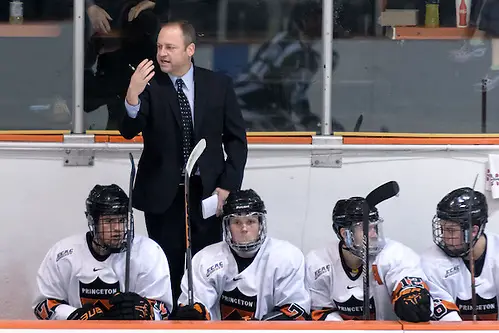 3. Who will start in goal? Colton Phinney, who was a three-year starter for the Tigers, has graduated and moved onto the AHL with the Manitoba Moose. His backups the past few years haven't seen much playing time. With Benjamin Halford, a senior and Austin Shaw, a junior, plus freshman Ryan Ferland, it's anyone's net.
"It's wide-open week in and week out," Forgarty said. "The good thing is we will have ample opportunity to see the whole team. We have the Unversity of Western Ontario coming in and our scrimmages, then we start the season off with Holy Cross before we start league play in November. We have ample opportunity through practice and a couple test week one in the season. Hopefully, all three play well and one emerges. It will be up to them."
Crystal Ball
Both the coaches and media are high on the Tigers this season as they are ranked fifth by the coaches and fourth by the media. With Fogarty's cautious optimism on the upcoming season, they have the potential to finish in that 4-5 spot. Offensively, they didn't lose anyone, so you believe all those guys will put up similar numbers , but the biggest question is the goaltending. It's an inexperienced group.
Quinnipiac
Last season
23-15-2, 17-10-1 (fifth)
Lost to Harvard in ECAC semifinals
Names to know
With Chase Priskie and Kārlis Čukste, the Bobcats have two solid defensemen, but coach Reck Pecknold hopes he doesn't have to rely on just them and transfers Brandon Fortunato and John Furgele can bring solid contributions on the back end.
"We have two transfers that practiced with us last year in Fortunato and Furgele," Pecknold said. "Both have played college games. Both are ready to step in the lineup and make an impact for us."
Fortunato comes to Hamden after spending two years with Boston University from 2014 to 2016. His freshman season he had a goal and 17 assists in 41 games while his sophomore season, he had five goals and 17 assists in 38 contests. Furgele also comes from a Hockey East school where he played seasons with New Hampshire. He played two seasons in Durham where he had two goals and eight assists as a freshman and while adding a goal and 12 assists his sophomore year.
Pecknold expects his freshmen to contribute up front. Odeen Tufto comes to campus from a while traveled year in the USHL where he played for the Fargo Force, Sioux City Muskateers and the Tri-City Storm where he had 16 goals and 32 assists in 59 games. In the 2015-16 season he put up 25 goals and 40 helpers of the Vernon Vipers of the BCHL. Matthew Creamer spent tis past two seasons with the Nanaimo Clippers of the BCHL. He had 19 goals and 17 assists in 59 games last season. Devin Moore had 23 goals and 29 helpers in 59 games with the Brockville Braves of the CCHL in 2016-17
"We have some good freshmen, we've got ten freshmen on this team," Pecknold said. "With ten freshmen and two transfers, we have 12 new players available to us. We are a young team, but we are excited for the season."
Three questions
1. Will the Bobcats get back to the NCAA tournament? After making the NCAA tournament four years a row, Quinnipiac missed the tournament 2017. Pecknold hopes his team can be less streaky this season.
"Last year, I thought we really still had a good team, a really good year," Pecknold said. "We just had a couple of small short spurts where we sputtered a little bit and lost our way That cost us, that cost us the NCAA tournament. It doesn't take much, it's really difficult to make the tournament, they don't take that many teams. You have to be good and consistent all year long."
2. Who will take reigns in net? Reck Pecknold has a problem, but a good problem to have as they have two goalies. Andrew Shortridge returns as a sophomore while Keith Petruzzelli is an incoming freshman.
"We are very excited our goaltending," Pecknold said. "Andrew Shortridge had a great second half of the season last year. He has really matured. Keith Petruzzelli coming as a high draft of the Detroit Red Wings. He has a ton of potential and ton of talent. We are looking forward to that as being the strength of the team."
3. Will the overall offense get back where it's use to? Quinnipiac averaged 3.02 goals a game in 2016-17. The previous year it was 3.79.
"We lost a lot of good players from that previous year with our senior class," Pecknold said. "Sam (Anas) and Devon (Toews) signed early with their NHL teams. The previous year we lost a lot too with Peca. So we are have been cleaned out pretty good there. But yeah, we hope to get back to our old ways and being a better offensive team and possess the puck more in the offensive zone."
Crystal Ball
The Bobcats were ranked second in both the preseason coaches and media polls. That's about right for them. After Harvard, who's the class of the conference, Quinnipiac leads that next pack of teams. Defense and goaltending should carry them this season as they try to chase down the Crimson. They should get enough offense to be the No. 2 seed.
Rensselaer
Last season
8-28-1, 6-16 (11th)
Lost to Clarkson in the opening round of the ECAC Hockey playoffs
Names to know
After showing some promise two seasons ago, the bottom fell out for RPI last year, as the Engineers tumbled to an 8-28-1 overall record. It was the first time since 1982 that the school did not reach double-digit wins in a season.
That collapse cost coach Seth Appert his job after 11 seasons at RPI. The school hired Canisius' Dave Smith last spring to take over the program.
"We're going to want to compete against ourselves first," Smith said. "We want to do all the things that everybody talks about. We want to possess the puck and show the energy and enthusiasm to get it back when we don't have it. I think you'll see all five guys active and involved in all three zones."
Junior Chase Perry returns in goal. A Detroit draft pick, Perry struggled early on last season, but showed some potential later in the year, including a 41-save shutout over Harvard in January. He took over as the team's primary goalie following the suspension of Cam Hackett, who is no longer with the program. Joining Perry will be freshman Linden Marshall, who played for the Trail Smoke Eaters in the BCHL last season.
On defense, Mike Prapavessis is a good skater and can move the puck, while Jared Wilson broke out with 11 goals last year. Sophomore Will Reilly is another defenseman to watch.
The Engineers took a few hits up front. In addition to graduating leading scorer Riley Bourbonais, Drew Melanson transferred to Boston University as a graduate student, while Lou Nanne decided to forgo his final year of eligibility. Forward Alex Rodriguez is also no longer playing for the program.
However, RPI does have several promising forwards returning. Junior Evan Tironese had a solid year after missing much of his freshman year with an injury, while Jacob Hayhurst and Viktor Liljegren contributed offensively as well.
Three questions
1. Will a new coach bring more support to the program? The school's most prominent alumni, NHL Hall of Famer Adam Oates, was critical of the support the school gives to the hockey team, and athletics in general.
2. Can RPI generate any offense? A few more goals could take some of the pressure off the goaltending and defense, which look to be the backbone of the team this year.
3. How will Smith change the direction of the program? It likely won't happen right away, but RPI fans can look at Ron Fogarty at Princeton as an example of a new coach bringing a program on the upswing. And it's arguable that Fogarty had less to work with the Tigers, a team that had three straight losing season priors to Fogarty taking over. RPI was over .500 in two of Appert's last five seasons.
Crystal Ball
The Engineers will still be near the bottom of the league, but won't be as bad as last season. If any turnaround is to happen under Smith, it will likely take a few years to materialize.
St. Lawrence
Last season
17-13-7, 12-6-4 (4th)
Lost to Quinnipiac in the ECAC Hockey quarterfinals
Names to know
After consecutive trips to Lake Placid, the Saints were knocked out in the ECAC quarterfinals last season in Mark Morris' first year as head coach.
It doesn't get any easier this year, as St. Lawrence graduated four defensemen, including leading scorer Gavin Bayreuther, one of the more dynamic players in the league the last several seasons.
The Saints' defense took another hit when junior goalie Kyle Hayton finished his undergraduate work a year early and transferred to Wisconsin as a graduate student, leaving a gaping hole in net.
Hayton, who holds the school record for career shutouts, played over 90 mpercent of the team's minutes in net during two of his three years at St. Lawrence.
"Though we were aware earlier this summer of Kyle's intentions to graduate with the class of 2017 and then enroll at Wisconsin, both privacy laws and university policy prohibited us from making any public statement until the university registrar had officially certified him for having satisfied all requirements for a St. Lawrence degree," Morris said in a statement.
With Hayton gone, junior Arthur Brey is the most experienced goaltender on the roster. He's been impressive in limited time during his collegiate career. He'll be joined by sophomore Daniel Mannella and freshman Cameron Gray.
On defense, the Saints return sophomore Ben Finkelstein and senior Nolan Gluchowski, but bring in several promising freshmen.
"We feel like we've got some real stalwart young defensemen that are going to some real fine things for us," Morris said.
The four incoming defensemen come in with a variety of skills. Jake Stevens averaged nearly a point per game with the Victoria Grizzlies in the BCHL last year, while Bo Hanson had a strong year for Muskegon in the USHL. Dylan Woolf is a "big, strong kid that plays a heavy game," Morris said, while Philip Alftberg is a "nifty little Swedish defenseman."
Morris is also counting on R.J. Gicewicz to add defensive depth. The junior has only played in 11 games for the Saints due to injury, but is healthy entering the season.
Up front, forward Mike Marnell was one of the Saints top forwards last year when he was healthy. Keeping the senior in the lineup will be important for the Saints, as they hope to avoid the same situation as last year when Alex Gilmour joined St. Lawrence early from juniors due to the team's mounting injuries.
Senior Joe Sullivan and junior Jacob Pritchard are also important scoring threats for the Saints.
Three questions
1. Who will start in goal? Hayton's departure coupled with the loss of several important defensemen leaves a lot of spots to fill on the backend. It appears Brey has the advantage in the early going.
2. Can the Saints generate enough offense to compensate for their losses on defense? In addition to being steady defensive presences, Bayreuther and Sweetman were important parts of the offense.
3. Can St. Lawrence stay healthy? The Saints survived numerous injuries last year, but it might be hard to weather that many injuries to key players again this season.
Crystal Ball
The Saints still have some talent on defense, and while Brey doesn't match Hayton's numbers, he'll be a solid replacement. Another top-four finish might be a stretch, but the Saints should have home ice in the opening round of the league playoffs.
Union
Last season
25-10-3, 16-4-2 (T-1st)
Lost to Penn State in the opening round of the NCAA tournament
Names to know
Sebastian Vidmar is the lone holdover from what was arguably the top line in Division I last season. Vidmar skated with Mike Vecchione and Spencer Foo for much of the season. Both of those players are now playing professionally, but Vidmar returns after averaging more than a point per game last season.
Juniors Brett Supinksi and Cole Maier gave the Dutchmen good scoring depth last season, and will look to increase their production this year. Supinksi had Union's lone goal in the season-opening loss to Boston University last Saturday.
Incoming freshman Parker Foo, Spencer's brother, and Jack Adams, were both drafted in the NHL entry draft in June and will look to pick up some of the offensive production that Union lost in the offseason.
Adams and Foo headline Union's nine-member freshman class. Also amongst that group is Liam Morgan, who received the OJHL's top prospect forward award in 2016.
Junior defenseman Greg Campbell doesn't put up flashy numbers, but he played a number of important minutes for Union last season.
Freshman Vas Kolias and junior J.C. Brassard are among the experienced returners on Union's defense as well.
"It's been a work in progress the few times we've been on [the ice]," Union coach Rick Bennett said of the Dutchmen's newcomers. "They've just got to adapt as quickly as they can and go on from there."
Three questions
1. Can Union improve defensively? Defense hurt Union all season, and really showed in the Dutchmen's ugly 10-3 loss to Penn State in the opening round of the NCAA tournament.
2. Who will replace Alex Sakellaropoulos in goal? Junior Jake Kupsky drew the start against the Terriers last weekend and played well, but the Dutchmen have junior Joe Young and freshman Darion Hanson as well.
3. How will the newcomers adapt to college hockey? It may take some time, but if the freshman can adapt quickly, it will go a long way towards any success the Dutchmen may have this season.
Crystal Ball
The loss of its two top forwards, starting goalie, and two top-scoring defensemen is tough for any team to overcome. Union likely won't challenge for another regular-season title, and it wouldn't be surprising if the Dutchmen are on the road for the first round of the league playoffs.
Yale
13-15-5, 9-13-4 (eighth)
Lost to Harvard in the ECAC quarterfinals
Names to know
Ryan Hitchcock will be returning to the lineup from an injury that kept him out for most of the second half of the season. He returns as a captain for the Bulldogs for his senior season. When he got injured, he was eclipsing a point per game pace as he had three goals and 16 assists in 17 games played.
"When Ryan got injured, he was our first-line center and leading the team in scoring," Yale coach Keith Allain said. "He's one of those guys that plays on the power play and plays on the penalty kill and takes important faceoffs for you. As everyone up here can tell you, you lose guys during the year. Losing Ryan was a blow to us. He comes back, he had a great summer, he's our captain this year and he's really excited to be coming back. If we can get him healthy for a full season, he will make a difference."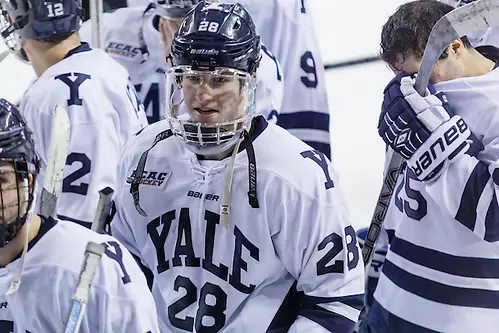 Everywhere Evan and Mitchell Smith have played, they have put up points, whether it was midgets with the Toronto Nationals, the Salisbury School or the Dubuque Fighting Saints in the USHL. As freshmen last year, their scoring prowess was kept in check. Evan only had six goals and four assists in 33 games while Mitchell only had three goals and an assist in 30 games. With a year under their belts, they may be more comfortable at the Division I level.
Phil Kemp could contribute on the back end as a freshman. The seventh-round draft pick by the Edmonton Oilers this past June has spent the previous two seasons with the U.S. National Team Development Program where he was a captain for both years. He's isn't a point producer from the blue line, but will provide some defensive support.
Three questions
1. How will Allain juggle his head coaching duties and his assistant coach duties with Team USA at the Olympics?
"With (Team USA) we have a deep staff, there will be a lot of overlap in our responsibilities," Allain said. "My primary roles will be pregame preparation. So that means, pre scouting our opponent and running the meeting for our next opponent in the pregame. I will also be directly working with our goaltenders which is something I did in the past. In terms our team in New Haven, obviously with as great the opportunity the Olympics is I hate to miss a practice with our hockey team at Yale. But with my two assistants in Josh Siembida and Ryan Donald, they are great young coaches. My absence will give them an opportunity to step out of their comfort zone a little bit, give them a different voice. Give our players here an opportunity to hear from a different coaching staff. I do thing over the long haul we will all be better because of the opportunity."
2. Will Joe Snively be Ryan Hitchcock's running mate?
Snively had a breakout year a sophomore in 2016-17 season as he had 14 goals and 25 assists in 33 games. Can he backup that production again? Part of of the Bulldogs success this year will be on the play from the Herdon, Virginia native.
3. Will continuity on defense be key to their success?
The Bulldogs only lose one defenseman in Dan O'Keefe who only appeared in eight games. Senior Adam Larkin and junior Charlie Curti each had 14 points to lead the team this past season. Larkin had three goals while Curti had a pair of goals. Don't be surprised if the blue line gets stronger as the year goes on with Matt Foley, Billy Sweezey and Chandler Lindstrand are all sophomores and the addition of Kemp.
Crystal Ball
Yale is in that middle cluster as the media have them finishing sixth while coaches have them in the eighth spot. The one uncertainty for Yale, like a lot of ECAC teams, is goaltending. If Sam Tucker plays well, the Bulldogs may be able to sneak into the top four.