Prior to the start of last season, Hockey East commissioner Joe Bertagna wanted to make sure his staff was prepared in case of a tie for first place.
The league purchased a second regular season trophy just in case two teams tied for first place at the end of the regular season.
But come March, Bertagna and the league were still one trophy short as three teams – UMass Lowell, Boston University and Boston College – all ended up tied.
When you look at the Hockey East coaches poll for the 2017-18 campaign, purchasing a third trophy might still prove futile.
Five different teams garnered first-place votes in the poll. Defending champion UMass Lowell got the most – five – but also picked up enough lower votes that the River Hawks were not atop the poll.
That honor went to Boston University, which only earned two first-place votes but still edged out the River Hawks.
What does that tell us coming into the season? Right now there are far too many unanswered questions to predict how this season will proceed.
The Terriers are loaded with talent, though a large portion of it comes in the form of freshmen and sophomores. It's a similar position to where BU was a year ago when coach David Quinn said that talent means nothing if a team doesn't come together. A year later, he echoes that sentiment.
"I say this every year. There are so many characteristics you need to win," said Quinn. "Talent is the first one and I think we have enough talent to be successful. But your team has to acquire all those other characteristics collectively in order to have success."
Quinn, who for the second straight year may arguably have one of the top recruiting classes in the country, calls this year's freshman class "mature," something that may be helpful for the Terriers which a year ago wasn't able to win any tournament titles – not the Beanpot, not Hockey East and not the national championship.
"It's a different feel," said Quinn of this year's rookies. "Not that last year's group wasn't serious about hockey, it's just a different feel. We have some older guys in the class and that helps."
Older, in fact, seems to be a trend around the league. Certainly a blue chip 18-year-old will always be welcome, but it does seem like the age of the average recruit is increasing. And for good reason.
Coaches and fans alike have seen the success of older teams like UMass Lowell (three Hockey East title in five years) and Providence (national championship).
Not surprisingly, both of those clubs are again favored to finish near the top.
Lowell returns all but five players, though that quintet accounted for 55 of the River Hawks 151 goals last season.
"I think we have really an unknown attack," said Lowell coach Norm Bazin. "I think we've got good goaltending, I think we have a solid defense."
One area the River Hawks might find increased scoring comes from a trio of sophomores – Ryan Lohin, Kenny Hausinger and Colin O'Neill. The all-freshman line from a year ago continually improved as the season progressed, and, whether or not they're together this season, all three will be counted on for contributions.
"I think those are three good hockey players that served a very vital role here last year and really cemented themselves in the lineup in the second half," said Bazin. "There's no question in my mind that they can take a step. They're three good hockey players that will be relied upon."
Providence returns its core offensive nucleus from last year's NCAA tournament team, including senior Brian Pinho, who has increased his scoring totals all three years to a career-best 40 point a year ago. The question mark for the Friars, though, is the blueline where the graduation of Josh Monk and Anthony Florentino along with the early departure of Jake Walman leaves a big hole.
"[Defense] is our big question mark," said Providence coach Nate Leaman. "Jake Bryson, Vinny Desharnais and Spence Young, those three return and we need those three to step up and make an impact for us. They need to log the minutes and manage the game and as a group we need to support our younger D and bring them along."
Except plenty of offensive punch to come from Northeastern, which returns 50-point scorers in Dylan Sikura and Adam Gaudette. They will also have a healthy Nolan Stevens, who missed 21 games a year ago as a junior after potting 42 points while healthy as a sophomore.
If there is a question mark for the Huskies it is defense. Last year team defense was a weakness, something coach Jim Madigan hopes to improve significantly.
"We return a lot of firepower," said Madigan. "The major emphasis for us this year is defending in our own zone. We've got to get better.
"That's not just defenseman. It's all three groups. Forwards, defenseman and goaltending."
Perennial power house Boston College might be in the one of the most unique situation as there are no members of the senior class remaining. That leaves more questiona than answers for the Eagles, which missed the NCAA tournament last season for the first time since 2009.
The Eagles, though, do return goaltender Joseph Woll, thought of as one of the best in the nation between the pipes. Last year's team rode Woll to the Hockey East finals and coach Jerry York hopes he can be even stronger as a sophomore.
"We've got a game-changer in Joe Woll," said York. "If you're going to have your pick [of game changers] you'd put him in the goal.
"I think he's shown he's even better this year than he was last year. He looks like he's even more confident."
While the five aforementioned teams all received first-place votes in the coaches' poll, it's possible one of the remaining six could take a major step forward and, at a minimum battle for a top-four spot. In some cases, some could be dark horses to win it all.
Vermont returns arguably its most veteran team in years. Connecticut puts forth its first full "Hockey East club. Every player was recruited to play in Hockey East for a team that elevated from Atlantic Hockey four years ago. New Hampshire packs some offensive firepower and has the emotional push of playing for coach Dick Umile in his final season.
And then there is Massachusetts. Still picked for the basement by the coaches (tied with Maine), the Minutemen blueline will feature the top overall collegian selected in last summer's NHL Draft in Cale Makar along with fellow rookie Mario Ferraro, a second round NHL pick.
There is also one other elephant in the room worth mentioning: the Olympics. For the first time since 1994, the American and Canadian Olympic teams will not be comprised of NHL players meaning a number of collegians may be selected to represent their countries.
Unlike 1994, when Olympic team members missed the entire season, this year players will miss a maximum of three weeks. Those weekends, though, will all come in February when teams are battling for position in the final standings.
Boston University and Providence seem to face the biggest Olympic threat, but other lineups could be impacted as player evaluation takes place throughout the season.
"If a kid gets to play for his country, that's terrific," said commissioner Bertagna. "From a marketing perspective, if [the Olympic teams] take eight college players and [Hockey East] has four, that would be great.
"But on the other hand, you talk about competitiveness and you [might] have four teams fighting for first place, and five teams fighting for fourth, and all of a sudden teams lose players, not to mention what the effects might be of flying back and forth to South Korea, what does that mean when you get back?
"It's a once in a lifetime experience. But you'll also take guys in the February in the middle of the stretch run."
TEAM PREVIEWS (in alphabetical order)
Boston College
Last season
21-15-4, 13-6-3 Hockey East (t-1st); lost to UMass Lowell in Hockey East finals
Names to know
In what may be the strangest roster Jerry York has ever coached, the Eagles don't sport a single senior. Boston College also lost all of its top five scorers from a year ago either to graduation or the NHL. David Cotton and JD Dudek, two players who recorded double-digit goal totals last season will help pace this offense. But, in truth, BC needs to depend on its back end. Casey Fitzgerald and Matthew Kim have both proven to be talented blueline players, while returning sophomore Joseph Woll will be among a handful of goaltenders battling for tops in Hockey East.
Three questions
1. Where will Boston College's scoring come from? The Eagles always have that hallmark offense and the ability to generate goals. There certainly is returning talent that can be fortified by incoming players, but few have been responsible to be offensive leaders in the past.
2. Can Joe Woll continue to thrill? And, even more so, can the sophomore even take a step forward. Woll did a lot to carry the Eagles to the Hockey East finals a year ago. But with a concern about offense, he'll not only have to be as good as last year. He likely needs to be better.
3. Could we see an NCAA drought by BC standards? In the last 19 years, Boston College has qualified for the NCAA tournament 17 times, reached 12 Frozen Fours and won four national title. What the Eagles have not done in that stretch is miss the NCAA field in back-to-back years. Hardly a drought for many teams, but in Chestnut Hill it would be somewhat shocking.
Crystal ball
Jim Connelly picks Boston College to finish fifth
Dave Hendrickson picks Boston College to finish third
Boston University
Last season
24-12-3, 13-6-3 Hockey East (t-1st); lost to Boston College in Hockey East semifinals; lost to Minnesota-Duluth in NCAA West Regional final
Names to know
Is there really enough room to list them all? Sure, the Terriers lost some big-name players like Charlie McAvoy, Jakob Forsbacka-Karlsson, Clayton Keller and Kieffer Bellows, but this BU team also returns an all-star like lineup. Patrick Harper is the leading returning scorer, but Jordan Greenway might have the most potential heading into his junior year. Dante Fabbro leads a blueline loaded with NHL draft picks while Jake Oettinger, a second-team all-Hockey East goaltender a year ago, could be the straw that stirs this talented pot.
Three questions
1. Can a team of all-stars gel? It was the same question we were asking a year ago and last year's BU team proved the answer, at least at that point in time, was not always. BU's David Quinn says he likes the feeling in the locker rooms better coming into this year, but it's still critical that even the best players embrace their roles on this team.
2. How much might the Olympics impact BU? For the first time since 1994, college players will make up a portion of the players representing Team USA (and Team Canada) at the Winter Olympics. The good news is that BU players will only miss, at most, five league games (and the second night of the Beanpot). The bad news is that those games will come in the crucial final three weeks of the regular season. Time will tell how many Terriers will be selected, but they seem poised to lose by far the most in the league.
3. Just how good is this rookie class? The nine-person freshman class for the Terriers has received plenty of praise before their arrival on Commonwealth Ave. Six players were selected in this summer's NHL Draft led by first-rounder Shane Bowers. When you supplement the returning team with even more blue chip talent, you can understand why BU is called a team of all-stars.
Crystal ball
Jim picks Boston University to finish first
Dave picks Boston University to finish first
Connecticut
Last season
12-16-8, 8-10-4 Hockey East (9th); lost to Northeastern in Hockey East first round
Names to know
This summer, Connecticut had a coming-of-age moment when Tage Thompson became the team's first early pro signing since joining Hockey East. And while Thompson's massive size and slapshot will be missed, there's plenty of talent remaining. Leading the way is Max Letunov, who was also considered an NHL flight risk but cooled offensively last year after a 16-goal rookie campaign. Seniors Spencer Naas and Kasperi Ojantakanen should also be big contributors to a UConn team that need to improve in goal scoring. In net, Adam Huska will be in position to own the starting job with the graduation of Rob Nichols.
Three questions
1. Where will goal scoring come from? Offense, at times, was a struggle for the Huskies and the fact that after Naas (15 goals), no other returning player scored more than nine goals last season. There is plenty of scoring talent, now someone (or better multiple players) need to take a step forward.
2. Can Huska handle the workload? As a rookie, Adam Huska was phenomenal at times and maintained a more-than-respectable .916 save percentage. He did that, though, splitting the workload. Now in his sophomore campaign, is he ready to be that go-to-guy?
3. Will UConn's special teams improve? When the Huskies are successful, they can rely on strong special teams play, particularly on the power play. A season ago, UConn was a middle-of-the-pack 39th on the power play and 34th on the penalty kill. Both could stand improvement if the Huskies want to hop into the top half of the league.
Crystal ball
Jim picks UConn to finish seventh
Dave picks UConn to finish eighth
Maine
Last season
11-21-4, 5-15-2 Hockey East (11th); lost to Vermont in Hockey East first round
Names to know
With Blaine Byron and Cam Brown graduating, look for senior Nolan Vesey and sophomore Chase Pearson to take over this offense. Both are great finishers, Vesey with 28 career goals, 13 coming a year ago, and Pearson coming off a 14-goal rookie campaign. Hard-shooting defenseman Rob Michel can provide a lot of punch from the back-end, which coach Red Gendron says he hopes he can depend on for increase offensive skill. Goaltending might be a concern though returning junior Rob McGovern, who will get the majority chunk of the work, has decent numbers through two seasons in Orono.
Three questions
1. Can this team play with tempo? When Maine has an upbeat pace to its game last season, it was a difficult team to beat. Early in the season at home, the Black Bears looked like contenders. But as the year wore on, Maine often looked lethargic.
2. Will McGovern be the man? At 6-foot-4, McGovern is a prototypical Maine goaltender who takes up plenty of net. If he performs to his full ability and limits the soft goals against, he is a guy who can steal games, something Maine needs.
3. Will this team be better away from Alfond? The road has been pretty miserable of late for the Black Bears. Last year, the team went 0-13-4 in enemy rinks, their only win away from home coming at Fenway Park. Over the past two season, Maine has just two road wins, both coming at Massachusetts in January of 2016. At some point, this becomes a mental block. But Maine has to overcome, particularly given an eight-game road trip over a 36-day span midseason.
Crystal ball
Jim picks Maine to finish 11th
Dave picks Maine to finish 10th
Massachusetts
Last season
5-29-2, 2-19-1 Hockey East (12th); lost to Providence in Hockey East first round
Names to know
Usually we talk about some of the biggest returning players to a roster. And while UMass has some good players coming back (Austin Plevy comes to mind), you have to think that rookies Cale Makar and Matt Ferraro are the two names we'll be talking about most of the year in Amherst. Both are offensively talented blueliners who this summer became the two highest-drafter players in school history (Makar 4th overall; Ferraro 49th overall). It's difficult to believe that they alone came be saviors of the Minuteman team that a season ago was a minus-1.64 goals a game team.
Three questions
1. When will Greg Carvel's stamp be placed on this team? Carvel's track record for success leads one to believe that he'll turn around this UMass team. At St. Lawrence, Carvel had his team competitive almost immediately but he also took over a program in a little better shape than UMass. He understands that he needs to populate the locker room with players who will execute his system and his first recruiting class should help.
2. Who will lead? Carvel is beginning the season with an interesting approach: he's not naming captains. He wants to see who will emerge as leaders before he puts a letter on a sweater. So who will lead? It honestly may be an underclassman, something Carvel says he's ready to embrace.
3. What is progress? Coming off a five-win season, progress can be measured in many ways. But what is progress that will make this team, its staff and its fans happy? Playing a massive arena like the Mullins Center without a large, enthusiastic crowd isn't must of a home ice advantage. But if this team is entertaining and has some early success, might UMass hockey become more appealing to the student body?
Crystal ball
Jim picks UMass to finish 10th
Dave picks UMass to finish 11th
UMass Lowell
Last season
27-11-3, 14-7-1 Hockey East (t-1st); won Hockey East championship, lost to Notre Dame in NCAA Northeast Regional final
Names to know
Though the River Hawks lost just five players, four of them – Joe Gambardella, Dylan Zink, Michael Kapla and C.J. Smith (early departure for NHL) – were leaders on one of Lowell's most prolific offenses in program history. The good news is that there is still a depth of talent led by John Edwardh, who will have the chance to prove his talent when players like Gambardella and Smith aren't alongside. Last year's all freshman trio of Kenny Hausinger, Ryan Lohin and Colin O'Neill will look to continue success into year two. On the blueline, look for Tyler Mueller and Mattias Gorannson to be two of the tops in Hockey East, while in goal Tyler Wall will look to improve on his school record 26-win season.
Three questions
1. How do you replace 55 goals? This is something that might be a problem for some teams, but Lowell under coach Norm Bazin has proven a team that can reload and replace year to year. In honesty, all 55 goals may not be replaced and Lowell's offense might not have the same pace as a year ago. But in years when Lowell's offense has been down, defense has proven it can win games for the River Hawks.
2. Does Tyler Wall take a step forward? When you set the school's Division I record for wins as a rookie, it's hard to imagine improving on that. But Wall likely has the ability to do that. The River Hawks have become a goaltender factory thanks to associate head coach Cam Ellsworth and every number one goaltender he has mentored (Connor Hellebuyck, Kevin Boyle) has been better in year two than year one.
3. Is another back-to-back on tap? UMass Lowell played 29 season in Hockey East before winning a title. They then put two together in a row. If not for a couple of bounces the River Hawks could be talking a six-peat having won three of the last five titles and reaching the finals in the other two seasons.
Crystal ball
Jim picks UMass Lowell to finish second
Dave picks UMass Lowell to finish second
Merrimack
Last season
15-16-6, 8-8-6 Hockey East (7th); lost to New Hampshire in Hockey East first round
Names to know
Though Merrimack's offense wasn't exactly considered prolific a season ago (46th nationally), the team returns five of its top-six point getters. The glaring loss is Hampus Gustafsson, whose 15 goals led the team, but senior Brett Seney may be ready for his breakout season. Last year, Seney posted a career-high 31 points to lead Merrimack and has proven he has a nose for the net, twice recording double-digit goal season. The key player for this team, though, may be Drew Vogler. It's hard to call Vogler a backup goaltender in his first two seasons, but he was playing alongside Collin Delia, who signed with Chicago in the offseason. Vogler will now be the go-to guy and have the chance to prove he can lead a team from the back end.
Three questions
1. Will size be a strength? Make no bones about it: Merrimack is a big team. Though that's often been a hallmark of Warrior clubs, the concern often turns to mobility, particularly on the back end. If the Merrimack blueliners prove they can skate with the best, their size could be a major asset, particularly in the close quarters of Lawler Arena.
2. How good is Drew Vogler? As a rookie forced into action two seasons ago, Vogler was impressive. Last season, though still able to put together some solid performances, he allowed three of more goals in eight of his 18 appearances, something that doesn't work well when the offense struggles. Merrimack expects to ride Vogler this year, so his performance may significantly impact the team's overall results.
3. Will the road help or hurt the Warriors? There is nothing soft about Merrimack's schedule whatsoever. Early road trips to Colgate and defending national runner-up Minnesota-Duluth are sandwiched around a single game against Wisconsin. Later in the year, Merrimack continues being road warriors when it travels to defending national champ Denver and Colorado College right after the break. These trips can certainly be beneficial, particularly if Merrimack has success. But playing the most difficult portion of your non-league slate away from home can doom a team with NCAA hopes if the club struggles.
Crystal ball
Jim picks Merrimack to finish ninth
Dave picks Merrimack to finish ninth
New Hampshire
Last season
15-20-5, 7-11-4 Hockey East (10th); lost to UMass Lowell in Hockey East quarterfinals
Names to know
If the trio of Michael McNicholas, Jason Salvaggio and Patrick Grasso play together, it will be among the strongest returning offensive lines in the league. That's the good news for UNH. The not-to-good is that after those three, there could be a major drop off offensively unless someone ups their game. Players like Ara Nazarian, Brendan van Riemsdyk and Shane Eiserman all have the talent. But this team may rely on goaltender Danny Tirone, who put together a yeoman effort in the postseason a year ago, to limit goals against should the Wildcats be offensively challenged.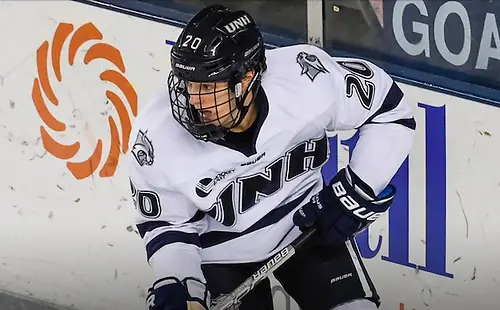 Three questions
1. Will Dick Umile's retirement be an emotional lift? Legendary bench boss Umile announced his retirement at the end of the season finishing a prolific 28-year career in Durham. But can this be an emotional lift for this team? It seemed in last year's playoffs, when Umile's status seemed uncertain, that it was. UNH rallied from a game down to win their first-round series at Merrimack and then took eventual champion UMass Lowell to the brink in the quarterfinals before eventually falling.
2. How much can Tirone impact the team? The senior goaltender has saved his team's bacon plenty of times during his career. But this is a club that wants to make a significant improvement in the Hockey East standings, meaning it can't be all Tirone. That said, if he can limit goals against like he did when he was a freshman (at one point allowed two goals against or less in nine straight games), this team could be a top-six.
3. Who takes Cleland's place? With puck-moving defender Mattias Cleland graduated, who can take his place on the blueline? The most likely candidate is Cameron Marks, who may see significant ice time as a senior. UNH needs to find that offensive defenseman to help this club's transition game.
Crystal ball
Jim picks New Hampshire to finish eighth
Dave picks New Hampshire to finish seventh
Northeastern
Last season
18-15-5, 9-10-3 (8th); lost to Boston University in Hockey East quarterfinals
Names to know
Both Dylan Sikura and Adam Gaudette certainly benefitted when they played alongside graduate Zach Aston-Reese last season, but both also got red-hot at times. The ability to make those flashes of brilliance an everyday occurrence would make this one of the league's best one-two punches. Add in senior Nolan Stevens, who is dominant in this lineup when healthy, and Northeastern could be the top scoring team in the league. The questions come on the backend where goaltender Ryan Ruck needs to return to form of freshman year when he led his team to a Hockey East title.
Three questions
1. Who besides Sikura, Gaudette and Stevens will score? There are plenty of candidates on this roster, especially talented offensive-defenseman Jeremy Davies and sophomore forward Matt Filipe.
2. Will Ruck be the goalie of choice? As mentioned, Ruck endeared himself to Huskies Nation when he helped bring home this team's first Hockey East title in nearly 30 years in 2016. But he was inconsistent at times last season and with rookie Cayden Primeau, son of former NHLer Keith, joining the team, we wonder if this might become tandem goaltending.
3. Will this team commit to team defense? Ruck's inflated numbers last season had a lot to do with the team in front of him, which wasn't as committed to playing team defense. Coach Jim Madigan says that is a major theme in the locker room this year, now we have to see if this team can execute.
Crystal ball
Jim picks Northeastern to finish sixth
Dave picks Northeastern to finish fifth
Providence
Last season
22-12-5, 12-7-3 (5th); lost to Notre Dame in Hockey East quarterfinals; lost to Harvard in NCAA East Regional semifinal
Names to know
Brian Pinho had a breakout season as a junior as will be the offensive leader of this team that has plenty of talent up front. Josh Wilkins was an impressive freshman and Erik Foley will once again be a threat at both even strength and on the power play. The team's biggest need in on defense needing to replace both Jake Walman (early departure) and Anthony Florentino. Jake Bryson will likely be the puck-moving defenseman to fill that hole. But possibly the most important name to remember is the best hockey name: Hayden Hawkey. He seeks to put together another strong season between the pipes and will be looked upon to carry this team.
Three questions
1. Will Pinho or Foley be Olympians? Providence may not face the Olympic threat of Boston University, but Brian Pinho and Erik Foley are names being thrown around. If both were to make the Team USA roster, it would severely impact the Friars down the stretch of the regular season.
2. Does Hawkey have another gear? Coach Nate Leaman wants to see more from his goaltender, namely an improvement in his save percentage. He sees a benchmark of .920, noting that all of the league's top netminders have save percentages north of that mark (he was .913 a year ago).
3. Is Scott Conway the Friars breakout man? Conway showed strong signs offensively at times last season and could be the goal scorer this team needs. His seven power play goals were a team high and his ice presence often puts him in position to score.
Crystal ball
Jim picks Providence to finish third
Dave picks Providence to finish fourth
Vermont
Last season
20-13-5, 10-8-4 Hockey East (6th); lost to Boston College in Hockey East quarterfinals
Names to know
Ross Colton, Brian Bowen and Craig Puffer all reached the double-digit mark in goals a season ago and are the likeliest trio to pace the Catamounts offense. This team would like to increase production and could receive larger contributions from players like Derek Lodermeier and Matt Alvaro as they enter the sophomore campaigns. The biggest loss to replace might be Rob Hamilton who had a great offensive season on the blue line as a senior. Look for Stefanos Lekkas to be the No. 1 goaltender throughout after a freshman year where he unseated senior Mike Santaguida for the starting role.
Three questions
1. Can the defense contribute offensively? The Cats don't return a ton of points from their back end. That could be a cause for concern should the offense struggle at any point in the season.
2. Can this team become closers? Simply put, Vermont didn't close out games terribly well last season. The most notable was a 4-4 tie at Notre Dame that Vermont led, 4-2, late in regulation. Coach Kevin Sneddon wants his team to have more killer instinct to put away opponents.
3. How will a young defensive corps react? It's possible that Vermont could play four freshmen defensemen every night. That's something that concerns any coach. Should these young talents perform well, though, expect Vermont to battle for home ice.
Crystal ball
Jim picks Vermont to finish fourth
Dave picks Vermont to finish sixth