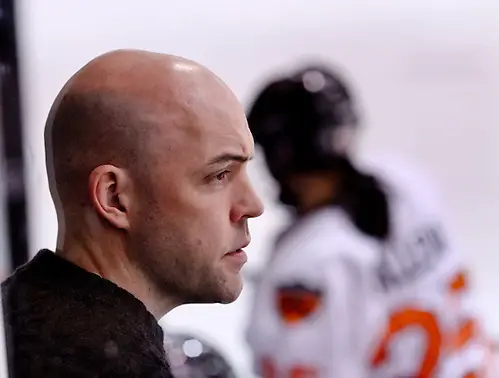 Candace: Welcome back to our first Wednesday Women of the year, women's college hockey fans! Well Arlan, our first full weekend of action is in the books. There were some interesting results out east, as Northeastern tied Clarkson in game one, and Maine upset No. 9 Quinnipiac on Saturday, 4-2. I think we both expected Northeastern to be close to Clarkson, but I have to wonder whether the Maine win says more about Maine being better than expected, or Quinnipiac being worse.
However, we can get to those discussions later. We have to open with THE surprise of the weekend. Last weekend, Merrimack raised some eyebrows by beating Boston University, though since the Terriers have often started slowly in recent years, I was willing to think that maybe it was just BU getting its legs. However, the Warriors followed that up by firing a shot across the bow of women's college hockey this weekend, upsetting perennial powerhouse Minnesota on the road Friday, 4-3.
The Gophers righted the ship in the second game by winning 4-1 on Sunday. I think one of the surprises Friday is that Minnesota had leads of 1-0, 2-1, and 3-1 before giving up the final three goals of the game. Late goals in periods can often prove costly, and that was certainly the case. After Olivia Knowles scored at 19:30 of the first to put Minnesota up 3-1, Katelyn Rae answered for Merrimack just 17 seconds later, and Merrimack scored twice in the first 5:16 of the second for the final margin. Minnesota fired 57 shots on net in the game, including 40 in the final two periods in which they couldn't score. Minnesota goalie Sidney Peters gave up all four goals before being replaced by freshman Alex Gulstene, who then got the start and the win on Sunday.
What did you take away from that series for both teams? Should we be expecting the Warriors to push all the top Hockey East squads this season and make a run for home ice in the Hockey East tournament? Is Minnesota in for a tough season?
Arlan: This weekend was my first look at Merrimack in person, and I saw some good things.
The Warriors are strong in net, although that doesn't set a team apart. More often than not, I see goalies turning in performances that range from very good to excellent. If there is any position that is in good shape in the women's game, it is goaltender. Nonetheless, both Léa-Kristine Demers and Samantha Ridgewell saw a lot of rubber and turned most of it away.
They were helped by a defensive corps of four juniors and two sophomores who kept the net front clean for the most part. The defensemen primarily stay at home, but Paige Sorensen and Dominique Kremer in particular have chipped in offensively throughout their careers.
Up front, I knew about Rae and Paige Voight, the top scorers in the program's brief history, but sophomore Mikyla Grant-Mentis was a revelation to me. Did we talk about her last year? If not, we should have. She displayed both speed and quickness in Friday's win, and when Minnesota defenders got caught on the high side, she made them pay.
As for where that will take the Warriors in Hockey East, I have no idea. This is Hockey East we're talking about them, where I have no clue as to the outcome of any single game that doesn't involve Boston College. I can hardly wait until next season when we add Holy Cross to the whole befuddling mix.
But is Merrimack's start all that surprising? The Warriors beat BU by a 4-1 score in January, won a series from eventual NCAA tournament team Robert Morris, and lost by a single goal to mighty BC in their second playoff game. Merrimack will win more games in league play, some that we may expect, and likely one or two more that will sneak up on us.
While I'm sure Brad Frost was disappointed by the loss, I doubt that he was shocked by it. It wasn't the biggest upset defeat he's had to endure. In 2008 in Frost's first game without an "interim" prefix, Minnesota lost to a fourth-year Robert Morris squad, 3-2, despite outshooting the Colonials 65-10. RMU did have a future U.S. Olympian in goalie Brianne McLaughlin, but the Gophers countered with four of their own in Gigi Marvin, Jocelyne and Monique Lamoureux, and Anne Schleper. The key to that game was that Minnesota senior Kim Hanlon yielded three goals on just seven shots; it's hard to play from behind, especially when many of your best players are rookies in their first game.
Friday night, it took the Warriors just a dozen shots at Peters to score all of the goals that they would need. I can safely conclude that if the Gophers see a third of the opponents' shots wind up in their net, then it will be a very tough season, and Frost will need the name and number of a good cardiologist.
Is that likely? I don't think so. The debacle wasn't entirely on Peters, as the players in front of her made a month's worth of mistakes in 25 minutes. I'm sure that there will be more errors. This isn't the Minnesota team that won four titles in five years. Only four players who played in the championship game versus BC two years ago are still around, and because of an injury, Taylor Williamson left the game around the same time as Peters.
For the first time in years, the Gophers put out a lineup that lacks proven scoring. They have no choice but to lean heavily on their highly acclaimed freshman class that, even without Amy Potomak, who would have been its centerpiece, still scored four of the team's seven goals on the weekend. After graduating three seniors from the blue line, they'll also need better goaltending to prosper. Despite her inconsistency through much of last year, Peters was the best option. With Gulstene on the roster, she'll need to be steadier if she wants to avoid Hanlon's fate of watching most of her senior season from the bench.
Looking around the country, I see a lot of teams like the Gophers that have plenty of minuses to cancel out the pluses. I can't remember a year where it has been as hard to select a top five or top 10. I've been voting Clarkson no. 1 on my ballot, not because I think that the Golden Knights are a complete team, but because they look closer to it than everyone else. What are your first impressions of the collection of teams in this Olympic year?
Candace: I agree that things seem very up in the air for a lot of teams. I voted Wisconsin no. 1 this week, simply because Clarkson got a tie with Northeastern, and the Badgers have looked solid at least in their first four games. I had sort of thought Wisconsin would be the team to beat this year, until I remember that Annie Pankowski is centralized with Team USA and Emily Clark is centralized with Team Canada. Still, Wisconsin has a deep roster, and even if the Badgers don't have Ann-Renée Desbiens in net, they have a solid D.
Regarding Clarkson, I was surprised the Golden Knights started the season at the top spot. I know you have to look at what a team keeps, rather than what a team loses to graduation, but the Golden Knights lost Cayley Mercer and Geneviève Bannon, who accounted for a large part of the team's scoring last year. Perhaps I'm remembering Clarkson's last post-title year, when they lost Jamie Lee Rattray, Brittany Styner, Carly Mercer, and Vanessa Gagnon, all top point producers. At least this time the Golden Knights kept their goalie in Shea Tiley.
I also think Minnesota-Duluth will struggle after losing their top four scorers to graduation and their starting goalie, Maddie Rooney, to centralization with Team USA. This weekend's series against Boston College is huge for both teams, and could tell us a lot. BC lost Megan Keller and Kali Flanagan to Team USA, and Andie Anastos, the team's leading scorer last year, graduated, but most of the rest of the scoring is intact, and the Eagles still have Katie Burt in net.
Ultimately, while it seems like more is in flux, to me it still seems like the same teams will emerge as the playoff contenders. They may suffer a few more losses than normal, but they are too strong overall to not be in contention at the end of the year. Would you agree?
Arlan: This year, I really don't know. We've had the same quartet at the Frozen Four the last two seasons, and that foursome has combined for all but two of the 16 semifinal appearances in the last four seasons. For as much as it can look like teams are becoming more equal during the regular season, there is still a separation at the end.
As you say, those four teams all lost heavily, especially Wisconsin. The Badgers won't be as strong in net even if one of its four goalies emerges to be a clear starter. Part of the reason that Wisconsin was so good defensively was that its forwards were so dangerous and controlled the puck, but four of its top six forwards are gone, as is the team's best defenseman, Jenny Ryan. As daunting as the Badgers were last year, they sometimes spent too much time controlling games and not enough winning them, so maybe some roster turnover will be a blessing in Madison.
I still don't see any threat to BC, so the Eagles should have the easiest path back to the Frozen Four. Who is set to challenge them in Hockey East? Nobody. We can convince ourselves that Northeastern could pressure the Eagles, but I'd have to spin it creatively before I'd choose the Huskies' roster over BC's.
Minnesota-Duluth and Minnesota were likely the fourth and fifth teams last year in some order, and both suffered losses comparable to Wisconsin, and they didn't start with nearly as much horsepower. They both will need to assemble their pieces from scratch, and we'll be into the 2018 portion of the schedule before we'll know if either coaching staff has found some magic.
St. Lawrence graduated a couple of its best players and was also trending in the wrong direction late last year. Cornell would have had perhaps the best blue line in the country if Micah Zandee-Hart had not centralized with Canada. With her gone, a team that didn't score much and graduated two of three players to hit double digits in goals doesn't seem as likely to push upward.
So who gains on the leaders? I'd say Colgate in the ECAC. I thought a talented roster left a little potential unfulfilled last year. A number of its top players are now seniors: forwards Megan Sullivan, Annika Zalewski, Shelby Perry, and Breanne Wilson-Bennett, and defenseman Lauren Wildfang. Will they be inspired to leave a lasting mark on the Raiders program in their final campaign?
A couple of dark horses are Bemidji State and Ohio State. They'll have a better chance of staying close to the powers of the WCHA when those teams are less explosive, plus they won't get beat up by North Dakota four games a year. A few friendly bounces, and who is to say that they couldn't sneak into an NCAA field?
Overall, I agree that the top teams will wind up with more losses.
Another top team that has already lost was Quinnipiac. The Bobcats have always started strong in recent years, while Maine did not even reach Hockey East's postseason. Are the Black Bears better, or is this a signal that Quinnipiac is on the decline?
Candace: I think it's a little of both, but I don't expect Quinnnipiac to be a top challenger. The Bobcats do have their top two scorers back in Taylar Cianfarano and Melissa Samoskevich, but neither was exactly a Cayley Mercer. They each averaged about three-quarters of a point per game. Quinnipiac has always won with a stingy defense, anchored by Sydney Rossman in net, who usually posted save percentages of .930 and very low goals-against to go with it. However, Rossman graduated. Sophomore Abbie Ives only played six games last year. Her stats look impressive until you see that three of the games were against Brown and Union. Ives and freshman Allison Small will likely split time in net. Ives gave up one goal in Quinnipiac's 2-1 win over Maine Friday, She replaced Small in the second period after Small gave up two goals on eight shots through a period and a half, but Ives got the loss because she gave up a four-on-four goal after Quinnipiac had tied it.
Quinnipiac likely has enough talent on its roster to make the ECAC tournament, but I'm not sure it's enough to get home ice. The Bobcats lost to Princeton on the road in the first round of the ECAC tournament last year in three games; something similar seems likely to me this year.
As for Maine, Tereza Vanišová seems to have picked up right where she left off last year as a freshman with three points in the first two games, and freshman Michelle Weis matched that total, so Maine may have some more scoring depth this season. Carly Jackson had a solid if unspectacular season in net last year with a .911 save percentage and 2.84 goals against; she has slightly better stats so far, but she did give up two goals in each game to the Bobcats over the weekend.
Maine's goal is to make the Hockey East playoffs, but with the improvement shown by Merrimack, and Connecticut, New Hampshire, Vermont, and Providence all looking to build on what they achieved last year, it might be easier said than done.
Speaking of the Friars, they looked impressive last weekend, putting up seven goals on Union and six against Vermont in winning their first two games of the season. Do you think Providence has the skaters to move up from its fourth-place finish last year and possibly move to third, ahead of BU, or even challenge Northeastern?
Arlan: It's possible, but I don't think it is likely. The Friars will score more goals than most of the teams with similar records, but ever since Genevieve Lacasse graduated, their undoing has come in their defensive zone. As a senior, she helped Providence hold its opponents to under 80 goals on the season, but in her aftermath, that total has been well over 100 every year.
You're right in that Providence can skate with teams, and its 4-1 defeat of BC in February speaks to that. It also tied BU once, but allowed the Terriers five goals in all three meetings, and the Friars dropped all three games versus Northeastern. The Friars finished tied with Vermont in the standings, and the two teams met in a quarterfinal series hosted by PC, which won the first game 5-4 on a goal in the closing seconds. However, the offense tailed off in the next two games, and the Friars did not advance.
Cassidy Carels graduated, so it falls to senior Brooke Boquist and junior Christina Putigna to lead the attack. Ten different players scored in the first weekend, so scoring depth will be part of the recipe for success. Providence was able to control the bulk of the play, holding each opponent to 13 shots on goal.
The concern is likely that such low shot totals still allowed five goals against. The Friars had to scramble out of an early 3-1 hole against Union, and they'd be ill-advised to rely on such comebacks going forward. None of the goaltenders stopped 90 percent of the shots faced last season, and I'd say that threshold is a must if Providence is to improve on its finish.
One intriguing possibility is 5-foot-11 freshman goalie Sandra Abstreiter from Germany. Europeans are usually on a roster for a reason, so it will be interesting to see if she gets playing time down the road and how the goaltending evolves.
While we're on the topic of teams that start with "P", after 21 seasons behind the Princeton bench, Jeff Kampersal moved to Penn State, while his former associate Cara Morey replaces him. What impact do you see that switch having on the two programs?
Candace: That's a tough question to answer. Let's address the latter first. Kampersal can't have anything but a positive effect on Penn State. On paper, the Nittany Lions would seem to have a lot of upside. They play in the CHA, which more than any other conference has given each team a chance to advance to the NCAA tournament since it was given an autobid. The facilities in University Park are outstanding, so between the school's reputation and the facilities, plus the chance to play in the NCAA tournament, I think recruiting will definitely improve at Penn State. That program has been in turmoil in recent years, and there have been allegations in the past about the players being deeply unhappy with the previous coach, including emotional abuse.
I don't know what happened there, but there were rumblings around the CHA even prior to an article that was published in the Daily Collegian, an independent student-run newspaper, about the coaching situation. Kampersal is a proven coach, and he's had success at motivating his players. I think it will take a few years, but I expect that the Nittany Lions will be challenging Mercyhurst, Robert Morris, and Syracuse for the league crown within a year or two. Penn State had what could be looked at as a good weekend last week. They didn't score, but they were playing in Duluth and only lost 1-0 and 3-0. Knowing they can skate with power teams like that will benefit Penn State when the CHA schedule starts in earnest.
Last year's season ended on a disappointing note, as they lost to RIT in the first round of the CHA tournament. They beat Robert Morris 3-2 and then lost their last four games, only scoring a single goal in two of them and getting shutout in the other two. Penn State lost Laura Bowman and Amy Petersen, their leading scorers last year, to graduation. Bowman was almost a point per game player, and Petersen not far behind. No one else on the team except freshman Brooke Madsen was above a half a point per game, so scoring will likely still be an issue. Goalie Hannah Ehresmann is a senior, and started both games against Duluth, posting a .938 save percentage, so she will likely keep the Nittany Lions in every game.
As for Princeton, the Tigers could conceivably get home ice in the ECAC tournament again, but advancing past either Clarkson or St. Lawrence might be tough. They lost two key seniors in Molly Contini and Kelsey Koelzer who contributed a lot of points, both being near a point per game. However, Princeton does have their leading scorer, Karlie Lund, back, as well as sophomore Carly Bullock, who put up points in bunches last season. Steph Neatby was one of the best goalies in the league last year; she'll need to be again for Princeton to have success.
You mentioned Holy Cross earlier. The Crusaders play a transitional schedule this year, with games mostly against a handful of D-II schools in a scheduling alliance, but they also have some D-I opponents on their schedule, opening with a pair against RIT this weekend, then playing Dartmouth and New Hampshire the following weekend. The Crusaders did well in their two preseason games, putting up a ton of points against two Canadian schools, Laurentian and Nepean. The latter played New Hampshire last weekend and lost 2-1 before falling to Holy Cross 5-2. The Crusaders also play a pair against Harvard in November, plus one more against Dartmouth. What do you think of the Crusaders' chances of a quick and successful transition to D-I? Can they follow in the footsteps of RIT and have success immediately? Merrimack is only a third-year program, and seems to point how to build a program quickly.
Arlan: That's likely a better question for Nicole in coming weeks if you want something more than an uneducated guess. What I don't know about Holy Cross is a lot.
I do know that while the Crusaders win considerably more than they lose every year, they aren't coming in off the high of an NCAA Championship like RIT did. The other thing that timed nicely for RIT is that the Tigers came into the CHA at a time when Mercyhurst was in a bit of a downswing.
Yes, the Lakers did reach back-to-back Frozen Fours around that time, but they didn't have the power in their lineup that they had a couple years earlier. Certainly, Mercyhurst wasn't at the level of the Boston College team with which Holy Cross will soon be sharing a league. The Eagles have proven to be a formidable roadblock to Northeastern's national tournament aspirations, as the Huskies were only able to break through in Kendall Coyne's Patty Kazmaier season. If BU gets back into the national tournament picture after a couple of down years, then the opportunities for the remainder of Hockey East dwindle.
As for whether or not the players on coach Peter Van Buskirk's roster are fast enough, strong enough, and skilled enough to make an impact in Division I, I haven't a clue. We should get some indication of that in mid November when the Crusaders play a home-and-home series with Harvard. While they will face other D-I teams, I think that Harvard, despite the nosedive that it suffered through last year, has more top-end talent than the other D-I programs that Holy Cross will see.
The announcement that Holy Cross would be joining Hockey East was just one development in the women's hockey world since the last edition of Wednesday Women. The victory of the U.S. national team members gaining more financial support was quickly followed by North Dakota's announcement that it was dropping its women's hockey program. What a strange bunch; they put up a protracted fight to keep their old nickname, but couldn't be bothered to search for ways to save a varsity program. Maybe UND can have a conditional women's hockey program and only compete in years when oil prices are above a certain threshold.
What do you make of the events of the off season and what they indicate about the state of the women's game?
Candace: It's always sad when a program contracts. We've had a few teams fold in recent years, such as Niagara and Wayne State and Findlay, the latter two of whom also folded their men's programs, but North Dakota was such a high-profile program. They were always in the hunt in the WCHA. Jocelyne and Monique Lamoureux did so much to build that program in their home state. It was also distressing to see how the news was leaked while many of the players were on the ice for a practice, and a recruit was in town from the East Coast. I think we will be covering this story in more depth this season in a feature, but I'll just say it's still hard for me to think about.
That it came on the heels of the USA women winning such a major victory for more pay, and then capturing the World Championships on home ice in a epic overtime game in front of a sold-out audience, made the optics look even worse. I was in Chicago for the Frozen Four during that game, and was with a crowd of media watching the game live on TV in a bar, and let me tell you, we were all riveted, and when Hilary Knight scored the winning goal in OT, a huge cheer was let out. It was such an amazing game to watch, with great play from both teams. I think it sets up a lot of great stories for the Olympics in February. Can Team USA finally get over the hump? They seemed to have control of the game four years ago in Sochi before Marie-Philip Poulin put Team Canada on her back and willed them to gold.
Even with the North Dakota program folding, I think the state of the women's game overall is very good. I think there is a lot of excitement, and from I have seen, the growth of the women's game in Team USA's junior ranks has been explosive. I'd like to think more schools will eventually add women's programs, perhaps schools like Michigan and Michigan State; I think it's disgraceful that neither of those longtime hockey schools has a women's program. I've heard rumors that Bentley plans to add a team that will probably apply to the CHA. I'd love to see Denver start a team, but I doubt that will happen anytime soon. There is a club team at DU that plays in a local women's adult hockey league.
You've put me on the spot, so I'll do the same. What do you think of the current state of the women's game?
Arlan: I think it has untapped potential. The game needs to grow, but I think that it is important that it grow stronger at this point, rather than just expand. Otherwise, it could pop like an over-inflated balloon.
With four programs folding during the brief NCAA history of the sport, the survivors need to learn from those casualties to avoid also falling victim to cuts. It's an expensive sport, and from the outside, North Dakota looked to be in the top quartile in terms of what it spent on its program. Findlay, Wayne State, and Niagara may not have enjoyed as many bells and whistles, but all four teams likely had higher travel costs than the average D-I team. That would seem to present a big obstacle to a team located as far south and west as Denver. A new program in a similar location would need a large budget, because all road games would mean air travel, and it would likely need something to entice opponents to visit. It would present a similar problem as having an Alaska team in a men's league.
One way to offset that would be to bring more funding into women's college hockey, either through sponsorship or media deals. For regular season games, I think that hockey can be more easily packaged for a time slot than some popular women's sports that are televised more frequently, such as tennis or volleyball, where a match can be seconds away from ending or last for another hour. Hockey obviously has a similar issue with sudden death overtime, but at that point, it is balanced with the drama and high stakes of the postseason.
A handicap that hockey needs to overcome to gain popularity is that the personalities of its student-athletes are mostly hidden beneath protective equipment. Other sports such as auto racing enjoy immense popularity in spite of that, but it does make the media exposure more crucial.
While I'd love to see the growth in popularity, I also enjoy the quaintness of the women's college game at its current size. It's a much more family-friendly event as far as cost and access to games as it is now. Fans don't have to plan attendance weeks or months in advance. And with all of the nut cases roaming around in the world, the comparative obscurity of women's hockey isn't all bad.