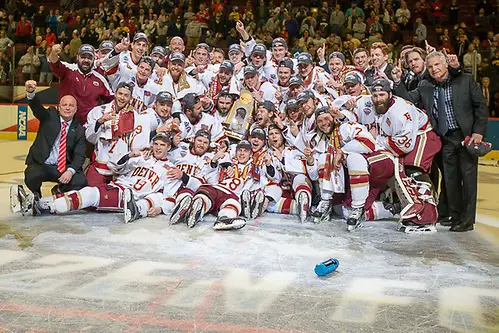 As it enters its fifth year, the NCHC has established itself in a short time as the powerhouse conference in college hockey.
In each of the last three years, the conference sent two teams to the Frozen Four and had the best out-of-conference winning percentage in college hockey.
Last season, the NCHC went 48-21-14 9 (.663); in 2015-16, it was 48-26-10 (.631); and in 2014-15, it went 53-25-4 (.671). For comparison sake, the NCHC has been over half a percentage point better in winning percentage than the next-closest conference in each of those years.
On top of that, the NCHC boasts back-to-back national champions in Denver last season and North Dakota the season before, and last year, Denver had to beat another NCHC team, Minnesota Duluth, in the national championship game.
"It's competitive," said North Dakota coach Brad Berry. "When you look at it, you've got eight very good teams in the NCHC, and it's funny because everybody has rankings and polls and different things like that, and it's a lot tighter than you think every year, and I think that's good. I think it makes a team battle-tested and ready to go and has a chance to win at the next level in the postseason tournament."
The NCHC looks poised to be a dominant force again. Four NCHC teams — Denver, Minnesota Duluth, North Dakota, and St. Cloud State — were ranked in the top 10 in the USCHO.com preseason poll. A fifth, Western Michigan, was ranked 20th. The Big 10 and Hockey East also had five teams ranked in the top 20, followed by the ECAC with three and Atlantic Hockey and the WCHA with one each. However, neither the Big 10 nor Hockey East have as many teams in the top 10.
"You know when the dust settles like last year again we were almost 1-8 in strength of schedule and then our conference, we always seem as a conference to try to schedule very tough nonconference schedule games as well," said St. Cloud State coach Bob Motzko. "That's one thing I think our league's very prideful of. … There's no question that day in, night out, it's a challenge. It's exciting for athletes to play in a conference like this and going to year five now, you know we all talk about this; it's accepted."
The coaches also see a correlation between the grind of the league and its success in the postseason, as they feel playing such a competitive schedule in the NCHC prepares them for the intensity experienced in the postseason.
"I think when you come in here, I think the league talks about it a lot, I mean, the strength of our league," said Minnesota Duluth coach Scott Sandelin. "The challenges are really good. I think when you're playing weekend after weekend in our league, for me I think it really keeps your kids focused on the practice and really working hard to get better, because you have to. There are no easy nights, not just in our league but in college hockey, but especially in our league, and I think it's a big reason why we keep pushing each other to get better."
This season looks to be another strong one for the conference. Denver is the preseason favorite as conference champions, and the Pioneers, who return most of the offense from their championship-winning team of last year, as well as Mike Richter Award winner Tanner Jaillet, are on a short list of teams favored to win the national championship.
"I think our players that are returning are used to dealing with high expectations and having a little bit of a target on our back," said Denver coach Jim Montgomery. "The key is going to be are we prepared as a group to work as hard as we did last year and be as hard as we were to play against in our details and our kids in order to have success again this year. I think we're going to worry about ourselves and we feel that if we're playing Denver hockey, that you know even though we have a target on our back that we're still going to be able to do good things if we just worry about ourselves and our process."
NCHC preseason picks
Candace
1) Denver
2) North Dakota
3) St. Cloud State
4) Minnesota Duluth
5) Miami
6) Western Michigan
7) Omaha
8) Colorado College
Matthew
1) Denver
2) North Dakota
3) Minnesota Duluth
4) Western Michigan
5) St. Cloud State
6) Omaha
7) Miami
8) Colorado College
TEAM PREVIEWS (in alphabetical order)
Colorado College
Last season
8-24-4 (4-16-4 NCHC)
Lost to Denver in the first round of the NCHC tournament.
Names to know
The bad news for Colorado College is the Tigers lost three of their top four scorers from last year's team. The good news is that those three players didn't account for too much scoring, with two averaging half a point a game and one averaging a third of a point a game.
Offense has been in short supply for the Tigers in recent years. Last season, they were ranked 58 out of 60 teams, averaging 1.94 points per game. The season before that, they were 56, averaging 1.97 points per game. You have to go back to 2012-13 to find a Tigers team that had potent scorers, when Rylan Schwartz led the way, coincidentally the last time the Tigers got close to the NCAA tournament, losing in the championship of the WCHA Final Five to Wisconsin.
"I mean, obviously it goes to recruiting," said CC coach Mike Haviland. "You have to start recruiting guys who can play that end of the rink and make plays and we have to keep finding guys who can score goals. We need guys like Trey Bradley, who only played six games last year, to take the next step. And we bring back Mason (Bergh), our leading scorer, but guys like (Westin) Michaud and (Trevor) Gooch and (Nick) Halloran and (Alex) Berardinelli, now have a year or two under their belt, they need to take the next step and we need to do it more by committee here. We don't have the prolific goal scorer that other teams in our conference have."
One bright spot for CC last year was the play of Alex Leclerc in net. The freshman posted a .900 save percentage and helped CC beat conference powerhouses Minnesota-Duluth and North Dakota in the second half.
"I think he's just got to build from there and has to be more consistent," said Haviland. "I think he struggled with the beginning first half of the year, so looking for more consistency from him and then his play needs to be like he was in the second half, when he gave us a chance to win every night we felt. Again, we're going to need that."
Three questions
1) Can the Tigers start generating more consistent offense? One place that could help is the power play. Last year, the Tigers only converted on 11 percent of their power plays.
2) Can Leclerc duplicate his second half for an entire season? CC gave up 3.33 goals per game last year, but in the second half the Tigers were more effective, often finding at least one game per weekend series where they held the opposing team to two goals or less.
3) Can they win at home? CC won only one game at home last year. The bigger ice sheet favors players who can skate, but CC is more of a grinding team, and home ice is not friendly to them.
Crystal Ball
Colorado College just doesn't have the scoring talent and defense of the other teams in the conference. While CC will probably improve on its win total from last year, it won't be enough to get out of the NCHC cellar.
Denver
Last season
33-7-4 (18-3-3 NCHC)
Won the NCAA national championship.
Names to know
Barely had Denver left the ice last year at the United Center in Chicago before the departure watch began. Several SIDs last year in Chicago told me they thought Denver would be decimated by NHL departures. The day after winning the championship, it was reported by at least one source on Twitter that coach Jim Montgomery would go to Florida and coach the Panthers. High-scoring forwards Troy Terry, Henrik Borgström, and Dylan Gambrell were also reportedly going to bolt early for the NHL
Ultimately, all decided to stay, which means that the only players Denver lost were the nine seniors. Admittedly, that group was very important, perhaps none more than captain and Hobey Baker Award winner Will Butcher, but Montgomery also thinks finding people to replace the workmanlike players of the third and fourth lines is important for his team this year.
"You know, Will Butcher was special; the season he had, the way he led us, everything was special," said Montgomery. "But also all those other eight seniors that were with them that were so hard to play against that were such glue guys, Evan Janssen, Matt VanVoorhis, Matt Marcinew, Emil Romig, and the Evan Ritt's of the world, they made it hard to play against us night in, night out. And those nine seniors were desperate, and that's where it falls upon our four seniors and our entire group to carry that torch. They've got to make sure that we're practicing the right way and they've got to hold each other and the underclassmen accountable, and that's what I thought our seniors did a great job of last year as they held the people accountable to make sure that we practiced at a high level so that we were consistent in games. That's going to be our biggest challenge."
Denver also has strong freshman class, with players who should see immediate ice time, including two defensemen.
"I think Ian Mitchell is someone that kind of jumped out at us in practice," said Montgomery. "You know, him and (Griffin) Mendel the defensemen, have quickly assimilated themselves to how we pressure pucks up ice and how we take away time and space and both of them are really intelligent hockey players."
Three questions
1) Without the steady presence of the seniors who provided leadership and drive to last year's team, does Denver fall from its perch a little?
2) Will any of the team's high-flying forwards suffer a slump in scoring output?
3) Can Tanner Jaillet duplicate his Mike Richter Award-winning season from last year?
"It's good to have Tanner because he's so calm and poised back there that it really settles our team down, and I think he's going to get challenged a lot more this year because we don't have as many veteran players," said Montgomery. "I mean, he's probably going to face a lot tougher shots early on before we get to become, hopefully, a well-oiled machine."
Crystal Ball
With everyone back, Denver looks poised to possibly repeat as national champions, duplicating what they did in 2003-04 and 2004-05. They will also likely repeat as Penrose Cup champions for winning the NCHC regular season crown.
Miami
Last season
9-20-7, 5-14-5-3 NCHC (seventh)
Lost to Minnesota Duluth in the first round of the NCHC tournament
Names to know
A Miami team that carried 14 newcomers last season is a year older, but there's still a lot of youth there.
The band has stayed almost entirely together, but 19 underclassmen make up the bulk of the RedHawks' roster. The veterans will remember last season's seventh-place finish well, but a high level of continuity could bode well for a Miami team seeking its first NCAA tournament berth since it won the NCHC playoff title in 2015.
It wouldn't just be a few players that get the RedHawks there, though. That's part of Miami's ethos.
"I think some guys get the limelight a little bit more than others, obviously, and that goes with the territory but it all comes down to being a good team and playing within our strengths," Blasi said. "Individuals will look good in the team environment, so we don't try to have anybody stand out.
"We want our guys to play within themselves and play as a good team with structure, so we think those things will make our guys look good."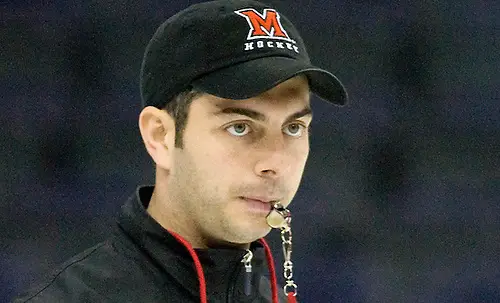 There are, of course, still players opponents will need to look out for. Miami's top scorer from last season graduated, but Nos. 2 through 8 are all back, led by junior forwards Kiefer Sherwood (14 goals, 24 assists) and Josh Melnick (9 G, 18 A). Carson Meyer returns after a solid freshman season in which he supplied 10 goals and 26 points.
Captain and senior defenseman Louie Belpedio (6 G, 11 A), a preseason all-NCHC team pick, is one of six returning blueliners. Goaltender Ryan Larkin (.910 save percentage in 33 games) is back for his sophomore campaign.
All aspects of Miami's game will have to be sound, and it's partly up to Belpedio and the RedHawks' two other seniors (defenseman Scott Dornbrock and forward Conor Lemirande) to make sure the machine's running smoothly.
"They need to be the standard every day," Blasi said of his seniors, "and not try to be anything that they're not and just make sure we're holding each other accountable.
"They've been through it, they've won a championship in our league on our level, and I think they want the rest of the team to experience that. In order to do that, we have to take it day by day and make sure the process is right and the preparation is right."
Three questions
1. Can Miami shore up play in its own zone? The RedHawks finished seventh in the NCHC in team defense (3.46 goals per game) in league games. Add the fact that Miami was seventh in team offense (2.46) against conference opposition and the reasons for the RedHawks' place in the final 2016-17 NCHC standings are clear.
2. Will Larkin keep hold of his No. 1 spot in net? He'll have competition from three other goalies, including last year's backup in Chase Munroe and Evan McCarthy, a junior who sat out last season after undergoing hip surgery.
3. How will the RedHawks' power play units fare? Miami only scored on 17 percent of its man-advantage opportunities last season and finished sixth in the NCHC in that category.
Crystal Ball
The RedHawks will benefit from the experience they collectively lacked last season, but they might still be a year away from a top-four regular season finish.
Minnesota Duluth
Last season
28-7-7 (15-5-4 NCHC)
Lost to Denver in the NCAA championship game.
Names to know
Last season, Minnesota Duluth was led by a strong senior class with players like Alex Iafallo, Dominic Toninato, Kyle Osterberg and Willie Raskob. The Bulldogs had also entered last season with a concern in goal after Kasimir Kaskisuo left after his sophomore year, but Hunter Miska had an outstanding rookie season in net.
However, Miska left early for the pros, as did top defenseman Neal Pionk and forward Adam Johnson, the team's second-leading scorer, leaving the Bulldogs and coach Scott Sandelin needing to rebuild. Junior goalie Nick Deery played only three games last season, while sophomore goalie Hunter Shepard played in only two. Those two will compete with freshman Ben Patt for the starter's job.
"I think it's going to kind of probably play itself over time," said Sandelin. "I'm not putting a timeline on it. I think it's going to kind of be how it goes, but I think those guys are going to get opportunities to play. It just might be a longer process than maybe last year as to who emerges. I'm good with that. As long as they keep battling and pushing each other, hopefully they'll get better. But I think over time some things will become clear back there just like last year."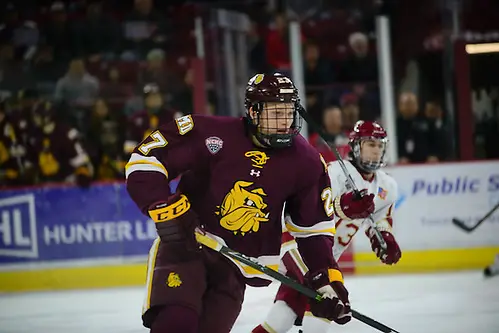 Duluth does have strong forwards back, including Joey Anderson, who had an outstanding rookie season with 37 points.
"We've got some high-end guys back, like Joey, like Riley (Tufte), Karson Kuhlman, guys like that, I think you know that certainly are capable of making a difference in a game and you know the biggest position we're really inexperienced in is the back end. I really like the freshmen we have brought in and certainly different dynamics, certainly a pretty mobile group."
Three questions
1) Can the Bulldogs rebound from the heartbreaking loss to Denver last year in the national championship game? Sandelin thinks that experience will motivate his players more.
"I think you have to have those experiences to really understand how hard it is to get to those spots during the year, let alone just in our league," said Sandelin. "I mean early on it's so hard, and I think those things will help those guys as well as all the rest of our returning guys, and I think the young guys, no matter how much you talk about it they still have to go through and experience some of that. Hopefully, the learning curve is as quick."
2) Can one of the netminders step in for Miska and provide strong goaltending?
3) With five of the top six scorers from last year gone, can Anderson and Kuhlman and Tufte provide enough scoring punch until the rookies gel?
Crystal Ball
The Bulldogs came up just shy in the national championship against Denver. However, the Bulldogs, more than any other team in the conference, were decimated by departures to either graduation or early departure. There's enough talent to probably make the NCAA tournament, but the Bulldogs will likely finish fourth in conference.
North Dakota
Last season
21-16-3, 11-12-1-1 NCHC (fourth)
Lost to Boston University in a West Regional semifinal
Names to know
North Dakota's defense of its 2016 national championship veered from the script. The Fighting Hawks finished a game under .500 in NCHC play before falling in double overtime to Boston University in a regional semifinal played in front of essentially a home crowd in Fargo, N.D., an hour south of Grand Forks.
Several key pieces from last season's UND team are gone. Only two seniors dotted the roster, but three of the Hawks' top five point producers opted to leave school early.
UND's top scorer, forward Shane Gersich (21 goals, 16 assists in 2016-17), returns for his junior season. He will play a key role again in an offense with holes that need filling.
"I think what it provides is excitement for opportunity as far as guys knowing there are roles available and as far as trying to fulfill that," UND coach Brad Berry said.
"Obviously, losing good players that we have, we have very good players in our group here that have gotten a year older, we've got some good young players that have come in for their first year here, and I think it's an opportunity for them to showcase that they can be that guy."
Much is expected from senior captain Austin Poganski (12 G, 13 A), and Finnish junior Joel Janatuinen (8 G, 11 A) is among several veterans primed for a breakout season.
"He's going into his third year now and he's an upperclassman and he knows the lay of the land as far as what we do here," Berry said of Janatuinen. "He's one guy that's very dependable not only on the offensive side but also on the defensive side. He's a very good player that you can count on on a daily basis."
Another headliner is senior goaltender Cam Johnson, fresh off a winter in which he posted a .903 save percentage and 20 wins. Behind him, though, are two understudies that will push for playing time.
"When you talk about depth, I think, in all positions, we have depth again at that position," Berry said. "(Freshman) Peter Thome played a lot of junior hockey, not at the college level but at junior hockey and did very well, and then obviously Ryan Anderson, who's going into his third year here, he's been very good early here, too."
Seven freshmen – perhaps most notably forward and U.S. National Team Development Program product Grant Mismash – and Nick Jones, a junior forward who previously played at Ohio State before returning to junior hockey, are looking to prove that they belong.
"Blue-collar, hard-working, respect, humility," Berry said in describing what he views as his program. "There's a lot of qualities that go into our culture that it's kind of an earning-it-on-a-daily-basis kind of thing.
"When we do that, we have the guys inside the Ralph (Engelstad Arena) here that do it on a daily basis, and we have to recruit to that to make sure we preserve our culture."
Three questions
1. Who will replace early departures up top in Tyson Jost and Brock Boeser? Gersich is a proven scorer, but he's the Hawks' only returner who netted more than 25 points last season.
2. How big of an impact will Mismash have? A second-round draft pick by the Nashville Predators, he has prior playing experience in Grand Forks from last year's World Under-18 Championship.
3. How will Johnson fare in his senior season? A national finalist for the Mike Richter Award for 2015-16, he'll want to end his collegiate career on a high note akin to his national title success as a sophomore.
Crystal Ball
This is not the NCHC's preseason team to beat, but UND should improve on its showing from last season while vying for a No. 1 regional seed in the NCAA tournament.
Omaha
Last season
17-17-5, 9-13-2-0 NCHC (sixth)
Lost to Western Michigan in the first round of the NCHC playoffs
Names to know
There's less newness in the Omaha hockey program than one might think, given its first-year head coach. A UNO alumnus, Mike Gabinet is working with a largely veteran team with just three freshmen.
Gone is the Mavericks' leading scorer from last season, as is 38 percent of their goal production from 2016-17. For the returners plus a freshman defenseman and two new forwards, what happens now on the Baxter Arena practice sheet goes a long way.
"There's a blank slate for everybody," Gabinet said. "The guys who did well last year, we're looking for them to continue to grow on that, and the guys who had maybe less of an opportunity last year, we're looking for them to get a blank slate and prove themselves to the new staff.
"I think it's kind of to be determined on that one on who's going to step up for whether it's a Luc Snuggerud or an Austin Ortega or an Ian Brady, but right now we're in the evaluation phase of our training camp, so to speak, so we're just looking at who wants to work hard, compete and learn and step up and help contribute to the team and help fill some of those voids that are left."
The NCHC's preseason all-conference team is without any UNO players, but several could be in line for similar postseason accolades. Up top, Tyler Vesel (14 goals, 21 assists last season) and David Pope (13 G, 18 A) headline a potent quartet of senior forwards. Three of them, including Jake Randolph (6 G, 17 A), were among Omaha's top six point-scorers last winter.
Senior Joel Messner (2 G, 6 A) returns to help shore up a Mavericks defense that conceded 3.28 goals per game last season – only 13 other Division I teams fared worse. All three goaltenders from last year are back, led by Evan Weninger (.907 save percentage in 28 appearances).
Who plays key roles where will be decided soon enough. In the meantime, Omaha's first new head coach since 2009 is taking stock.
"I think the biggest thing is we just worry about our culture, and by that I mean taking personal responsibility to get better every day," Gabinet said. "We're really focused on that right now: what are we doing to get better today than we were yesterday? How are we growing? How are we learning? How are we challenging our comfort zones?
"I think we're just focusing on the little things right now and just sticking with that process right now, and the results will be the results."
Three questions
1. Who succeeds Ortega and Snuggerud? Omaha's top and fourth-highest scorers last season, respectively, had a combined 78 points and 31 goals. One in every four goals Omaha scored came courtesy of that pair.
2. Who becomes the workhorse in net? Last year's stat lines for Weninger, Kris Oldham and Alex Blankenburg weren't incredible, and while Weninger seems the favorite to start, all three goalies have something to prove.
3. How will the program's new era begin? Entering its 21st season, Omaha hockey is at a point where not only is one of its own now in charge, but Gabinet's staff includes two other former Maverick players.
Crystal Ball
There's a lot of familiarity within Omaha's camp, but questions at all positions must be answered before the Mavericks finish in the top half of the NCHC and lock up home ice for the playoffs.
St. Cloud State
Last season
16-19-1 (10-13-1 NCHC)
Lost to North Dakota in the first round of the NCHC tournament.
Names to know
While the return of top scorers Mikey Eyssimont and Blake Winiecki is probably enough to justify St. Cloud's ranking in the preseason poll, St. Cloud coach Bob Motzko singled out senior Judd Peterson as one he expects big things from.
"I'll tell you why I'm adding him in there," explained Motzko. "Judd's sophomore year, he had 16 or 17 goals. Then last year, very similar to Kalle Kossila's junior year, he battled an injury all last year. We couldn't talk about, but he had to have surgery and do it at Christmas. But it was one of the things he just fought through the year, and Kalle went through the exact same thing his junior year and it's no fun for these athletes to be that way. And you know they live in pain. They fight with what that feels like. Judd feels great again. He's healed 100 percent. I think Kalle Kossila did the same thing where his senior year he really picked back up. Everyone was questioning his good year. And 'Petey' went through the same thing last year, but he feels great that he can get back to where he was as a sophomore from a production level in places and roles."
Motzko is also excited to see if goaltender Jeff Smith can build on the second-half success he had his rookie season.
"Jeff Smith played every game after Christmas. Jeff, at Christmas we were sitting with him at an 87 save percentage, which you're not going to win in college hockey. He was 90, 92 save percentage after Christmas. He got himself in great shape, gained the experience, and he's come back in phenomenal shape and with that upperclass attitude. He really seems to be driven right now. And so I've I got to go with the fact that our goaltending from Christmas on was strong. The big thing is we've added David Hrenak from Green Bay in the USHL and Czechoslovakia. And he had an outstanding year last year in the USHL. So we are we are light years ahead of the start of this year where we were a year ago with experience in that position."
Three questions
1) Can the forwards step up in production? Eyssimont led the team in scoring, but only averaged .833 points per game. Many of the others were around .6 points a game. The Huskies need more offense from those players.
2) Can the defense and goaltending improve on goals allowed? St. Cloud gave up over three goals per game last year.
3) Will freshman Easton Brodzinski be the type of player for St. Cloud that his brother, Jonny, was?
"Brodzinski's a Brodzinski," said Motzko. "Whatever's in their Wheaties as a family is crazy and it starts with the dad and how they can shoot the puck and go. He's, it comes off his stick very heavily; he's got the ability to score goals."
Crystal Ball
The Huskies look to have all the pieces, and will challenge North Dakota for second place in the conference and likely return to the NCAA tournament.
Western Michigan
Last season
22-13-5, 13-9-2-1 (third)
Lost to Air Force in an East Regional semifinal
Names to know
When Western Michigan coach Andy Murray was told last Wednesday that a reporter had questions about the Broncos heading into their new season, Murray answered with a laugh, "So do I."
That's understandable. Western's top three scorers in 2016-17 have moved on. Would-be juniors Matheson Iacopelli and Griffen Molino, last year's Nos. 1 and 2 producers, signed with NHL teams, as did another promising forward in Frederik Tiffels, who opted not to return for his senior season in order to sign with Pittsburgh.
Add nine freshmen to the mix and it becomes safe to say WMU will sport a new look this season. Many talented veterans dot the lineup, though, and perhaps the best news offensively is that Colt Conrad (13 goals, 16 assists last season), Wade Allison (12 G, 17 A) and Hugh McGing (8 G, 14 A) all return from a line that scored 32 goals last winter.
Wherever they play, they're expected to contribute again.
"I'm not sure they're going to all play together this year, but they were certainly point producers and good players (last season), but we like our overall team speed and skill," Murray said. "We were still a pretty miserable team to play against last year, but we certainly had more speed and skill than we'd had in the past, and we think our speed is as good if not maybe a little better than it was last year."
Starting goaltender Ben Blacker (.915 save percentage and 17 wins in 29 appearances) is back for his sophomore season. He was a NCHC all-rookie pick last winter despite missing part of it with mononucleosis.
Junior defenseman Corey Schueneman (5 G, 17 A) returns to aid a team that scored plenty of goals last season (3.33 per game, tied for 10th in the country) but hopes to allow fewer (2.85).
"Corey's had a really good start to the season here in the limited hours. He's a junior now who was a 20-point producer last year and we're going to need him to be good for us this year. Our defense corps is one area where we've got some depth back, and I think in hockey when you're solid in goal and you've got defensemen, it's a good place to start your base."
Three questions
1. Who takes over for Western's early departures? Iacopelli and Molino accounted for 35 goals between them, and another 16 came from graduated forward Sheldon Dries.
2. What will Blacker do for an encore? Sophomore backup Trevor Gorsuch will again compete for playing time, but Blacker played a key role in the Broncos' first NCAA tournament berth since 2012.
3. How will the Broncos' nine freshmen fit in? Goalie Austin Cain is competing with three veteran keepers, while seven forwards and one defenseman will also be eager to impress.
Crystal Ball
Many key pieces from last season have moved on, but Western faced three late departures two years ago and should work better in a similar situation now. Another national tourney berth is a very real possibility.