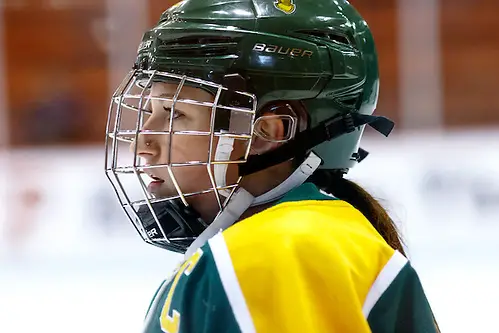 Despite winning their second national championship in three years, it's been business as usual in upstate New York at Clarkson University to start the season. Coach Matt Desrosiers has been very impressed with his team's focus and work ethic. It was just weeks after their March win that the team was in the weight room and focusing on a new year.
"There hasn't been a lot of talk about being defending national champions or preseason favorites or whatever because our players know that none of that stuff really matters because it's a new year," said Desrosiers. "We're just focused on ourselves and our process and we know anything can happen. Just because we are the defending national champions doesn't mean anything. We've lost players. Other teams have lost and gained players. It's a totally new season, and I think our players are really focused on going out there and playing their best hockey."
If the Golden Knights weren't already on everyone's radar, they are now. When they upset Minnesota to win the title in 2014, it felt a bit like a coming out party. But naysayers were quick to point out that the title was won in an Olympic year. With last year's win, Clarkson solidified that they are a program to reckon with, and Desrosiers said his team feels vindicated with their second championship win, silencing anyone that may have doubted the team before.
As the parity in the game continues to rise and with some of the top talent in the country playing for their national teams in the Olympics, women's college hockey is more wide open than ever. The results of the first two weekends prove it. Desrosiers and his team know that nothing is guaranteed, and nothing that happened last year matters when it comes to putting in the work for this season.
"Just think that teams are just getting that much better. That's why things are so much more exciting week in and week out. Every single year there's far more talent and more teams that have a legitimate shot at winning some championships, either league championships or national championships. You can't take any weeks off. You have to make sure your teams are prepared each and every week no matter who the opponents are. I firmly believe any team can beat any other team on any given night. That's just where our game is at."
It's that wide open field of a brand-new season that brings a new set of challenges — though Desrosiers said his team relishes the pressure that comes with everyone gunning for you.
"They know they have the big target on their back and they somewhat welcome that," said Desrosiers. "They know they're going to get everyone's best game, but when you're a high level team, you want to get everyone's best game. You want to be able to go out there and play your best and prove to everyone you're the team to beat."
Though the women's team at Clarkson has cemented itself as a program of national renown, Desrosiers said the titles haven't made recruiting all that much easier. They are still a team at a small school in upstate New York after all.
While the coaching staff no longer has to introduce who Clarkson is to potential players and their parents, Desrosiers said they still have an uphill climb to convince recruits to head to Potsdam instead of Boston, Minneapolis, or Madison.
"Previously to our championships we weren't a big name school. We had to work a little harder to get people to know who we are. People know Clarkson a little bit more now. We're still a small, upstate New York school. We don't have the flash and glitz and glam know of those big name schools. We still have to work to let recruits and parents know what Clarkson is about and what we do here."
It's also an uphill climb to return to the top. The Golden Knights opened the season with a win and a tie against Northeastern. With six new faces on the team, they have to work hard to find the chemistry that helped carry them to the top last season. Desrosiers said the team is extremely close-knit, and he feels like fans should be able to see how that relationship translates on the ice.
If Clarkson returns to the Frozen Four, it will be in large part due to the experience the team has gained over the past few years — not just in big-time games, but through the slog of a long season.
"Nothing can really make up for experience. Having players that have been in those types of situation before and … understand exactly what it takes to have a championship season (is crucial)," he said. "It's not just the end goal that we're focused on, it's the entire process through the entire year. That type of experience is kind of invaluable."