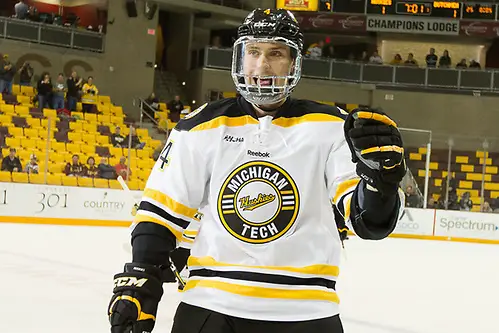 Each week during the season, we look at the big events and big games around Division I men's college hockey in Tuesday Morning Quarterback.
Jim: Well, Paula, another college hockey season has begun, which also marks the return of TMQ, our national look around college hockey where we talk about the highs and lows of the past week.
First off, welcome back. I hope you enjoyed your offseason.
But pleasantries aside, we've already had plenty of hockey over the last two weekends that has produced some upset as well as some teams that maybe weren't on people's radars that maybe should be.
Highlighting that list is Michigan Tech. I think many, including myself, wondered if the departure of coach Mel Pearson to Michigan might impact this program that has been one of the strongest WCHA teams in recent years. The answer is that yes, Pearson's departure and the arrival of Joe Shawhan impacted the team.
But all impact seems to be positive.
Michigan Tech won this year's Ice Breaker tournament win victories over No. 16 Union and defending national runner up and tournament host No. 6 Minnesota Duluth. A weekend earlier, the Huskies dropped a tight 3-2 decision to No. 12. Wisconsin.
That's a pretty nice way to start a coaching career for Shawhan and a season for the Huskies.
Paula: It's an excellent start for the Huskies and quite frankly good for the WCHA. That is a conference that has struggled since the reshuffling of leagues five seasons ago, so for the Huskies to bring some hardware to the league as the season begins has to be a welcome thing for everyone in the WCHA.
Another WCHA team that impressed me this past weekend was Ferris State in its split with Western Michigan. After a 6-1 shellacking at the hands of the Broncos Friday night, the Bulldogs came back with a 3-2 win Saturday. Western Michigan emerged as a solid team in the NCHC last season with its third-place finish; Ferris State's rebound win may be a sign that the Bulldogs are capable of improving from their mediocre showing in the WCHA last year.
You mention Michigan Tech post-Mel Pearson, and while I think that the start to MTU's season says a lot of good things about how the team will progress under Joe Shawhan, I think it also says something about the rebuilding that Pearson was doing before he departed – the rebuilding he's now faced with at Michigan now that Red Berenson has retired. The Wolverines went to the North Country in New York State and beat St. Lawrence before losing to Clarkson, a very good sign for a Michigan team that won just three games on the road a year ago.
The flip side of that is that Clarkson effectively swept the Big Ten over the weekend, having beaten both Penn State and Michigan, while St. Lawrence lost both of its games to the B1G foes. The Golden Knights looked pretty impressive in those wins, having been outshot significantly in each game and 68-40 overall, yet sophomore Jake Kielly only allowed one goal for the weekend, an impressive opening for the sophomore.
And what about New Hampshire? To say that I was surprised by the Wildcats' sweep of UMass Lowell would be an understatement.
Jim: You make a good point about the WCHA's out-of-conference record. Since realignment, the WCHA's record winning percentage against other conferences has continued to drop, all the way to a .279 mark a season ago, worst in the nation. The bad news about what you mention is that besides Michigan Tech's two wins at the Ice Breaker and the Ferris State split, the WCHA is 0-for.
Right now, the league's record is 3-7-2 against other conferences, though there were positive signs. Alaska-Anchorage took North Dakota to overtime in back-to-back games, though came away with a tie and loss. Alaska hosted Air Force and played two tight games as well, but still only came away with a tie. Still a lot of hockey to play, but the WCHA will need non-conference wins to get multiple teams in the NCAA tournament in March.
You mentioned New Hampshire, probably the most impressive story of the weekend. Certainly, the team has plenty to play for as this is veteran head coach Dick Umile's 28th and final season in Durham. But I had the chance to watch UNH in their 4-3 win at Lowell on Friday and I have to say the team was impressive. They have made improvements in overall team speed, their defense seems to be playing better positionally and the forward showed an ability to finish around the net. Conversely Lowell, which was probably ranked a bit high based on reputation, didn't display the grit and determination that has become a trademark of Norm Bazin-coached teams.
A quick look at the poll has the defending national champs Denver on top. The Pioneers will look to get their title defense underway this weekend with one heck of a marquee matchup. They will travel to Notre Dame for two games, both of which will be televised nationally on NBCSN. While Denver will be amped up, I'm sure, you have to think that Notre Dame has a score to settle after getting run out of the building by Denver in last year's national semifinals.
A pretty good tilt for this early in the season.
Paula: I love the possibilities that exist this early in the season – that everything is potential. It's impossible to extrapolate from the opening two weekends what the rest of the season may bring, but I do like the way the season has begun. That televised series between Denver and Notre Dame this weekend is as good as it can get in the early going, a real treat for fans.
There are other interesting nonconference matches this weekend, like Wisconsin at Boston College. I'm eager to see how Clarkson fares at Western Michigan and Colgate at New Hampshire, given their respective starts to the year. Omaha at Lowell, too, should be a good match.
I'd be remiss here if I didn't mention how happy Big Ten fans are to see actual conference hockey so early in the season. It's only the third week of the season and we're getting our second B1G series, Penn State at Minnesota.
There's so much to enjoy in this early schedule.
A tip of the cap…
Jim: We need to give a stick salute to former Northern Michigan and Michigan State head coach Rick Comley, who on Saturday night was honored by having the rink at Northern Michigan's Berry Events Center in Marquette named after him.
It's such a fitting way to recognize one of the good guy coaches who led four teams, three at Northern Michigan and one at Michigan State, to the Frozen Four, capturing a national title with each school.
I will always have two great memories of Rick. The first, of course, was his ability to handle the stomach-churning momentum shifts in the 1991 title game against Boston University, which produced an 8-7 triple overtime victory for the Wildcats. The other was pretty similar when his never-say-die Spartans team rattled off three late goals, including the game winner with 19 seconds to play, to upset Boston College for the 2007 national title.
Paula, you must have much more personal memories having covered Rick for a number of years on the CCHA beat.
Paula: I have many fond memories of Rick and so many stories — some I can tell, some I can't. One of the things I've always loved about him is that he is so personable and the teams I knew that he coached picked up on that. He's completely sincere and down to earth, and that was always part of the personalities of the teams that he coached.
Of course, one of my favorite memories of Rick was when Michigan State won the Frozen Four in St. Louis in 2007, but it may not be for reasons that would immediately come to mind. It was after the game, after the post-game press conference, when Rick motioned to me and Neil Koepke, who was covering MSU hockey for the Lansing State Journal at the time, to walk with him back to the Michigan State locker room. He was so incredulous, so jubilant, and he had his arms draped over our shoulders as we walked, because he wanted to share that experience with two beat writers who knew the team well. At that moment, Rick wanted Neil and me to feel as included as possible, to share the joy — and that was a moment that I'll cherish, just for the sheer generosity of Rick's impulse in the moment.
Perspective. That's something I learned to appreciate from Rick Comley.