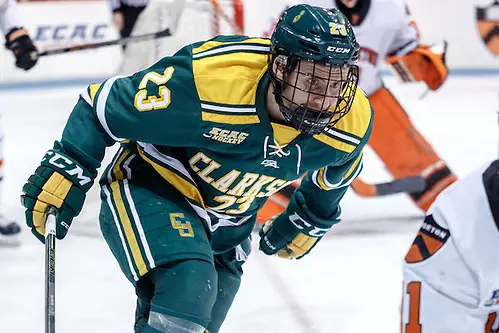 Jake Kielly has picked up where he left off after a stellar freshman campaign for Clarkson.
The Golden Knights' sophomore goaltender only let one goal past him in the team's opening weekend as they hosted Big Ten opponents Penn State and Michigan.
Clarkson defeated the Nittany Lions 2-1 on Friday night, while shutting out the Wolverines on Saturday night 3-0.
"We played some good teams and we had somethings go our way on the weekend," Clarkson coach Casey Jones said. "It was nice to start at home and an opportunity to get off on the right foot. Obviously, we have a lot of work to do. Certainly we are excited about the start."
Kielly, who stopped 67 of 68 shots on the weekend, was named ECAC Goaltender of the Week. Heading into the opening weekend, Kielly was the least of Jones worries as the freshman had a 16-15-5 record with a 2.56 GAA and a .918 save percentage last year.
"He got experience, right?" Jones said. "That's the key. He came out of the gate with experience. He used his first year as a year that he wasn't going to rest on his laurels. He had a good freshman year and he took the positives from that and took the areas he needed to improve on. He had a good summer in terms of his strength. It gave him a chance to get out of the gate properly. He prepared and took critical feedback from his freshman year. He self evaluated properly and it got him off to a good start here in the second year."
The success of Clarkson over the weekend wasn't just because of Kielly. The Golden Knights also received contributions from some players who bounced in and out of the lineup in their careers. Senior Dylan Gareau scored his fourth career goal in the win over Michigan.
Junior forward Marly Quince, who only appeared in eight games as a sophomore, had three points on the weekend.
"We have a couple guys like Dylan Gareau who we think is a really good player," Jones said. "As a senior, he has put himself in a situation to have success much like Marly Quince, who's a junior. They prepared properly; they have been banged up in their career. Sometimes it's misleading the games they have played, but we are expecting some of those guys to add some offense. Marly had a great weekend and he's someone who's anticipated on producing. Maybe it has taken him a little bit longer than expected to get him where he needed to be to contribute."
Jones thinks the defense is the strength of the team as they return majority of the defensemen from last year, despite losing James de Hass to graduation. In addition to Quince's three-point weekend, Terrance Amorosa won the ECAC Defenseman of the Week honors as he had a goal and three assists on the weekend.
The Golden Knights travel to Western Michigan this weekend before hosting UMass Lowell and Providence on Oct. 20-21 before heading to Minnesota for two games on Oct. 27-28. Jones says early trips are key for the team.
"It's a longer trip; it will allow us to spend together as a team," Jones said. "Like I said, we have a good group of young bodies. It will give us a chance to get to know each other a little better. We are anixous to get there, the first trip of the year is always exciting. Obviously, going to a tough place to play, Western (Michigan) is a good team, it's a tough place to play."
Raiders are cautiously optimistic
Colgate is off to a good start to the season with a win over Niagara on the opening day while getting a win and a tie over the weekend against Merrimack.
Coach Don Vaughan, while happy with his team's start, knows his squad has only played three games of a 34-game schedule.
"It's a long way to go; we are still a work in the progress," Vaughan said. "I liked our compete level for the most part. I thought we got better as the weekend went on. Merrimack came at us really hard both nights. We responded, we kind of bent, but we didn't break a couple of times in our own zone. Colton Point played really well. He was probably the best player for us both nights. We competed the way we think we need to compete, not as hard as it's going to be down the stretch, but for a really young team, it was good to see."
Point, who spent his freshman season as an understudy to Charlie Finn. Now he has the keys to the crease as a sophomore. The 2016 fifth-round draft pick of the Dallas Stars is picking up from his last six starts of his freshman year.
In that stretch, he had .916 save percentage.
"I think he saw the attitude you have to take, not only in games, but in practice in terms of preparation and all of that," Vaughan said. "He had a great summer knowing that it will be his job for the taking. He came in really good shape. He was ready to go from the outset."
So far this season, the Raiders have received contributions from their younger players. Sophomores Jared Cockrell and John Snodgrass each had three points. Cockrell had three goals and Snodgrass had three assists.
Freshman defenseman Nick Austin won ECAC Rookie of the Week honors with his two goals on Saturday night. Vaughan said he has liked the assertiveness Austin has shown to make plays in the early going.
Relying on the younger players, especially the sophomores, will be the key to the Raiders' success in 2017-18. In all, they have 17 freshmen and sophomores.
"We will have to continue to rely on it," Vaughan said. "I don't need to say this, but it's early in the season, right? We are really young into the year, but we are going to need contributions up and down the lineup. We are also getting some good senior leadership as well from our captains (Mike) Panowyk and (Evan) Petersen. (They) have done a nice job bringing this young group along, getting our freshmen acclimated quickly because we know we are going to need them."
Both players also have found the score sheet this season as Petersen has two assists and Penowyk has a goal.