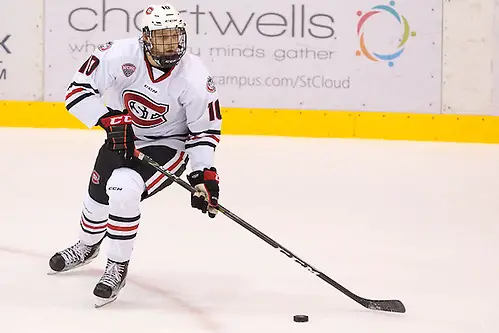 Coming into the season, the expectations were high for St. Cloud State, who was ranked ninth in the USCHO.com preseason poll after not finishing last season ranked.
St. Cloud opened on the road at No. 18 Minnesota State on Saturday, and posted an impressive 4-0 win.
Before the season, coach Bob Motzko said he hoped goalie Jeff Smith could start the season with the form he showed in the second half last year, and he certainly did that, turning aside 42 shots.
"I think I said this to you last week a couple of weeks ago that the second half of last year he grew immensely from the first half and that gave us great encouragement," said Motzko. "I think every player when the season is over they've got their marching orders for what they have to do for the next year, and he came back in phenomenal shape 10 pounds lighter, quicker, but most important a little fire in his eyes. It was very noticeable from the day he arrived back on campus, and we've seen it in practice so after one game, one plus one plus one is three. You just keep adding it up. And he appears to be in a very good spot right now and a much higher level than he was at the end of last year."
The Huskies also got important points and leadership from their experienced defensemen, with junior Jimmy Schuldt getting a goal and assist, junior Jon Lizotte scoring a goal, and junior Will Borgen getting an assist.
"That 'D' corps now does come back with three upperclassmen and everybody knows to lead at an elite level you need upperclassmen that are in your lineup night in, night out, who've been through the battles. Those three guys now have all been pretty darn good in their career with Lizotte, Schuldt, and Borgen, and you've got to throw (Jack) Ahcan in there as a sophomore, and that's pretty encouraging where they're at as a group. They're tough. They've got a nastiness about them. They've got skill and size. It's still early in the season, but it bodes pretty well to have leadership like that back there on the blue line."
If the goaltending and defense is where it needs to be, the forwards could show some improvement. Mikey Eyssimont, the team's leading scorer last season, had to sit out the game due to illness, and the rest of the forwards didn't produce at the level that Motzko feels they need to.
"You know, we did great in our goaltending and in our defensive corps; if we graded them for the night it would be an 'A,'" said Motzko. "Our forwards, it was a C. It was not a great night for our forwards, but we know that that group is going to grow greatly and we have to maybe retool lines and continue to look at different things. I just think that we've got to get better from that standpoint."
This weekend, St. Cloud is home for a pair against Alaska, which opened with a loss and tie against Air Force last weekend. St. Cloud is excited to not only play at home, but to have two games after only playing one last weekend.
"I think we're just excited to have two games where we get some continuity going, get some flow going throughout our lineup," said Motzko. "It's that next step. I don't think I can take it any further than that. It's just our next step in the early season. I think every coach in the country is going to tell you that. We want to establish ourselves at home and in the effort we're going to play at home and the intensity we want to bring. It's another test early in the year for our first home game to put our mark down, put our footprint in how we're going to play at home."
Tigers learn lessons, apply them to get important win
In its first game of the new season, a familiar pattern emerged for Colorado College. The Tigers played a strong game against Vermont, except for a three-minute span at the end of first and beginning of the second in which they gave up three goals in a 3-0 loss.
The next night, CC regrouped and learned the lessons from that mistake, emerging with a hard-fought 4-3 win, scoring two quick goals in the third period after Vermont had tied the game at two early in the third.
"I agree with you in the past we've kind of, teams tied up we've kind of gone the other way and next thing you know you lose 4-2, and you're like, what happened, we were playing well," said CC coach Mike Haviland. "We had something go on in the second period (Saturday). We scored a goal and there was a big delay. (Alex) Berardinelli scored and the goal got waved off and we scored on the very next shift, Nick Halloran scored, but the whole time, the team, I didn't say much. The guys were all saying it didn't matter, who cares, let's go, we just got to continue to play, and years ago that may not have happened on the bench. They've taken accountability to each other, and that's what you need."
In the preseason, Haviland talked about some forwards he expected to take that next step in scoring more consistently, singling out Westin Michaud, Trey Bradley, Nick Halloran, and Trevor Gooch as upperclassmen who needed to become more consistent. All contributed in the win Saturday, with Michaud notching three assists, Bradley a goal and assist, Halloran a goal, and Gooch an assist. Both Michaud and Gooch assisted on what turned into the winning goal at 9:16 of the third by Kade Kehoe.
"Westin, I mean, he is a guy that we count on," said Haviland. "He plays hard. He goes to the hard areas and got rewarded. He did it in the exhibition game, which is the exhibition game, but he had some chances on Friday night and on Saturday he did get a chance to make some plays and guys finished off those plays that he made. And then also he got one. We're going to need him to continue to play like that and everybody to play like that for us to win hockey games."
Haviland was also happy with the play of Bradley, who prior to getting injured last season had started to produce offensively, getting a point a game before getting injured.
"I think that was kind of a breakout game for Trey for his confidence. He was a different player from Friday night to Saturday night. I think in the exhibition game and even Friday night he was a little tentative and kind of you know figuring out, 'Is my shoulder OK, is everything going to be OK,' and then he took a couple hits and all of a sudden he was back to where we had seen him early last year and even his freshman year, which is a great sign for us. He's a guy with Mason (Bergh), they play together with Nick Halloran and we're going to need that line, and that line was very good in responding and kind of setting the tone for the team."
This weekend, CC hosts Alaska-Anchorage. The World Arena has not been a hospitable place for the Tigers of late; last season, they only won one game at home. Part of that is the bigger ice surface, as the Tigers have more grinding players than faster skaters.
"We've tried to address some of that with speed; playing on the big surface, I think we can't let that get into our mindset," said Haviland. "We've got to play the same way we've played. They're very good hockey team; they took North Dakota to overtime twice, they've got a good goaltender. I think we have to make sure we're getting in his eyes, make his life tough. I think this team that we have here, if we can get that first goal we're a different team. We seem to settle into games and have that belief then that we can play; if we play from behind it's a different mindset."
NCHC Players of the Week
Offensive Player of the Week ⸺ Colt Conrad, Western Michigan: Conrad tallied five points in Western's home-and-home split with Ferris State. He scored one goal in each game. In Friday's 6-1 win, he had four points, tying a career high from March 11 last season, notching three assists and a goal; three points came on the power play, and he was named the game's second star. Saturday, he scored on a power play. He also went won 29 of 52 faceoffs on the weekend.
Defensive Player of the Week ⸺ Jimmy Schuldt, St. Cloud State: Schuldt led the Huskies to a season-opening win over No. 18 Minnesota State, scoring the only goal St. Cloud would need during a four-on-four in the first period, and then assisting on St. Cloud's third goal midway through the third period. He blocked four shots and was plus-4 on the night while being named the game's second star.
Rookie of the Week ⸺ Scott Perunovich, Minnesota-Duluth: Perunovich had two points on the weekend as Minnesota-Duluth finished runner-up in the Ice Breaker Tournament. On Friday, he assisted on Duluth's second goal, tying the game 2-2 in a game the Bulldogs won over Minnesota, 4-3, in overtime. On Saturday, he scored a power-play goal to tie the game 3-3 in the third period. He was named to the Ice Breaker All-Tournament Team.
Goaltender of the Week ⸺ Jeff Smith, St. Cloud State: Smith started where he left off last season, stopping 42 shots in a 4-0 shutout win, including 16 in the third period as Minnesota State pushed to get back in the game. He topped his previous high of 41 saves and earned his first career shutout while being named the game's first star.