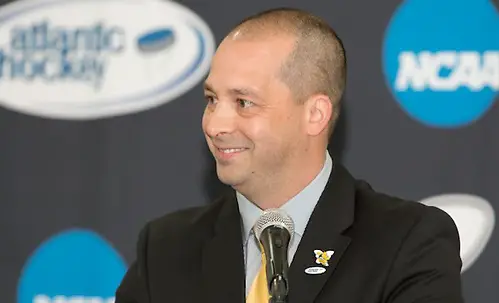 College hockey's first weekend is usually something of a parade lap.
Nonconference matchups dot the first days of the season, with fans and followers getting reacquainted with familiar colors.
Chants and songs shake off summer dust, and the first semblance of winter's cold blows in across the sport's landscape.
For teams like American International and Bentley, however, there was no ceremonial unveiling.
Opening the season with three conference games in five days, the Yellow Jackets hosted Army West Point over the weekend before traveling to play Bentley on Tuesday. This weekend, AIC plays its home-and-home series with regional rivals Connecticut and Massachusetts.
"It's a little bit tough," AIC coach Eric Lang said. "On Saturday night (against Army West Point), we had 13 or 14 young guys in the lineup against a more mature Army team. Then we have Bentley, and we're back at it (this weekend) with five games in 10 days against four different opponents, so it's a little helter skelter. You're relying on old habits and tendencies of years past."
It turned into something of a trial by fire.
Despite outshooting the Black Knights in both games, AIC came away without a point. Three days later, the Yellow Jackets boarded a bus for the short ride to Watertown, where they took a 3-2 lead in the third period before Bentley scored with just over two minutes remaining to earn the one-point split.
"We hadn't seen a minute of Bentley film and went off last year's tendencies," Lang said. "But our preparation is always more about us and playing AIC hockey."
It's a similar message heard across the ice behind the Bentley bench. The Falcons opened their season with that game on Tuesday, integrating young players into a lineup dotted with seasoned veterans. As a result, it was the first time some of Bentley's players saw ice action against players from another school since they didn't have a non-conference game or Canadian exhibition to start.
"We looked at how we could compete and how our attitude and culture was on the bench with who we are on the ice," Bentley coach Ryan Soderquist said. "We're still a young team with a lot of different lines, so we really wanted to find ourselves. Unfortunately, we didn't have the opportunity to have a nonconference game to start to do that."
For both AIC and Bentley, though, the youth of the season juxtaposed against an imperative need for fast starts. A one-point swing is the difference between one or two finishing spots in Atlantic Hockey.
Last year, for example, would've placed Bentley in sixth place instead of eighth. So even though the teams haven't quite formed full-blown identities, there's an overarching message that time runs short on points.
"You have to make deposits in the bank wherever you can," Lang said. "It's tough for us to spoil a point when we were up late. But we get a point in the bank, and nobody can take that back. We'll be fighting for points late (in the season), so ultimately everything is about no regrets and getting those points."
"We left (the game) with a point," Soderquist said. "I liked the fact that we didn't die, that we were down late and tied it up. You can't leave points on the table, and we earned a point late. We wanted two points, but at the end of the day, if we didn't leave with anything, it would come back to bite us. In terms of competing and our work ethic, I liked what we saw."
The converging roads of both critically important games and the unknown of the season's youth don't disappear at the end of the first week. Bentley doesn't play its first non-conference game until November 10, by which it will have already played eight games. 12 of the Falcons' first 13 games are against AHC competition, including two more against those same Yellow Jackets.
AIC might be taking a step away from conference games, but non-conference wins are needed for the benefit of the entire league. This upcoming weekend, the Yellow Jackets play a home-and-home with Hockey East regional rivals. They host UConn on Friday before heading to Amherst for a game against UMass at the Mullins Center.
"We've got an obligation to our league to try and win these games," Lang said. "Our league is better exponentially than it's ever been. Last year we won and tied against UConn; that's the standard and bar for us. Playing both UConn and UMass at home and on the road creates what I call the I-91 corridor games for us (against local opponents)."
Get That Man The Puck
Commemorative congratulations are in order already for several members of the Atlantic Hockey community.
— AIC's Brennan Kapcheck scored his first career goal against Bentley on Tuesday, a power play goal to tie the game in the first period.
— Army West Point's John Laurito tallied his first goal as well, putting one on the board in Friday's 5-1 victory over AIC.
— Sacred Heart's Jordan Kaplan and Marc Johnstone earned their first collegiate points with assists in the Pioneers' season opener against Northeastern.
— Niagara forward Eric Cooley scored his first point with an assist on Keegan Harper's third-period goal, ultimately helping the Purple Eagles to a win over Robert Morris.
— Niagara's win over Robert Morris was the first career collegiate victory for head coach Jason Lammers. He won 75 games over the past two season in the USHL with the Dubuque Fighting Saints.
A Pretty Cool Footnote
Air Force remained in the USCHO.com poll this week after defeating and tying Alaska. Ranked No. 17 to start the season, the Falcons slid to No. 19, but remained on the national radar.
While one service academy remains on the spectrum, the other very quietly made history further down the list. Army West Point earned four votes in the USCHO.com national poll, marking the first time that I can remember both service academies receiving votes.
…I'm not Sidney Crosby
The league unveiled a new postseason championship trophy this week that will be awarded at the conference championship in Rochester, N.Y. The five-sided, two-tiered wood trophy features crossed hockey sticks and a puck at its apex with past champions listed on plates around the base.
It will be named the Jack Riley Memorial Trophy.
It's a pretty sharp looking trophy, though, if you're like me, you won't think about touching it when it makes its way around league arenas after the manufacture of it is complete. You know the rules – don't hoist it until you've earned it, unless you're Sidney Crosby and you've won three Stanley Cups after lifting the Prince of Wales Trophy.
Players of the Week
Hot off the press, here's what Atlantic Hockey offered up:
Player of the Week: Army West Point's Michael Wilson: Wilson had a four-point weekend, including three assists, as the Black Knights jumped out to a weekend sweep over AIC.
Defensive Player of the Week: Air Force's Matt Koch:. Koch had two points in the win and tie over Alaska this weekend, scoring the first goal of the Falcons' season. He blocked two shots in both games.
Goalie of the Week: Army West Point's Cole Bruns: Bruns answered the bell in a big way, stopping 38 shots in Saturday's win over AIC. The Yellow Jackets peppered 13 third period shots in that game while the Black Knights only held a one-goal lead.
Rookie of the Week: Niagara's Eric Cooley: Cooley scored his first point in the Purple Eagles' aforementioned victory over RMU.