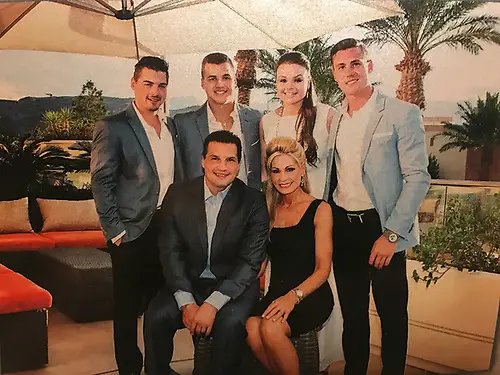 Colorado College freshman Nick Olczyk is handling his first days of college and NCAA hockey and his father's colon cancer diagnosis with strength and determination.
That is no surprise to those who know him and his family.
After all, he learned it from Ed.
"He is Superman to me," the rookie forward said of the NBC sportscaster and U.S Hockey Hall of Famer. "Obviously, it is an awful thing and something that really hits you at the core. But it is something where you say 'We can fight this. We are going to stay positive. We are going to fight the fight and do what the doctors tell us to do and we are not going to stop until this thing is beaten."
The August announcement that shocked the U.S. hockey community was assuaged somewhat by a recent TV appearance by Ed, who displayed the determination his son emulates, only days before his next round of chemotherapy.
Ed is scheduled to return to NBC Sports Network to broadcast Wednesday's Blackhawks-Blues game, NBC announced on Monday.
"I'm going to beat this thing," he said during a Blackhawks broadcast two Saturdays ago. "I'm not going to stop until it's out, and hopefully get that clean bill of health."
That will and determination, the strength of Eddie's wife Diana, who has been a constant now and during her husband's demanding career, has made a close-knit family even tighter.
"This is something that has brought us even closer (as a family) which I didn't think was possible," said Nick, who played in front of his parents on Saturday. They flew out for the 3-1 Tigers' home-opening series sweep against Alaska Anchorage last weekend, only days after last Monday's chemotherapy.
His parents have encouraged the 21-year-old to start his college career this fall.
"There is obviously a little bit of guilt having to come here knowing there are extremely important things going on at home," Nick said. "I think that is normal, but they did not want this to affect my ability to go to college and be a successful student-athlete."
Some of those is how his new team has embraced him.
"The guys and coaches have been unbelievable, which all you can really want," Nick said. "Even before I came to campus, I had a couple guys reach out to me, which was really comforting and great. The support we have had from fans, from family and friends, people we know, people we don't know, people from all over the world really has been incredible."
How Nick — one of four children including sister Zandra and brothers Tommy (former Penn State player) and Eddie, a Bemidji State men's assistant — handles the day-to-day stresses of home, college and sports has impressed those around the NCHC program.
"He is a strong young man," Tigers coach Mike Haviland said. "We ask often if he wants to talk about things and sometimes he opens up and sometimes he doesn't. I know he thinks about (his father) every single day. He likes having the distraction (of college hockey)."
Practice is a refuge.
"I think it has been pretty good because I have been able to keep my mind on other things," Nick said. "School is very important to me. Hockey is obviously very important to me as well so I have been able to keep my head right."
That is a relief to his parents, Haviland said.
"Eddie is very happy he is here and engulfed in everything," said Haviland, a former Blackhawks assistant. "It's just an amazing family. I know Eddie is a battler and I know he will get through this."
Nick, who aspires to be a hockey broadcaster, takes after his father in that manner as well, which has garnered the respect of his teammates.
"First and foremost, the kid is focused on being the best hockey player and student he can be," CC junior captain Mason Bergh said. "He is a great teammate. He works hard on and off the ice be it in the class room or weight room."
Fortunately for Nick, he has someone to emulate in his father.
"Everything he does on a daily basis is something that you can learn from," Nick said. "To have him a phone call or text away means a lot. He has shown an incredible amount of support for my brothers, sister and I even with his crazy travel schedule. This is only something that will make him and us stronger."