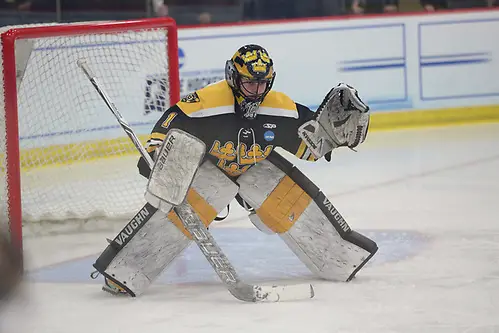 Gustavus Adolphus won the regular season crown, but was upset in overtime by St. Thomas, the eventual tournament winner. The Gusties earned an at-large bid to the NCAA finals and upset Wisconsin-River Falls in the opening round before falling in the national semifinal to Adrian.
St. Thomas won the conference tournament and the conference autobid to the NCAA tournament, but lost to eventual national champion Plattsburgh in the opening round.
The favorites
I expect that this is a race for the rest of the teams to keep up with Gustavus, which seems to be a clear step above the next few teams. That being said, there's a bit of bunching at the top and none of them could be considered dark horses, so we'll go ahead and put this as a four-team competition.
Gustavus Adolphus lost just three to graduation and has the number three goaltender in the nation in Amanda DiNella. She helped them be one of the stingiest defenses in the country, allowing just 1.45 goals per game. They have nothing but confidence after advancing to the national championship game, and it's going to be difficult to unseat them.
Augsburg is sitting just outside the preseason national polls and looks to push its way in early. The early schedule should allow Augsburg to rack up some wins and build a portfolio before they get seriously challenged.
St. Thomas is ranked in the national preseason poll, and though they are without leading scorer Kathryn Larson, they otherwise return a full lineup that isn't going to let the Gusties have the title without having to work hard for it.
Hamline is young, but their rookies shined last season and now have that experience under their belts. Expect them to surprise some folks and be in the conversation late in the year.
The dark horse
All teams should be keeping a sharp eye on Concordia. There's no real easy matchups for anyone this season. Last year's regular season crown came down to the final weekend, and every point will be needed — and hotly contested. If Concordia can keep it steady over the course of the season and let the other teams sort each other out, they might have a chance to be in that final conversation as the season winds down.
Players to watch
Augsburg: Valerie Whichello, defense; Bridget Wagner, forward
Bethel: Wendy Roberts, forward; Natalie Simons, defense
Concordia (Minn.): Amanda Fleming, forward; Emily Goff, defense
Gustavus Adolphus: Amanda DiNella, goalie; Erica Power, forward
Hamline: Bre Simon, forward; Annie Juergen, goalie
Saint Benedict: Julia Carle, goalie; Brigette Miller, forward
Saint Mary's: Natalie Ryan, defense; Jamie Henderson, forward
St. Catherine: Tori Thompson, defense; Laken Muller, forward
St. Olaf: Jane Vezina, forward; Kali McMullen, defense,
St. Thomas: Allie Borgstrom, defense
USCHO predicted finish
1. Gustavus Adolphus
2. Augsburg
3. St. Thomas
4. Hamline
5. Concordia (Minn.)
6. Bethel
7. St. Catherine
8. Saint Mary's
9. St. Olaf
10. Saint Benedict
The Gusties were something of a surprise last season, and both they and St. Thomas are nationally ranked preseason. The top four spots in the conference were separated by just seven points. Gustavus Adolphus has a favorable looking schedule to start the season and won't face St. Thomas or Augsburg until January.