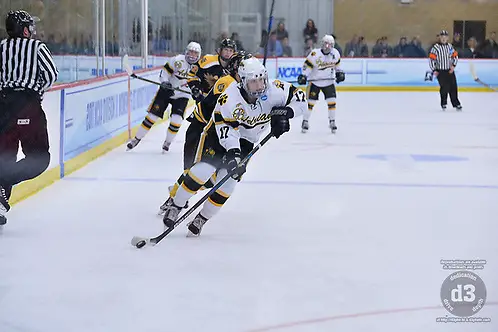 The Adrian Bulldogs suffered just three losses all season in 2016-17 and were undefeated in NCHA play. They won both the regular season and conference tournament titles and advanced to the national championship game before falling to Plattsburgh.
The favorites
I'm bucking the trend a bit here and picking Lake Forest over Adrian, but only by the slightest of margins. Adrian will have to replace five strong seniors who were all All-Conference players, including NCHA player of the year Kristin Lewicki, who led the country with 66 points. In fact, three of the top four point scorers in the country were Adrian Bulldogs who've now graduated.
Adrian starts the season with a tough tournament that won't give the new roster a lot of space for mistakes as they settle in early on. There is still plenty of talent on the roster, and they certainly won't give up the title without a fight, but I have to go with the experience and returning talent of Lake Forest at this point.
The Forresters lost just two players to graduation. They finished ranked ninth in the national polls last season and were in the discussion for an at-large bid until the final weeks of the season as their strength of schedule score was negatively impacted by other teams' outcomes.
The dark horse
St. Scholastica returns 11 of its 12 top scorers and a stellar goalie in Lexi Thomaczek, who handled herself well as a rookie last year. The Saints pushed Lake Forest in the conference tourney last season, forcing not only a third game, but two overtime periods in that mini game before the Forresters were able to knock them out.
With Adrian focused on the larger national prize and stocking its schedule with tough teams and St. Scholastica showing they have the talent to play with Lake Forest, there's clearly room for the Saints to compete for the top spot.
Players to watch
Adrian: Kelly O'Sullivan, forward; Brooke Lupi, forward
Aurora: Olivia Monzel, forward/defense; Marissa Dunbar, forward
Concordia (Wis.): Christina Pattengale, goalie; Lexi Holman, forward
Finlandia: Sierra Meiners, forward; Annah Smiddy, goalie
Lake Forest: Jacque Rogers, goalie; Amy Budde, forward
Marian: Lindsey Strainis, goalie; Ally Fox, forward
Northland: Robin Matula, forward; Amanda Abounader, defense
St. Norbert: Natasha Smith, defense; Selena Stromer, forward
St. Scholastica: Lexi Thomeczek, goalie; Emily Stegora, forward
Trine: Jordan Painter, defense; Molly Scarborough, forward
USCHO predicted finish
1. Lake Forest
2. Adrian
3. St. Scholastica
4. Concordia (Wis.)
5. St. Norbert
6. Marian
7. Aurora
8. Finlandia
9. Northland
10. Trine
Lake Forest has the more favorable schedule, but won't earn near as much as Adrian in the strength of schedule discussion. The Bulldogs have three tournaments with nationally ranked teams on their schedule, which should give them quite a bit of cachet with voters and when it comes down to figuring end of season seeding and polls.