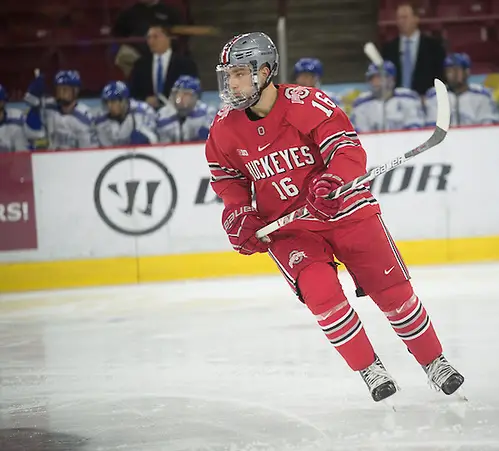 Okay, raise your hand if the Big Ten has exceeded your early-season expectations.
Just me?
I didn't think so.
Six Big Ten teams have overall records above .500 after the first full month of play, and the seventh is an even 4-4-0. The conference is 27-12-3 against nonleague foes with the tiniest of leads over the NCHC for best nonconference win percentage (.671 to .670).
Sure, the NCHC is 5-3-1 against B1G schools so far, but I'm not going to let that undermine my optimism at the end of October.
Neither should you.
The Big Ten went 8-2-0 in nonconference play last weekend, with important sweeps by Michigan State, Minnesota and Ohio State.
"It was a good weekend for us," said Michigan State coach Danton Cole. "We hadn't had a sweep in a while and I think for the guys, it was a good weekend. I thought we did a lot of things well both nights."
It had been since the end of the 2015-2016 season that the Spartans had swept a single opponent in a two-game weekend series. That was a road sweep of Wisconsin (Feb. 19-20, 2016), but you have to go back further in that season for Michigan State's last home sweep, two wins over visiting New Hampshire (Nov. 6-7, 2015).
Last Friday, Michigan State beat visiting Lake Superior State 4-3 before shutting out the Lakers 6-0 the next night. In Friday's win, the Spartans watched a 4-0 lead evaporate late in the game, but Cole said that his team never panicked.
"The next night, 4-0 got to 5-0, which was really good," said Cole. "It afforded us some time in the third period to get a lot of guys a lot of ice time that they hadn't been able to get, which will help us down the line. We've been able to get all of our guys into games now. That's a huge benefit going into the Big Ten season.
"We like the direction, the way the guys are working. We'll find out a lot about our team in the next few weeks now."
Another B1G sweep was Ohio State's two wins over Robert Morris, a nonconference rival with whom the Buckeyes often split. Ohio State won 5-3 at home Friday before a 3-1 win in Pittsburgh Saturday. Ohio State will take a six-game unbeaten streak into this weekend's home series with Notre Dame, a streak that equals that of No. 1 Denver.
"Overall, it was a great weekend for our team," said Ohio State senior Matthew Weis, who had the game-winning goal at 19:00 of the second period Friday. "Everybody played great and that was fun to see. We will get back to work this week with a good Notre Dame team coming to Columbus. We're all excited to play some Big Ten hockey again."
In Minneapolis, the Golden Gophers swept the Golden Knights of Clarkson, 3-1 and 2-1, with more than a little help from the Gophers' power-play unit. Three of Minnesota's five goals were scored with the extra attacker, a very welcome development, given that Minnesota's power play is 46th in the nation, converting at 14.6 percent. The Gophers finished the 2016-2017 season with the fifth-best power play in the country (25.2).
"It's something to build on," said senior forward Leon Bristedt, whose power-play goal in the first period of Saturday's 2-1 win was his first goal of the season. "We weren't off to the start we wanted. We play a tough schedule, but we have high expectations. We want to be a winning program and that's the way it should be."
Minnesota had a sluggish start to the first half of last season, going 4-2-2 in the first eight games and earning the first sweep of the Gophers' season Dec. 9-10, 2016, two road wins over Michigan State.
The Buckeyes are 5-1-2 through their first eight games, exactly their record after their first eight last season, but by the end of the first four weeks, OSU had played nine games and were 5-1-3; the loss and one tie were against Robert Morris.
The Spartans are 4-2-0 through six games. Last year through the first six games, Michigan State was 2-4-0, including an opening weekend sweep at the hands of the Lakers in Sault Ste. Marie in which MSU was outscored 13-4. You have to go all the way back to 2009-2010 for a start in which the Spartans won four of the first six games of the season.
Michigan is 3-1-0 in nonconference play this season and the Wolverines are off to a 4-2-0 start overall, slightly better than their 3-1-2 start to last season. Notre Dame is 4-3-1 overall, all of it out of conference. Penn State is 2-2-0 in nonconference play and 4-4-0 overall. Wisconsin 5-2-0 in nonconference play, 6-3-0 overall; the Badgers were 6-3-0 to start off last season as well.
After splitting with St. Lawrence last weekend, No. 7 Wisconsin welcomes No. 4 North Dakota, the first time these old WCHA rivals have met since the 2015-2016 season.
"There's a lot of great things about both programs, and I think when you get them on the same ice together, it brings back all those memories of those players, of those games, of national championships," said Wisconsin coach Tony Granato. The competition and intensity of those games have always been at a playoff-type of an atmosphere. I know the fans are expecting that, we're expecting that, they're expecting that, and that's why they're on the schedule.
"It's obviously a big game for both teams, kind of seeing where we're both at. We're both teams that have been talked about for national attention in rankings and this will be a really good weekend to see where we're both at."
This weekend will be a really good weekend to see where the Big Ten is, in more than one way. In addition to Wisconsin hosting Minnesota, Michigan hosts Ferris State and Penn State hosts Mercyhurst. It's one thing to watch two top-ranked teams go at it in nonconference play, but it's a real barometer for teams that have been playing well to host teams that have been struggling. Ferris State is 2-5-1 so far this season, and Mercyhurst is 2-2-2.
When it comes to B1G play, it's all pretty much a wash
The only Big Ten series last weekend was Michigan at Penn State, a series that resulted in a split. That is a completely predictable outcome in B1G hockey so far this season, as every conference series has resulted in a split. Penn State sits atop the standings at 2-2-0, while Michigan, Minnesota, Ohio State and Wisconsin are all 1-1-0. Michigan State and Notre Dame have yet to play league games.
Splits are even more predictable for the Nittany Lions, as Penn State has split all four of its weekend series so far this season. In their 5-4 overtime win Friday night, the Nittany Lions came back three times to tie the game, the last time being Chase Berger's goal with 32 seconds left in regulation. Blake Gober scored the game-winning goal 53 seconds into overtime. The goals were the first of the season for both Berger and Gober; for Gober, a sophomore forward, that game winner was the second goal of his career.
Penn State coach Guy Gadowsky was pleased with what he saw in the overtime win and 5-2 loss the following night – a game in which the Nittany Lions also scored the last goal of the night, Nikita Pavlychev's marker at 9:27 in the third.
"I think we are a lot better off after this weekend than any other," said Gadowsky. "We have had some really good wins. It was a good win against St. Lawrence. It was a good win against Minnesota in Mariucci but I really feel that, as a team, we're much further along now after this weekend than we were before."
This weekend, there are two B1G series: Michigan State at Minnesota and Notre Dame at Ohio State.
That first goal is a tough one to get for a reason
In Friday's 4-3 win over Lake Superiors State, Michigan State freshman forward Jake Smith had scored his first collegiate goal, unassisted at 16:52 in the second. Smith, who had 32 goals in 58 games for the Chilliwack Chiefs (BCHL) last season, explained why it's so much harder to score in Division I hockey compared to the juniors.
"The goaltenders are a lot better," said Smith, but he wasn't done.
"Last year, the guys that move onto D-I are the best players and now everyone here is D-I, so they're all the best players," said Smith. "Everything's so much more structured, so you're not having those chances to walk in and walk one off the boards and let one go."
Like so many freshmen at the start of the season, Smith is happy to find the back of the net for the first time. "Once you get that first one off your back, it seems like it comes a bit easier because you're not thinking about it all the time."
Three stars of the week
These are some familiar faces.
First star – Minnesota junior goaltender Eric Schierhorn
Schierhorn (Anchorage, Ala.) led all B1G goaltenders with a .957 save percentage in two wins over Clarkson, allowing one goal in each game. Saturday was Schierhorn's 83rd consecutive start, the most among all current active NCAA goaltenders and a streak that is seventh all-time in NCAA history. This is Schierhorn's first weekly Big Ten award this season, the eighth of his career.
Second star – Ohio State sophomore forward Tanner Laczynski
Laczynski (Shorewood, Ill.) had three goals and two assists in Ohio State's home-and-home sweep of Robert Morris, including the game-tying goal Friday and the game-winning goal Saturday. Laczynski now leads all Buckeyes in points (3-6—9) and his three goals in eight games put him ahead of his pace of 10 in 34 games a year ago. This is Laczynski's second career weekly Big Ten award and his first this season.
Third star – Notre Dame senior forward Jake Evans
Evans (Toronto, Ont.) recorded a seven-assist weekend in Notre Dame's home split with Nebraska-Omaha. Evans assisted on all four goals in Thursday's 6-4 loss with three in Saturday's 5-4 win, including the second assist on the game-winning goal. In eight games, Evans already has 12 assists; combined with his three goals, he's leading the Irish in points. This is Evans' second career weekly Big Ten award, the second this season.
My ballot
1. St. Cloud State
2. Denver
3. Minnesota
4. North Dakota
5. Notre Dame
6. Wisconsin
7. Harvard
8. Providence
9. Clarkson
10. Boston University
11. New Hampshire
12. Minnesota Duluth
13. Quinnipiac
14. Ohio State
15. Penn State
16. Colorado College
17. Minnesota State
18. Air Force
19. Northeastern
20. Michigan