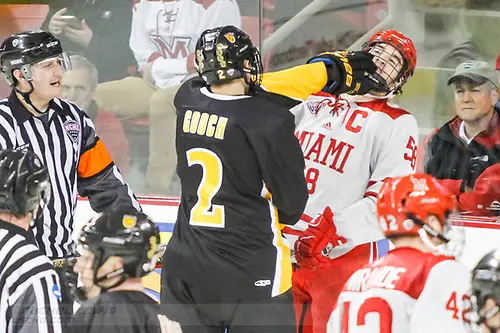 Each week during the season, we look at the big events and big games around Division I men's college hockey in Tuesday Morning Quarterback.
Jim: Down goes Denver! Down goes Denver!
No, I'm not trying to recreate Howard Cosell's famous boxing call. I'm just stating a fact as the former No. 1 team in the country fell not once, but twice this past weekend to Western Michigan.
For fans, this must have been a heck of a series to watch as both nights, the Broncos staged furious late-game comebacks to win. Friday, it was an extra-attacker goal that tied the game 15 seconds before Dawson DiPietro scored the game winner. Saturday, it was five unanswered goals that helped Western Michigan overcome a 4-2 deficit.
Both games were crazy offense feasts, which generally doesn't sit well with any coach. But I'm assuming that Andy Murray is a lot happier with those efforts than Denver's Jim Montgomery.
Personally, the games were eye opening. I had seen Denver demolish Boston College a week earlier and thought the Pioneers looked like a solid top-to-bottom club. But Western Michigan, a team that entered the weekend at .500, certainly exposed weaknesses on Denver's back end.
We've both been around this game for a long time. I know I can say with certainty these are the types of games I saw every once in a blue moon in the early '90s. But in modern-day NCAA hockey, scoring nine goals as Denver did in any given weekend, you wouldn't expect to walk away pointless.
A little crazy, no?
Paula: More than just a little crazy, in my opinion.
First of all, I saw Western Michigan lose to Michigan State a couple of weeks ago, and the Broncos did not look good in that contest. In that 6-4 loss, the Spartans are the ones who came back from behind and scored three unanswered in the third period to rally, the game-winning goal scored with less than two minutes remaining in regulation. Andy Murray said after that game that he didn't think his team was very good in any aspect of its game all night.
The Broncos beat the Spartans 3-1 the following night and then had a bye week, which they apparently used productively. We both know that a team can often learn from mistakes committed in an early-season loss, but to recover so much in such a short span – to sweep the sitting No. 1 and defending national champions – is quite a feat. The fact that Western Michigan scored three goals within a span of 43 seconds Saturday night en route to that sweep suggests that there was more involved than great use of a bye week by the Broncos; taking nothing away from WMU, that suggests some systemic breakdowns from the Pioneers.
The Broncos did look good last season, so maybe their October wasn't indicative of how they'll perform. Western Michigan won 22 games last season and made an appearance in the NCAA tournament, and perhaps they were doubly motivated against Denver as the last time the two teams met was in the NCHC consolation game, which the Pioneers won.
Your point about scoring so much and losing two games, though, is an interesting one. Last season wasn't a good year for goaltending in the Big Ten, so the conference had games in which a given team would score four or more goals in a game and lose, but I can't off the top of my head recall teams scoring as many goals as Denver did in a series in which they were swept.
We emerge from the weekend with two undefeated teams, Cornell and St. Cloud State. Cornell has only played four games, so I don't yet have a lot to say about the Big Red, but the Huskies made quite a statement capping their sweep of Minnesota Duluth with a 5-0 shutout. I'm not surprised that they were the unanimous pick for No. 1.
Jim: One of the higher-ranked teams that entered the weekend undefeated, though having played just a single game, was Harvard.
And for the Crimson, it didn't take long to suffer a loss. It played a very uninspired game on Friday night against a rival, Yale, losing 5-2 at home. A night later, Harvard rebounded for a shutout win of Brown.
Both of Harvard's wins have come via shutout, certainly a good sign. But it will be interesting to see how this team plays moving forward. You mentioned learning a lesson, and it will be seen in the coming weeks whether Harvard might have learned something from that Yale loss. They had a bad start to that game, falling behind, 2-0. And then after tying things early in the second, you could see the team was a little fragile when a mistake led to the go-ahead (and ultimately the game-winning) goal for the Elis.
If Harvard learned from that game, it could be one of those "good" early-season losses.
The Crimson and Huskies aren't the only teams that we might point to as learning from experience. Union lost its first five games but then won five straight before falling on Saturday at No. 13 Clarkson. RIT was winless in its first 3 but then won three straight.
All of this highlights the importance, though, of turning things around. Slow starts happen. But it's the teams that react and respond to this starts that tend to develop a level of resilience that can be beneficial later in the year.
Do you agree?
Paula: Absolutely.
We've seen repeatedly how teams in ruts early on can turn things around. Every single coach would say that he wants his team to be playing its best hockey in March, and even teams that have had ruts that have lasted longer than the first half can sometimes get a bounce late in the season and make a run at a conference playoff championship and the autobid that comes with it.
I noticed Union's start as well, Jim. After those opening losses, the Dutchmen put together that string of five wins during which they outscored opponents 22-8 until losing a close game to ranked Clarkson Saturday night. Those six games during which Union went 5-1-0 coincides with the collegiate debut of freshman goaltender Darion Hanson, whose GAA is 1.84. With three of their four next games coming against ranked opponents, including a series against North Dakota, the Dutchmen will show us whether or not that slow open helped them grow enough to be competitive.
Hanson's run also highlights how important a single player can be for a team. Sometimes teams play better in front of one goal or the other when there are two capable goaltenders on the team. Sometimes, a single player can elevate the play of an entire team around him. It's dangerous, though, for a team to ride a single player or a single line all season, I think.
A Tip of the Cap…
Play until you hear the whistle, right @SportsCenter? Payne's score in a 4-1 @NMUHockey victory over #9 @msumavericks! #SCtop10 #ShareNMU pic.twitter.com/8M4QMj9Df3

— NMU Athletics (@NMU_Wildcats) November 5, 2017
Jim: … to Northern Michigan's Robbie Payne.
Payne's shorthanded goal, which ended up being the game winner, on Saturday against then No. 9 Minnesota State, was the ultimate definition of "play until you hear a whistle."
Paula: Play until you hear the whistle and puck awareness — lessons for everyone on the ice during that sequence. How fitting that the goal was literally the difference maker in the game.