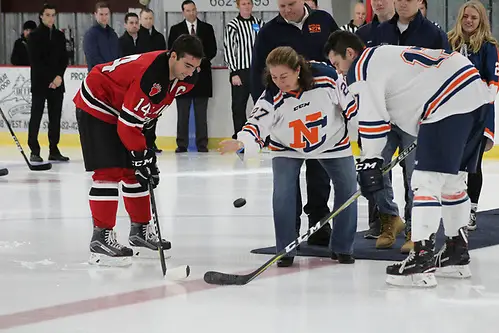 Nine minutes remained in Northland's game with Lake Forest, and the Lumberjacks were staring up at a 2-1 deficit.
Maybe if this was just another night, the outcome would have been a loss. But this wasn't just any other night. This was an evening set aside inside the Civic Center to honor a fallen teammate. Chris Morgan was killed in a tragic hit-and-run over the summer while walking home from a graduation party in his hometown. Morgan's family was in town for Friday's game against Lake Forest, taking part in a ceremonial puck drop. Chris' brother gave an emotional speech. The jersey of Chris was retired into the rafters.
So with so much emotion built up, with so much desire to honor a player who was beloved by his teammates, the Lumberjacks refused to lose.
Northland scored four goals to close the deal on a 5-2 win.
"It was great to get that win for us, for his family, and it meant everything to get that win," Lucas DeBenedet said. "Even when we were down 2-1, we knew we had this, and we knew Chris was with us the entire time."
The win was the first of the year for Northland, which sits at 1-2-1 on the year. Seamus Gregory called the night to honor Morgan another step in the healing process.
"To be with his family and see the emotion of the players, and even the whole community, it was something very special to our program and his family," Gregory said. "To get the win on top of that was just extra special for everybody."
Northland is hoping for another special season. The Lumberjacks won 11 games last year, an improvement from the seven wins a season earlier, and they made the NCHA playoffs.
Expectations are even higher this year.
"This year we are hoping for at least 15 wins, and we'd love to be able to keep the losses in single digits if we can," DeBenedet said. "We have a lot of returning players, a lot of guys who played a lot of games. It's definitely going to help."
If Northland is to take the next step, the little things will be vital to success. Last year was great, but no two seasons are ever the same.
"We need to continue to grow and continue to take these little steps forward," Gregory said. "Winning and losing comes down to the little things. We have to win those one-on-one situations, get in front of shots and block pucks, win the battles on the boards, and I think once we are on the same page with that, we are going to be a hard team to beat."
Life in the NCHA certainly isn't easy. This is a league that features two of the premier programs in the nation in Adrian and St. Norbert. The rest of the league is pretty good, too, with Milwaukee School of Engineering nationally ranked and St. Scholastica receiving votes in the latest USCHO poll.
But Northland believes it can be one of the top teams in the conference, and DeBenedet is proud of how far the team has come in his three seasons.
"We've come a long way from my freshman year," DeBenedet said. "Everything is coming together. We're looking forward to the rest of the season."
Gregory can't wait to see where things are headed either.
"We have gotten great fan support, and it's an exciting time," Gregory said. "It's one of those things where we have to continue to work hard. We are in a blue collar town, and we don't have a flashy rink, but we are who we are, and that has made a difference. We want to grow and build off that."
MIAC
Augsburg is one of two unbeaten teams in the MIAC. The Auggies are off to a 4-0 start and have outscored their opponents 16-6, with a total of 16 players having goals or assists this season. Luke Dietsch and Nate Flynn have led the way, with Dietsch scoring two goals and dishing out three assists to tie for the team lead in points. Flynn has punched in three goals and has tallied two assists for the Auggies, who have shown they can be as balanced as anyone in the country on offense. There is actually a three-way tie for the points lead, as Chandler Madry has come up with a goal and four assists.
WIAC
Wisconsin-Eau Claire has won its last three games after dropping the opener to Lake Forest, and their success is partly a credit to Camden Haugenoe. The talented goalie recorded his first career shutout in an impressive 7-0 win over Hamline Saturday, and he stopped 30 shots in a 6-2 win against Bethel Friday. Haugenoe is only a freshman, but he certainly isn't playing like it. In four starts, he has three wins and has a save percentage of .935. He has allowed seven goals so far. He's gotten a lot of offensive support as well, with Wis.-Eau Claire tallying 16 goals. Five different players have scored at two goals.