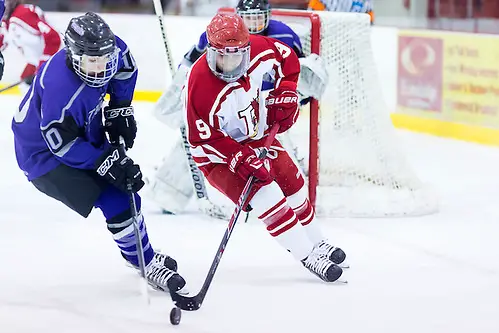 The Plattsburgh Cardinals are the four-time defending national champions. Over those four seasons, they have amassed an astounding 111-5-4 record. Until they prove otherwise, every D-III women's hockey conversation has to start and end with Plattsburgh.
They take the ice this year with eight freshmen and four seniors, including two of the top scorers in the country last season. Coach Kevin Houle enters his 15th season as Cardinals' coach. They're an interesting mix of veterans and rookies, and they are all working to continue the legacy.
Despite the fact that senior Melissa Sheeran said the team always knows that no number of national championship trophies make a difference on the current season, it's impossible to deny that there's an immense amount of pressure that comes with playing at Plattsburgh.
The Cardinals' dominance is awe-inspiring from the outside, but freshman Madison Walker assures that it's no less awesome — or intimidating — from the inside. And getting recruited to play on the team — and finally getting to put on the Plattsburgh sweater — is literally indescribable.
"I remember visiting and being utterly shell-shocked walking into the rink. It's that awe-inspiring moment," she said. "I would love to be able to describe it to you, but honestly I can't describe the feeling I had. Even on media day, seeing the jersey hung up in the locker room is just a feeling that I will never be able to forget."
Though there are incredible expectations and an immense amount of pressure that come with joining a squad as prolific as this one, Sheeran said it gets easier. She knew the program's history when she got there and knew that it spoke for itself. The freshmen are so focused on not being the weak link that she said upperclassmen don't have to worry too much about them. The veteran players help the rookies transition, but the rest seems to take care of itself. As for the veterans, they find that everything gets easier as time goes on and they become more comfortable in their roles.
"I think I've become more calm, as weird as it sounds," said Sheeran. "Freshman year I didn't know what to expect, and I didn't know what it felt like or what it took to get to that level. I think that as the years have gone by I've gotten more and more calm about stuff like that and going out there and just focusing on hockey."
Though there is plenty of media and outside attention, both players say the external pressure doesn't come close to the pressure the players — and the team as a whole — put on themselves. No player wants to let the team — or the program — down. No squad wants to be the one that fails to continue the dynasty.
"When you get to this level, the pressure comes from within, comes from wanting to win," said Sheeran. "In the locker room, we're a family, and everyone has each other's back. We're all under the same amount of pressure. Because of that, we become closer, and it actually kind of helps us as a team."
That focus away from a single skater  is crucial in helping the freshmen integrate and feel comfortable. Both the coaching staff and the upperclassmen have made the transition to the college game as seamless possible, said Walker. That welcoming environment takes a huge weight off the rookie's shoulders.
"I think it's about making it more of a team and less of an individual," said Sheeran. "We try to make sure they don't get caught up in the number of national championships we've won. We realize that season's over, and we know we have to focus on this season."
Though Walker said the hardest part has been becoming accustomed to the speed of play — so much so that it almost feels like learning hockey all over again — the rest of the transition, on and off the ice, could not have been easier. That helps the freshmen be able to focus only on hockey when the time comes. That ability to be single-minded also helps them feel more comfortable.
Ultimately, Sheeran said one of Plattsburgh's tenets is that everyone has to play like a senior. Inexperience is not an excuse. The team has to be poised and controlled, smart and fast, and they have to do it together.
Whatever the formula is and however the players synthesize it, it's obviously working. The Cardinals began another season at the top spot in the polls, and it would take quite an uprising to move them. Other teams certainly have the talent to beat Plattsburgh, but it's going to take a lot more than that to unseat them.