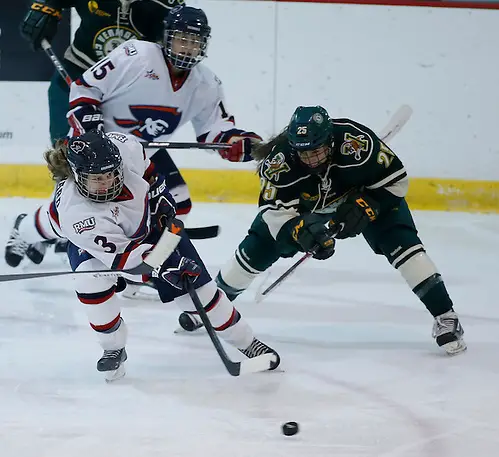 The Robert Morris Colonials achieved a number of firsts for their program last season. They won their first regular season title and their second conference tournament. They also earned their first-ever bid to the NCAA tournament.
But the berth in the tournament was as bitter as it was sweet. Sure, the Colonials would be making their first ever trip to the NCAA's, but they'd be facing number one seed Wisconsin at home in Madison, in arguably the toughest stadium in women's college hockey, where the Badgers have continually strung together long unbeaten streaks. It was a daunting task for Robert Morris, one that ended with a 7-0 loss and the end of a dream season.
At the time, coach Paul Colontino was rather pensive at the postgame press conference about what his team and the program could learn from their first postseason berth and the trip to Madison. Though the coaching staff was focused on last season's team and what they could accomplish, they were also looking at the big picture and hoping to enact lasting change while building a program that's a perennial contender.
If there's ever a silver lining to hauling your team across the country from one small town to another, Colontino joked that RMU is probably never going to find themselves in a tougher situation than they did last season facing the Badgers at home.
It's difficult to gauge the growth of the game in any sort of tangible way. There are teams that upset other teams, and that can show a narrowing gap, but what does building a program and creating something lasting really look like.
"You get a taste; your team gets a taste for the NCAA tournament, and it wants more," Colontino said. "As much as you'd like to deny it or ignore it, for a team that hadn't been to the NCAA tournament, their main goal was 'We want to get there.' Everybody wants to win it, for sure, but for a student-athlete who's very young, sometimes it's about the first step."
The Colonials are back on the ice eight months later, and senior EJ Milne-Price said the team just looks back at the 7-0 result and knows they can do better — that they have so much more to give. Robert Morris cleared, at minimum, the first hurdle. They are no longer chasing firsts, but looking to improve upon what last year's team did. Colontino and his coaching staff are seeing innumerable ways that last season's learning experiences have affected this season's play.
The way that they coach has changed, not because things needed altering, but because the level of skill and hockey sense on the team has grown. Practices can focus on more complex systems, and tougher subject matter. New and different skills are coming more naturally to the players, which gives the coaches and the players more room to focus on other areas.
"The mental mindset shifts from hoping to 'Let's make sure we get there, let's do everything in our power and when we get there, let's win.' Everything gets raised up a notch because you want to take that next step again," Colontino said. "Everyone wants to do a little bit better every single time."
Maybe more importantly, the growth of the program has shown in some of the intangibles as well. Milne-Price said team chemistry and commitment have grown in response to the experiences of last season.
Colontino has noticed a big shift in motivation for his team as well. Though hesitant to accidentally write off the impact of the coaching staff, he said the players are a lot more internally motivated. No longer do they need to listen to the coaches to give them the push they need — they're hungry. The players put faith in Colontino and his staff last season when they were telling the team what was possible, and that faith paid off.
"They really don't need to be pushed that hard because they know what they want to do at the end, and they know that it's going to take a year-long commitment if they want to achieve that goal," he said. "There's more of a taste for what our players want to do. You can really see that and sense it in a large majority of them. It's always on their mind (what they want to accomplish)."
The leadership on last year's team left an impression on Milne-Price. The seniors put a lot of effort into improving the Robert Morris program as a whole, despite the fact that they themselves won't benefit from the payoff. It's an impressive example and one that stuck with Milne-Price. The upperclassmen Colonials are determined to leave the program better than they found it and help create a culture of winning at Robert Morris.
"We're proud of this program and what it represents. (Last year's NCAA bid) really gave everyone a glimpse of what we can do … but now we just want more," she said. "We got a taste of what it's like, and now we just have our eyes set on more and more. We know that we can compete with any team in the country. You're at the rink every day with your teammates, and they become your family. When together you can accomplish things you never would have thought, it's a pretty amazing feeling. We're really excited for this year to see what we can do and surprise some people, hopefully."