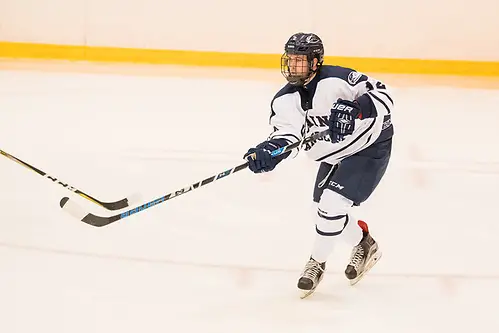 Jim Tortorella has a long and successful history as a collegiate men's ice hockey coach, including stints at Colby College and the University of New Hampshire. Over the off season, Tortorella has come back to the collegiate game as the new head coach at St. Anselm College, succeeding the long-time and recently retired Ed Seney. So, what brought him back? The same passion that burns bright for so many in the coaching profession.
"Being in it for so long and then away from it, you have time for reflection," said Tortorella. "It really all comes down to two things — passion and purpose. I believe so much in both and the focus on teaching young men. It really doesn't matter if you are comparing D-III or D-I or NESCAC vs. the NE-10; players are players and student-athletes are student-athletes. At the end of the day, kids want the environment to play a high level of competition and learn in a strong academic environment. St. Anselm provides a great opportunity to do both in an environment of strong community here on campus."
Taking the job in the off season means that the new coach has largely inherited his roster for the next season. While the experience is somewhat new in that regard, the coaching expectations and establishment of a new culture is something that would need to happen anyway, and so far, the coach is pleased with how his team has embraced new expectations and accountability.
"First, let me say that Ed [Seney] was very successful here and earned a lot of wins and recognition for the school," stated Tortorella. "But with any coaching change there are going to be natural changes on things and a different culture. This is the first time that I have inherited a team, so to speak. I was part of some of the recruiting and building at Colby with Scott Borek before taking over, so there was continuity that is different here. We are changing some of the standards and accountabilities. We have shifted here from a roster size of 32-33 to 27-28. I look at five lines, eight or nine defensemen, and three goalies as being the best roster size to work with. You recruit for guys to fill a roster spot, but then they earn playing time through work ethic and performance."
With a new conference playing alignment this season for all the NE-10 teams and the departure of both St. Anselm and St. Michael's from their long affiliation with the former ECAC East and NEHC, the rumor mills have run rampant with talk about the longevity of the program moving forward. Even on campus, there have been challenges that are front and center for the new coach to challenge and overcome.
"We have a great sense of community here at St. Anselm, and we want to build in and around that," noted Tortorella. "My responsibility is to make the kids look good, feel good, and play good. We have
D-I facilities here on campus, and we want the kids to feel good about the program. Playing good comes from the work ethic and managing of expectations. It is easy to get caught up in results, but as our football coach here says, 'It is about winning and learning.' We want the kids to come to the rink every day and be excited to be there and get better."
So, just what does the coach have on this year's roster? The team has played two official games and a pair of exhibition games. They are 1-1-0, having downed one of the new NCAA entrants from Bryn Athyn and losing to long-time rival St. Michael's.
"I can't tell you today where the strength of this club is right now," said Tortorella. "I don't know if it is in goal, our back-end, or up front, or any combination of them all. We do have some young guys that have some great skills and really want to see how they mature in competitive situations to be significant contributors on the team. It is too early and not enough real-game experience yet to make any significant calls on what we will look like, but I do know that the team is working hard and comes to learn and be better from every practice and every game."
This Friday, the Hawks will battle cross-town rival Southern New Hampshire University for local bragging rights in game one of the three-game season set in the NE-10. It is yet another early season opportunity to build the culture of the team with the new coaching staff. Look good. Feel good. Play good.