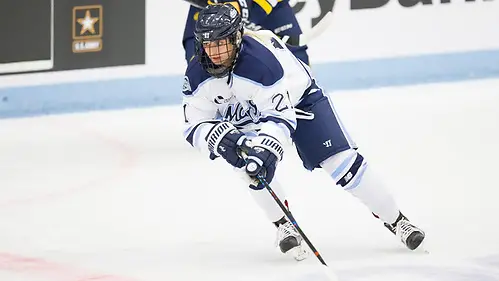 It's been a slow build and transition in Orono, Maine, as the Black Bears women's hockey team looks to become a program of note in Hockey East. In recent years, it had felt like the program had plateaued. There was a lack of consistency, as marquee wins were followed by losses to team well below them in the standings. There had been flashes of promise — like last year's upset of then-No. 5 Boston College and a home sweep of Northeastern — but the Black Bears just weren't able to move past the 10-win mark, something they've accomplished each of the past three seasons.
That may all be changing this year. Just 14 games into this season, Maine is sitting on an 8-5-1 record with wins over then-No. 9 Quinnipiac, No. 10 Robert Morris, Northeastern, Boston University, and Connecticut. Their 3-2-1 conference record has them tied for fourth in Hockey East. It's still November, but the Black Bears certainly appear to be primed for something of a breakout season.
This season just feels different, said senior associate captain Brooke Stacey. Off the ice, a new strength coach has helped the team focus on cardio, nutrition, strength training, and more. As the players have learned to focus more on the small pieces — the process — they've learned to stop looking ahead or focusing on opponents. There's a mentality shift, Stacey said, where the team knows that if they conquer the small stuff, the big stuff takes care of itself.
"That's our mentality this year, and I think it's working rather well," she said.
Improved skills and a better mental mindset have put them in a position to be something of an upstart in Hockey East this year. In a lot of ways, the Black Bears have nothing to lose. The only pressure they have is self-inflicted, and they've got nothing but space to surprise people.
Combine that with their increased strength and you have a team that's aggressive, that battles, and that doesn't give up, said Stacey.
Already, the Black Bears have shown more consistency than they were able to display in seasons' past. They're unbeaten over their past four games and looking to continue to build on those successes.
"Compared to last year, we're being more consistent each and every game; I think that goes along with not really focusing on who we're playing too much and just taking every game and doing our best every day," said Stacey. "I think we have a lot more confidence this year than we've had over the past three years. I think it's a belief that we can beat anyone and just having that mentality on the ice and playing like we're a winning team."
One reason for Maine's resurgence has been reigning Hockey East co-Rookie of the Year Tereza Vanišová. The Czech National led Maine with 28 points on 16 goals and 12 assists. She's well on her way to surpassing those numbers this season — she currently ranks sixth in the country in scoring with 21 points from five goals and 16 assists. After a stellar rookie season, Vanišová played for Team Czech at the IIHF Women's World Championships, scoring five goals in six games. She was named the Czech Republic's Female Hockey Player of the Year.
Though she had a standout freshman season, Vanišová is excited with how much she's seen her team change over the past year.
"I feel like this season is completely different from the last one, and I feel like many of our players have gotten better and have improved themselves," said Vanišová. "We're a better team right now. I feel like we're doing such a better job playing as a team and working together more on the ice. We're strong and so much faster than last year. Our passes are better, and everyone individually is better."
Though Vanišová has been the highest profile international player at Maine, the roster actually has eight players on the roster hailing from countries other than the U.S. and Canada. Freshman Michelle Weis from Denmark is tied with Stacey for second on the team with 12 points, and Vanišová's fellow countrywoman Vendula Pribylová is fourth in scoring for the Black Bears.
That infusion of international talent has fueled Maine and brought a new style and focus to their play. The different culture and languages definitely take some acclimating, but Vanišová said she feels like she's really meshed with her teammates, and they've found that communicating on the ice and learning each other's tendencies is something of a universal language.
Stacey has gotten to see the program changes in her 3.5 years with Maine, and she's loved seeing the transition from the inside, but she knows the Black Bears aren't done yet.
"I think it's just everyone growing with the experience," she said. "Even the coaching staff I think has grown over the past 3.5 years I've been here, and I think it's had an enormous positive effect on our team. I think as a player on this team, every day you grow as a person and as a hockey player, so I think that growing experience benefits (us)."
There's a drive in the Black Bears this season that maybe hadn't been there or hadn't fully coalesced in the past. Stacey calls their style of play aggressive, and Vanišová loves how strong they are on the ice. Those qualities combined with their winning ways have built a confidence in Maine that's impossible to ignore. The team believes in themselves and what they can accomplish, and they're determined to use their newly developed skills to push the rest of Hockey East and carve out a new path for Maine.