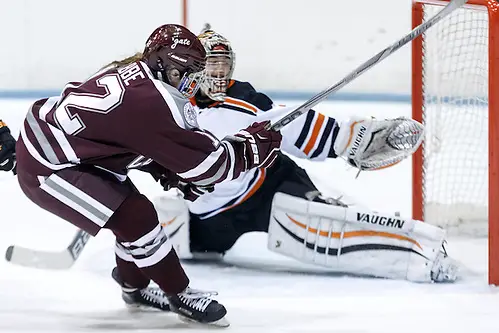 Nicole: There were some surprises and upsets this weekend, but in the end I kind of feel like they evened each other all out. I didn't find this week's outcomes much affected the way I ranked teams when all was said and done.
Cornell and Colgate split their weekend series, while Boston College took a win and a tie away from a home-and-home matchup with Boston University. Bemidji State gave Minnesota all the Gophers could handle, winning one and losing in overtime in the other. St. Cloud State earned two ties against Ohio State, though the Buckeyes took the extra shootout point in each game. Clarkson might have earned the most with two wins over St. Lawrence. It was definitely a more interesting weekend than I had anticipated.
You saw Minnesota and Bemidji State play this weekend. It had looked like Minnesota was putting the early losses behind them and finding their equilibrium, but this loss makes me unsure again. Bemidji has seemed to have Minnesota's number over the past few seasons, but was this loss just that? The Gophers are 4-5-1 at Ridder this year, which seems a bit unfathomable.
You get to watch them quite a bit — what's your take on Minnesota right now?
Arlan: I think Minnesota's record is a pretty accurate reflection of the caliber of the team. The Gophers had won their first five games with Bemidji State and Minnesota Duluth, their two closest pursuers for third place in the WCHA, but they could have fairly easily lost any of those games, including the two overtime wins over the Beavers. They'd won nine straight, and this isn't really the kind of Minnesota team that is going to rattle off a streak of 20 straight or the like, although as you suggested, better Minnesota teams than this one have fallen to Jim Scanlan's team.
Saturday's game, like many that Minnesota has played, was tied in the third period before Bemidji State scored two transition goals within a minute, although the second wasn't ruled a goal until video review. A Minnesota penalty was whistled in the meantime, and the officials got so confused with having to put time back on the clock and still posting the penalty that they forgot where the faceoff was supposed to take place. I've watched a lot of hockey, and I don't ever remember seeing a faceoff after a goal take place somewhere other than the center dot.
Anyway, a lot of people are looking at Wisconsin and Boston College, both of whom are playing without two veterans and a top recruit like Minnesota is and are in their customary spots in the top four, and asking why isn't Minnesota in the top four as well? My answer would be that the Gophers are not the Badgers or Eagles. Maybe those teams were a little better or deeper and better able to withstand the roster hit. The Gophers depth issue has been compounded by the loss of junior forward Taylor Williamson and an injury that has hampered sophomore defenseman Katie Robinson and forced her to miss several games, including the BSU series. That led to Minnesota playing four defensemen for the second straight weekend and has fans asking why Brad Frost doesn't move Sophie Skarzynksi back to defense. The short answer is that he needs her at center even more. To my eyes, the deeper roster on display in Minneapolis this weekend belonged to the Beavers.
I don't offer this as an excuse for Minnesota, or to say that they would be a top-four team if they had better luck. Instead, it's an explanation to casual fans who are used to seeing Minnesota being highly ranked as to why it doesn't have a top-four roster at present.
There has been speculation as to whether Amy Potomak might join the Gophers now that she's no longer part of Canada's centralization roster. I think that they only have eight regular-season games remaining by the time the spring semester starts, so in my mind it wouldn't be worth burning a season of eligibility, unless she doesn't wish to still be playing college hockey during the 2022-23 season, should she make the next Olympic roster. In any case, Frost says she hasn't yet decided whether to start her career in January or wait until the fall. Personally, I don't think that Minnesota is one player away from contending for a championship, even a player as talented as Potomak.
Speaking of talented, the No. 1 Badgers rebounded from their first imperfect weekend with a convincing sweep of UMD. What did you see in that series?
Nicole: Wisconsin looked rather unphased by the loss to Northeastern last week, though to be fair to everyone else, they always look extra intimidating at home in LaBahn in front of sold-out crowds.
No offense to the Badgers, but I'd be surprised if anyone really believed they would go undefeated. In that way, getting that loss out of the way in the first half and not having that looming over them is a bit of a relief. Obviously no one wants to lose, but the longer the win streak went on, the more it would become a thing. Abby Roque talked about the things the Badgers learned about themselves in the loss and about how they responded this weekend, so it seems like the team has taken it all in stride.
The Badgers scored early in both games and then doubled their lead quickly after, which helped make the already difficult task of beating the no. 1 team even more difficult. Minnesota Duluth coach Maura Crowell talked about mentally preparing her 12 new players for playing in Madison and how demoralizing those quick goals can be. Add in the boost the Badgers get from the crowd (they're on a 22-game home unbeaten streak) and upsetting them is a pretty monumental task.
One thing that has to make the Wisconsin coaching staff happy is how much patience their squad showed, especially on Friday. UMD does a great job on defense clogging up the middle, but the Badgers offense took its time, picked windows, and didn't try to force the puck too much. Wisconsin isn't as young as Minnesota Duluth, but the Badgers have their share of underclassmen, and those youngsters showed good growth and maturity this weekend. They were responsible for six of UW's eight goals. The Badgers possessed the puck for most of the first period on Friday, moving it around and forcing UMD into some long defensive shifts.
Credit the Bulldogs with making adjustments for game two — after basically matching Wisconsin shot for shot on Friday, they moved into a more patient look on offense themselves, looking more purposeful and deliberate.
Going back to the game you watched for a second, what are you seeing from Bemidji State that you liked? It's year four for coach Jim Scanlan, so we're seeing the players he recruited and the team is fully acclimated to his coaching style and systems. With the exception of St. Cloud State and UMD, all their losses are to ranked teams. Are we seeing an improving squad that's just had a tough schedule? Or are they still a few years off? What is it about the Beavers that always seems to trip Minnesota up?
Arlan: Brad Frost commented after Friday's game on just how far the Bemidji State roster had developed under Scanlan. He pointed out how the speed and strength of the Beavers has improved, and that their length makes them harder to play against because they are able to take away space. To be sure, that doesn't apply universally to BSU's roster; nobody is going to look at freshman defenseman Tina Kampa and use "length" in describing her.
I think that we would have a different impression of both the Beavers and Bulldogs if they still had Brittni Mowat and Maddie Rooney, respectively. Because the goaltending isn't quite at the level of last season, we judge the roster as a whole to have regressed.
As for why Bemidji State does so well against Minnesota in particular, I think the foremost one is that stylistically, the Beavers match up well against UM. They are patient and willing to bide their time defending, waiting for a mistake so that they can counter. Minnesota is willing to risk a bit more in an effort to score, and Bemidji is adept at using the Gophers' pressure against them. A team like Wisconsin may be more willing to play most of the game in the Beavers' zone, and if the game ends with a 0-0 tie, so be it. That counterpunching strategy may not serve Bemidji State as well against some lower-ranked opponents, when the onus falls on the Beavers to initiate and prove that they are the superior team.
Another thing that Bemidji has going for it versus Minnesota is that it has a number of players who grew up in the Twin Cities. It is only natural that they would want to play well and triumph against what is essentially their home-town team. To be sure, there are a number of rosters where this applies, but it certainly does to the Beavers as well.
There is likely a bit of a rivalry growing here as well. It is tough to have much of a rivalry if one team always wins, but of late, the Beavers have had some success against Minnesota more often than not. Bemidji State and North Dakota was developing into a passionate rivalry, and now that UND has abandoned its program, BSU will likely point its enthusiasm in a different direction. UMD and Minnesota are likely targets.
Speaking of rivalries, there were a number of those squaring off. You mentioned some, and in addition, Clarkson swept St. Lawrence, and Mercyhurst got a split at Robert Morris. Did any of these results stand out to you?
Nicole:  I think I expected the split from Colgate and Cornell and BU is always a threat to mess with BC just because of their rivalry, so I the other two results are probably the most interesting. I continue to keep one eye on what Victoria Bach is doing for the Terriers. She and Rebecca Leslie have been on a bit of a tear, and that spark could make a big difference for BU. They're four points out of third place in Hockey East, and they'd obviously like to be hosting when it comes to conference tournament time.
Mercyhurst is a proud program with a lot of history, and they've lost the pretty significant grip they had on the CHA. That being said, there's a reason coach Michael Sisti has the second-most wins in all of women's NCAA D-I hockey. Even if this is a down year, I like seeing the fight from the Lakers. It's unlikely anyone but Robert Morris will emerge from the CHA this year, but that win is something for the Lakers to build on. While the emergence of Robert Morris is one of those encouraging signs of growth for the game, it has come at the hands of a diminishing Mercyhurst program. It's better for everyone if there's more quality of play and competition in the CHA, and I hope the series Mercyhurst just had is a sign of some really great things to come.
The weekend sweep of St. Lawrence was a great statement for Clarkson, who'd lost two of the last four games. The wins actually completed a regular season sweep of the Saints and helped the Golden Knights keep pace with the rest of the top of the ECAC. Cornell, Clarkson, Colgate, and Quinnipiac are all tied with 12 points, though the Bobcats have played two more conference games than the other three. Clarkson also moved back up to third in the national polls after those losses had moved them down a bit. Fair or not, it felt like some of the national attention had drifted away from Clarkson, and the convincing wins and season sweep of St. Lawrence certainly help their case. With so many ranked teams in the ECAC, there are plenty of quality win points up for grabs. While Cornell and Colgate split their series, Clarkson owned theirs and controlled their own destiny.
Another interesting series for me was Ohio State and St. Cloud State. Rud is another coach fairly early in his tenure and the his Huskies have pushed — and beaten — some very good teams in recent years. Earlier in the season, the Buckeyes swept SCSU with two 4-0 wins, so there's also something to be said about the Huskies being able to get the ties in Columbus this past weekend. Do you think we'll see the kind of growth for St. Cloud under Rud as we've seen at Bemidji with Scanlan?
Arlan: I think we'd all agree that Scanlan inherited a better roster at Bemidji State than did Rud at SCSU. I spoke with Rud early on in that season about what type of style he'd like his team to play, and he said he would favor an up-tempo style like the Colorado College teams featured when he was on staff there. That makes sense, given that both teams play on big sheets of ice conducive to hosting a fast-skating team. Good luck playing run-and-gun with his first roster at St. Cloud, where his top returning scorer was coming off a 12-point season, and it dropped off quickly from there. Having Molly Illikainen transfer into the program helped, no doubt, but now she's gone and every year the Huskies seem to be in the same predicament. Where will they find enough goals to win games?
That was certainly the problem early on this year, when they were shut out five times in the first nine games, and to their credit, they won the four games where they did score. St. Cloud followed that stretch by losing seven straight, including getting blanked three in a row, but they seemed to find something in the last 10 minutes in Minneapolis, scoring three times in a 4-3 loss to finally end the goal drought. They haven't lost since then, knocking off BSU in a nonconference game and deadlocking with the Buckeyes. Now they get Wisconsin, which isn't a good prescription for a team that only scored twice in Columbus.
Longer term, what do I think of St. Cloud State? I like Rud, and think he's a good fit for the women's game. One has to keep the wins and losses in perspective and be able to spot the effort and growth amid the mistakes. Can the Huskies move up the WCHA ladder? Maybe a rung or two, but I've seen the kind of recruiting classes that Wisconsin, Minnesota, and Minnesota Duluth are landing, and the Huskies will continue to be at a talent deficit to those teams. Freshman Laura Kluge leads them with 12 points, but with Ohio State adding Emma Maltais (23 points) and Tatum Skaggs (18 points), and the Beavers blending in stars in the making like rookies Clair DeGeorge and Mak Langei, St. Cloud needs some young guns just to hang with those teams.
We haven't talked that much about Quinnipiac this year, as the Bobcats just started a modest 5-6-0, but since then they've only lost once in their last eight. That stretch included shocking Clarkson in Potsdam and a stirring comeback, overtime win over a Union team that isn't as easily dismissed as it once was. This weekend, they got a road sweep of Harvard and Dartmouth, neither of whom is what it once was, but nonetheless that's a trip where many an ECAC dream of contention has perished over the years.
What are your thoughts on Quinnipiac? Can the Bobcats secure home ice for the quarters or figure out some other way to advance to the league semifinals?
Nicole: Quinnipiac is one of those teams I can't figure out. For every win against a big opponent, there's a loss or tie to someone they definitely should have beaten. There's just frankly not a lot of room for error this year in the ECAC, and they're giving up points they need to be taking. They have to find a way to get some more offense in conference games — they've actually allowed more goals then they've scored in ECAC play so far. They're a defense-first team, but with all the competition this year, that's not going to cut it. At the moment, they sit ahead of St. Lawrence, but I think the Saints are the team just below them that is most likely to push them for a top-four finish.
Abbie Ives has been very good for them in net this year, and she's not getting great goal support. The Bobcats are averaging just 2.05 goals scored per game and are in the bottom half of all teams on offense. There are just two Quinnipiac players in double digits for total points, and no one has more than Melissa Samoskevich's nine goals. It's just not a recipe for success. They have shown the ability to beat Clarkson, among others, but I think they'll have a tough time holding off all of the bottom of the ECAC in order to get home ice.
Speaking of teams looking to finish in the top of the conference and get home ice, Maine is currently on the outside looking in. They're just a point behind both New Hampshire and Northeastern — do you think they have what it takes to earn that home ice advantage for the Hockey East playoffs?
Arlan: I've been kind of impressed by Maine. Last year, the Black Bears established themselves as a decent team at home, posting a winning record in Orono, but they were an anemic 1-13-0 on the road.
Now, they've improved on both fronts. They haven't lost in their own barn since Oct. 13 to Robert Morris and have a 6-2-2 mark. At the same time, they're above .500 in away games. The Black Bears have also proven to be a plucky bunch. Four times they've lost the opener of a two-game series, and they've bounced back with a victory on each occasion.
How is Maine doing it? Tereza Vanišová has been a huge reason for the rise. She has 30 points already, more than any Black Bear for an entire season since Brittany Dougherty in Maria Lewis' final campaign. With 21 assists, she's making other people better. As she's only a sophomore, I'm excited to see just where her career is headed.
Vanišová's production has translated into team success. Maine has scored 51 times, closing on the 66 tallies it celebrated in 2016-17. Just three years ago, the Black Bears only found the net 54 times. That offensive potential makes Maine a threat to win so much more frequently.
Little is accomplished in the win column in the game of hockey without goaltending, and sophomore Carly Jackson is providing solid minutes in net. She's stopped 92.2 percent of the shots on the cage, and has held her goals-against average to 1.89. The former is in the top half of D-I goalies, and the latter is in the top 10 for backstops from the four D-I conferences.
All this has added up to the Black Bears losing only one of their last 10 contests. They're hot at the right time, because it is all Hockey East play from here. A key sequence looms, as their next four require boarding a bus: at Vermont to close 2017, two at BU, and then a single at Merrimack on Jan. 13. If they can hold their own, they may be set up for home ice come the quarters.
So Maine is my latest dark horse in Hockey East, subject to change at any minute. Has anything out of the ordinary in the ECAC caught your eye, or should we continue to look at a couple of other "C" teams in Cornell and Colgate to join with Clarkson as the power of the circuit?
Nicole:  The more time passes, the more I'm impressed by both of these teams. With the late Ivy League start, I was really putting off getting a feel for Cornell, but I think at this point it's fair to say that both may have what it takes to unseat Clarkson for the conference title. More so than in the past few seasons, Clarkson looks fallible.
Colgate is finding success with their goalie tandem of Liz Auby and Julia Vandyk and great offense from Shae Labbe and Lauren Wildfang. Cornell's Marlene Boissonault continues to be solid in net. They're scoring, they're not losing ground, and they're not going to give up their shot at the title without a fight.
The weekend series was interesting because we had both a low-scoring and a high-scoring game. On Friday, Cornell had just 16 shots on goal and still came away with the win while holding the Raiders to a single goal on 35 shots. Saturday was totally opposite, with a 5-4 Colgate win. They both had to gain some confidence to see how their squads handled totally disparate situations — you never know what the playoffs will bring, and both teams now know they can handle a wide variety of games.
The fight for the top of the ECAC is going to be the most interesting part of the second half of the season, in my opinion. Not only do they all have to take care of business against each other, but they have to be perfect against the rest of the conference because they cannot afford to give up any points in a four-team race.
We talked about Robert Morris and Mercyhurst, but there's not a lot of separation between Syracuse, Penn State, and Mercyhurst for second place in the CHA. What are your thoughts about how that could play out?
Arlan: The CHA is as much of a mystery to me as Hockey East when it comes to points in the standings. Syracuse has just not fired in its out-of-conference games, but it is back in its customary second spot in the league. If anyone is going to flip the script and produce a surprise winner in the CHA, I think we'd have to look to the league's newest coach.
I talked earlier about Maine's Vanišová and what she has meant to her team; Penn State won't have anyone with 30 points under her belt as she eats her Christmas dinner. The Nittany Lions have to find a way to be successful with fewer riches. They've only lit the lamp 20 times through 19 games, so Jeff Kampersal can't feel too bad about owning a 4-7-8 mark overall at the break. It's better in the CHA, where PSU is 2-2-4 and has outscored its opponents by a couple of goals over those eight games.
The future of the offense doesn't look all that bad. Freshman Natalie Heising leads with 13 points, and sophomore Brooke Madsen is next with 11. A couple of other rookies, Katie Rankin and Sophie Slattery, are also in the top five, so if those underclassmen can mature together, there is hope that the offense can become more — well prolific doesn't seem like the right word, so I'll go with existent.
As for the present, the Nittany Lions will live and die with their ability to defend. Senior Hannah Ehresmann has a .924 save percentage, and sophomore Daniela Paniccia is even better at .941. Penn State has yet to surrender more than three goals in a contest this year, and the Nittany Lions turned in two shutouts at RIT for their first conference wins.
The offense is not quite as cold as it once was. After being shut out four times in the first six games, Penn State has only been blanked once in its next 13. The next challenge will be to find the net late and turn some of those games that have produced eight ties into victories.