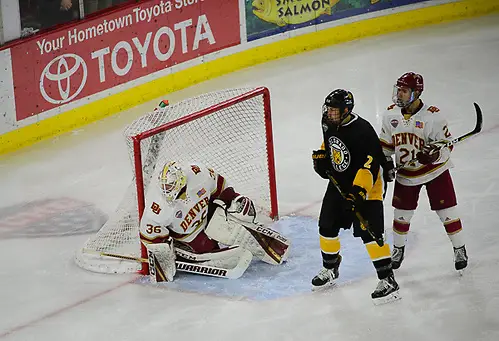 Each week during the season, we look at the big events and big games around Division I men's college hockey in Tuesday Morning Quarterback.
Paula: Well, Jimmy, with the exception of a full WCHA schedule for the coming weekend and a few other scattered games, we're really at the midway point of the season and there are some things developing as they do over the course of a first half, giving us a few pauses, like Boston College's slow start and Notre Dame's run through the Big Ten – but I'm not at all surprised by the consistency that the NCHC has maintained.
Although Denver registered two ties with Colorado College this weekend, I don't see that as particularly damning for the Pioneers. Not only has CC proven itself to be competitive, but the nature of conference play is tricky sometimes, and even top teams can be toppled by other squads with whom they are very familiar.
I'm impressed by Clarkson's play, but I have been from the start of the season, when their total team defense seemed to be solid and in front of sophomore Jake Kielly, who is having a career season with his nation-leading GAA (1.42) and .947 save percentage for third-best nationally. Clarkson's put together an 11-game win streak and earned a top vote in the poll.
Then there is Notre Dame, which I knew to be a good team coming into the season. I never expected the Fighting Irish, though, to plow through the Big Ten and put together a 13-game win streak. They're also benefiting from outstanding goaltending, with sophomore Cale Morris, who is right behind Kielly in GAA (1.53) and leads the nation in save percentage (.953). The Irish picked up a little more support for the top spot in this week's poll, too.
We both know that a hot goaltender can take a team far, but I get the impression that both of those squads are far more than the sum of their netminding. I also wonder, though, about how the break will affect Clarkson and Notre Dame, if time off will have a cooling effect on two hot programs.
Jim: Well, you can be certain that neither Notre Dame nor Clarkson want to take a break right now. Both are simply playing fantastic hockey. The reality is that both Jeff Jackson at Notre Dame and Casey Jones at Clarkson will learn a lot about their teams right now. They'll learn how focused all of their players can be while away from campus, whether they can follow the prescribed training programs through exams and break. And when each team returns to the ice.
For Notre Dame, it's all Big Ten play the rest of the way, heading back to the ice on Jan. 5. In Clarkson's case, it is a single game against Canisius on Jan. 2 and then it's all ECAC play for the remainder. Notre Dame, at 10-0-0 in a 24-game Big Ten schedule feels like it is almost destined to clinch the regular-season title, holding a 14-point lead (remembering, of course, a win is three points in the Big Ten). But Clarkson's cushion isn't as comfortable.
Cornell is six points back with two games in hand. Union is four points back. Each team has one game left against Clarkson. So despite the great start for the Golden Knights, there's a ton of hockey left to play.
On another topic, and usually we lead with this when it happens (but we don't always have two teams riding double-digit win streaks), we have a new number one in the USCHO.com poll. St. Cloud State jumped past Denver after earning a win and tie against North Dakota. St. Cloud earned 35 first-place votes, pretty substantial given that Denver didn't lose this weekend. Personally, I expected more of a split vote. Sure, St. Cloud, Denver, Notre Dame and Clarkson all received first-place votes. I just expected given the circumstances and results that the votes might have been split more evenly.
Paula: I, too, expected more of a split vote. Once again, I cast my vote for Notre Dame – it's that win streak – but I didn't expect anyone else to do so. That they picked up five more votes surprised me.
That Denver only received eight first-place votes really surprised me. As you said, they didn't lose – and I do think that playing a competitive Colorado College is a mitigating factor. Maybe St. Cloud's six-game unbeaten streak as opposed to Denver's five-game unbeaten streak – all in NCHC play for both teams – was something voters took into account. It is interesting, though, that St. Cloud's current 5-0-1 jaunt comes after dropping two straight games to Denver.
Jim: There is one other differentiating factor that voters might have taken into consideration: the PairWise. St. Cloud State is now No. 1 in the PairWise while the two ties dropped Denver to fourth. We are getting to the time of year where we can learn a little about the national landscape simply by looking at the PairWise.
The one thing that stands out is strength of schedule. Probably not too surprising is that the top five strength of schedules all belong to NCHC teams. And after that, Minnesota's schedule ranks 6th and Notre Dame's 7th. We've been saying for weeks how strong both the NCHC and the Big Ten appear to be, and strength of schedule is becoming a proving point.
We've also been harping on how Hockey East, perennially a strong conference itself, is weaker in comparison. That is proved out as you have to look all the way down the list to the 14th strongest schedule to find a Hockey East team, Boston University. For the ECAC, it is even worse as the strongest schedule in that league right now is Clarkson's, which ranks 20th.
Obviously, as I said earlier, there's plenty of hockey to play. But I think as we end the first half of the season, we have a clear picture of which teams and conferences are strong and which are not-so-strong.
A Tip of the Cap …
Paula: … to Maine goaltender Jeremy Swayman, who made 95 saves in the Black Bears' sweep of Quinnipiac. In the first period of Friday's 7-4 win, Swayman faced as many shots as some goaltenders see in an entire game as the Bobcats outshot Maine 23-4. Quinnipiac had a 3-0 lead by the middle of the first, but the Black Bears settled down and Swayman stayed the course for the rest of the game.
Quinnipiac outshot Maine 20-5 in the first period of Saturday's 5-3 win, and Swayman fought off 19 shots in that opening period.
Jim: Those are two pretty impressive wins for the Black Bears, particularly given the fact they were on the road. Maine, over the past two years, has really struggled away from Alfond Arena. Though these are just the third and fourth away from home this year, two wins is a good sign, particularly given that Maine's next six games are on the road.
For Swayman, he has done a lot to turn this Maine team around. He has become the go-to guy in net and has delivered as a rookie posting a 7-3-1 record with a .927 save percentage. I know he'd like to maybe lower his GAA, which stands at 2.58, but when you're facing north of 100 shots in a weekend, it's more important sometimes to focus on save percentage.
This was also a great week for Swayman off the ice as he learned he will head to the pre-tournament game for the U.S. World Junior team along with Boston College's Joseph Woll and Boston University's Jake Oettinger. That pair may have a leg up on Swayman for Team USA as both return from last year's gold medal winners, but if Swayman keeps up the strong play, he'll battle for some time up in Buffalo.