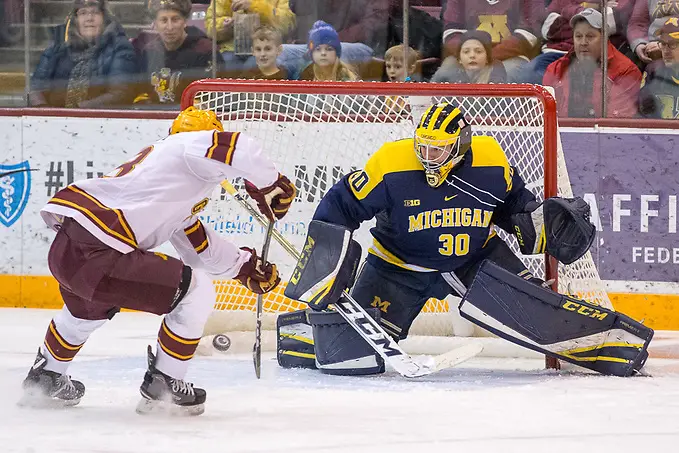 Mel Pearson was singing on his radio show this week.
After the Wolverines swept the Golden Gophers at 3M Arena at Mariucci for the first time since 1977 – the first sweep of the Gophers anywhere since 1991 – why wouldn't Mel Pearson be singing?
The song was "Runnin' Back to Saskatoon," by the Guess Who, and former Wolverine Andrew Merrick (1996-2000) – color commentator for Michigan hockey on AM 1050 WTKA – said, "I don't know this tune."
I can't blame Merrick for that. I'm considerably older than he is, I grew up a Guess Who fan, and I wasn't familiar with that tune, either. Given the context, though, there are probably a lot of Michigan fans who are eager to hear some familiar refrains from Michigan's past.
Pearson himself told Merrick and play-by-play man Al Randall that this was one of his best weekends in his first year as head coach.
"Just the way the weekend transpired," said Pearson. "The team we were playing against, a team that had just come off a big win. They'd beat St. Cloud, which depending where you look is ranked either No. 1 or No. 2 in the country and Minnesota just beat them 2-0 the previous game, so when you look at it, it looks like a very daunting task to go in there and just try to win one game."
The Wolverines never trailed in the weekend, outscoring the Golden Gophers 5-1 collectively in the first period of games. The games marked just the second time that Michigan recorded consecutive wins this season against a single opponent and the first sweep of a Big Ten team.
At home against No. 1 Notre Dame the week before their trip to Minnesota, the Wolverines dropped two 2-1 decisions. In the 5-3 Friday game against Minnesota, the Gophers outshot the Wolverines 27-19. Sunday's 3-1 Michigan felt much more definitive with the Wolverines getting the better of the shot totals, 28-18, and the only Minnesota goal coming on the power play.
This week on USCHO Live! with my good friends and colleagues Ed Trefzger and Jim Connelly, Pearson said that he's been able to see a progression of improvement with his young team, a team that featured eight freshmen and sophomore forwards and only one senior defenseman in the lineup against Minnesota.
"I think things started for us the week before," said Pearson. "We played Notre Dame and we played two real good games with them. That gave our team some confidence. I think we learned how we need to play and how we need to compete. We got good goaltending. Our goaltending's been a little inconsistent to say the least the first half, but our goaltender Hayden Lavigne has really come on. I thought that carried over to Minnesota and we really played well."
Michigan's sweep gives the Wolverines a 3-1-0 record against the Golden Gophers this season and secures for them the Mariucci-Renfrew Coaches' Trophy, which harkens back to the old College Hockey Showcase days and is named after legendary coaches of both programs, Minnesota's John Mariucci and Michigan's Al Renfrew. This hardware returns to Ann Arbor for the first time since the 2009-10 season.
The wins improve Michigan's Big Ten record to 5-7-2-1 and bump the Wolverines to fourth in the Big Ten standings. Michigan also jumped to a tie for 15th in the PairWise Rankings this week. The No. 20 Wolverines will be tested this weekend when No. 12 Penn State visits Yost Ice Arena. The teams split a pair of games in Pegula Ice Arena during the last weekend of October earlier this season, a 5-4 overtime win for Penn State followed by Michigan's 5-2 win.
The losses to Michigan drop the Golden Gophers to 4-9-1-1 in B1G play and put Minnesota three points ahead of last-place Michigan State, the team they're playing this weekend. The Gophers also dropped to a tie for 15th with Michigan in the PairWise Rankings.
Here's to the dog days of January
Minnesota heads to East Lansing for a game against Michigan State (3-10-1-1 B1G) Thursday night before both teams travel to New York City to meet Saturday night inside Madison Square Garden.
It's the Big Ten's third annual Super Saturday, which features a basketball game between Ohio State and Minnesota in the afternoon before the main event of the Minnesota-Michigan State hockey game at 8 p.m.
"I know Madison Square Garden from playing and it's a pretty cool place to go," said Michigan State coach Danton Cole. "I know the guys are excited about it. Everybody's talking about it. For the Big Ten, it's a great thing to get out there. The conference has a footprint out there, but hockey really doesn't."
The event has been very well received in its first two seasons, with many fans making a day of it and taking in both basketball and hockey. Given the footprint to which Cole alludes, the event does garner the league some exposure for hockey.
It's also good for the participants. I thought that the event might be distracting for players, especially at this point in the season, but Cole thinks the timing for the event is perfect.
"At some times at different points of the season, it can be kind of a grind – the dog days of January," said Cole. "Going down to Little Caesars Arena [for the Great Lakes Invitational] was nice and playing in an NHL rink is always great."
Hockey season is long and sometimes when a team is working earnestly to rebuild, the season can feel even longer. John Lethemon's 30-save performance for his fifth career shutout on Friday gave Michigan State a 2-0 win that snapped a four-game losing streak. The Badgers won Saturday's game, 5-2.
"It was good," said Cole. "We played okay since the break. I don't think we've been horrible, but we haven't been great. With the young guys we would rather have been playing through that break."
In the first half of the season, the Spartans had recorded eight wins, one more than they had for the entire previous season. That four-game skid made the first half feel like more than just a little while ago.
"Last week, we played four games in six days after the break," said Cole, referring to the Jan. 1-2 GLI games and the series against visiting Ohio State. "This last week was a good week of practice and I think some of our guys applied what we went over in the series against Wisconsin. Even Saturday, we had a chance. It was a winnable game."
Friday's win, said Cole, was "so much better than just playing well. Moral victories. There's no column for moral victories."
With 11 points, the last-place Spartans trail sixth-place Minnesota by just a game. Cole knows that Minnesota is going to be coming into Munn Ice Arena with added motivation Thursday, but he says that he and his coaching staff are not going to talk about the chance to catch the Golden Gophers.
"What we're pointing at is how we're playing and what we're going through," said Cole. "I think right now we're going to stick to how we're playing. If you do the right things, the results will follow."
The Buckeyes are road warriors
Inside Pegula Arena Friday night, the Buckeyes saw their six-game win streak end as it began, with a loss to Penn State. The 5-2 loss to the Nittany Lions was Ohio State's first loss since Penn State beat the Buckeyes 4-0 in Columbus Dec. 2.
On Saturday, however, the Buckeyes returned the favor, snapping Penn State's 11-game unbeaten streak with a 5-1 decision. Ohio State is now 10-2-1 on the road. The split keeps the Buckeyes in second place in the Big Ten and the Nittany Lions in third.
After Saturday's win, Ohio State coach Steve Rohlik said, "We got beat by a good hockey team last night and we came out here tonight and I think our guys just weren't going to be denied."
The Buckeyes watch as everyone else plays this week.
Good reads for a great cause
The first shift of Travis Roy's college hockey career changed his life forever. In his very first game for Boston University, 11 seconds after he took the ice, Roy became a quadriplegic after going head-first into the boards. That was Oct. 20, 1995, when Roy was 20 years old.
Since that event, my good friend and colleague Dave Hendrickson has written quite about Roy, and all he's written has been collected into a volume called Travis Roy: Quadriplegia and a Life of Purpose, available for purchase here in nall major ebook formats. The book features a foreword by Roy himself, in which he says, "I realize how fortunate I was to spend the first of my life with a passion, thanks to my hockey career. It took me a while to realize it, but now I feel fortunate to have lived the second half of my life with a purpose."
All proceeds for the book go to the Travis Roy Foundation, which raises money for research into cures for spinal cord injuries and provides individual grants to injury survivors.
Travis Roy is a tremendous man, Dave's a great writer, and this is something you'll want to have.
Three stars of the week
It was a really good week for former CCHA teams in the Big Ten. And Notre Dame didn't even play.
First star – Michigan junior forward Brendan Warren
Warren (Carleton, Mich.) had three goals in Michigan's road sweep of Minnesota, including the game-winning goal in Friday's 5-3 contest. Warren's three-goal output in the series equals the total number of goals he had in 35 games last season and double what he has for 2017-2018 (6-4—10), his best goal-scoring season of his career so far. This is Warren's second career Big Ten weekly award and his first of this season.
Second star – Ohio State sophomore forward Tanner Laczynski
Laczynski (Shorewood, Ill.) had five points to lead all Big Ten scorers with a goal and four assists, including an assist on Saturday's game-winning power-play goal. Laczynski (11-23—34) has one more goal and one more assist this season in 24 games than he had in the 34 total games he played last year and he leads the Buckeyes in scoring. This is Laczynski's fourth career Big Ten weekly award and third of this season.
Third star – Michigan State freshman forward Mitchell Lewandowski
Lewandowski (Clarkston, Mich.) had three goals in Michigan State's split with Wisconsin, including the game-winning goal in Friday's 2-0 win. Lewandowski (14-13—27) leads the Spartans in scoring. This is Lewandowski's fourth career Big Ten weekly award.
My ballot
1. Notre Dame
2. Clarkson
3. St. Cloud State
4. Cornell
5. Ohio State
6. Denver
7. North Dakota
8. Providence
9. Northeastern
10. Western Michigan
11. Penn State
12. Minnesota State
13. Omaha
14. Minnesota Duluth
15. Harvard
16. Michigan
17. Boston College
18. Northern Michigan
19. Bowling Green
20. Canisius