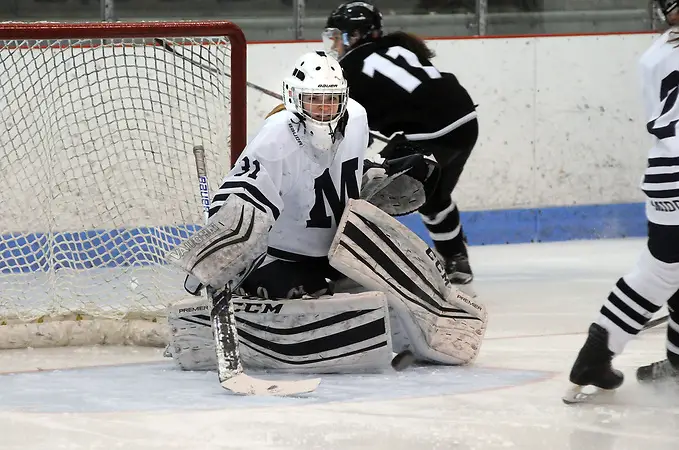 Middlebury is one of the most consistent, successful programs at any level of women's hockey — two AWCHA titles, three NCAA D-III titles, nine NESCAC Championships, and 19 or more wins in 20 of the last 22 seasons.
There may be teams that are flashier, or that make a bigger splash, but the Panthers might be the embodiment of the idea that slow and steady win the race. As other squads move up and down the rankings, Middlebury is consistently in the top 10, having held the no. 6 or no. 7 spot most of the season.
Consistently playing one of the most difficult slates in the country, the Panthers started the year with losses to then-no.3 Elmira and then-no. 4 Adrian before splitting a series with then-no.8 Connecticut College. Since then, they've reeled off a 7-0-1 run.
Over the next 12 days, Middlebury will face both no.1 Plattsburgh and no. 2 Norwich. Playing in the NESCAC, the Panthers play an even shorter schedule than the rest of D-III, and that just means it's not every game that matters, but every quarter and every shift.
"… We have an awareness of that if you want to improve, you have to play really good teams," Middlebury coach Bill Mandigo said last season. "They show you your shortcomings and you learn from your mistakes. Playing good teams is what we try to do. It puts us in a position where have no choice but to learn and get better when you're playing the really good teams."
Freshman Madie Leidt remembers that after one of the early-season losses, in an attempt to soothe the team in the locker room, a teammate said, "We'll get them when it counts." Mandigo's response was that they always count.
Mandigo has won more women's hockey games than any other coach in the history of the game and has 30 years behind the bench at Middlebury. He has one demand of his team: get better every day. Every day, the Panthers' players are expected to bring their best to the ice. It's unsurprising that someone with so much experience brings a cerebral approach to the game and encourages the same in his players.
Leidt remembers Mandigo telling the rookies to pick the brains of the senior class, who'd all been where the freshmen now stood. What Leidt remembers taking out of those early losses is how important it is to take a step back and take that advice. Rookies are often eager to prove themselves. They jump into practice and want to show how invested they are. Leidt said one of the biggest learning experiences she's had so far this season is how important it is to observe the other players on the team.
"I was actually talking to our captain about this the other day; we're all kind of starting to see how valuable it is to do mental training and to set goals and talk to each other about what we can do better and learning to take criticism in good ways that will help the team," said Leidt.
The approach is about the mental side of the game, but it's also about communication.
Middlebury senior goalie Julia Neuberger started 35 games in net over the past two seasons, but this year has played just three games. Despite finding herself in a different and reduced role on the Panthers, she's also finding her seasons of accumulated knowledge are invaluable to her teammates.
In practice, she'll find herself being able to help forwards see how the defense and goalie would line up against their zone entry. She helps them with positioning and finding the open spot. She teaches them how to score on her.
"Being a goalie and being a senior, people naturally want to hear your opinion," she said. "My role has shifted a bit naturally. We all have our own roles."
Perhaps more important than Neuberger giving advice to the underclassmen is that the younger players feel comfortable doing the same to the upperclassmen. Neuberger recalls a game this season were a freshman told her she needed to be stopping pucks behind the net to give the defense a chance to get there and catch their breath. It was something Neuberger knows she should have been doing, and it sticks out to her as indicative of the kind of rapport this team has. Everyone feels comfortable talking to, helping, and learning from one another.
Neuberger said she's never worked with anyone anywhere in hockey who knows the game better than Mandigo. Leidt admitted his long and steady career is part of what drew her to Middlebury -– knowing that he was likely to be the coach for her entire career.
Having access to one of the best minds in the game who encourages his players to think critically about the game from every angle is not a bad reason to pick a school, either.
"I've learned so much about myself as a hockey player from (this coaching staff)," she said. "He knows how to push us to be better, and I think that he pushes us to be better off the ice. He encourages us to talk to each other."
That open communication has been a big part of Middlebury's success as they steadily work to be playing their best hockey come mid-February. There's always something they can learn from each other, and they know Mandigo will be asking them, "Did you get better today?"