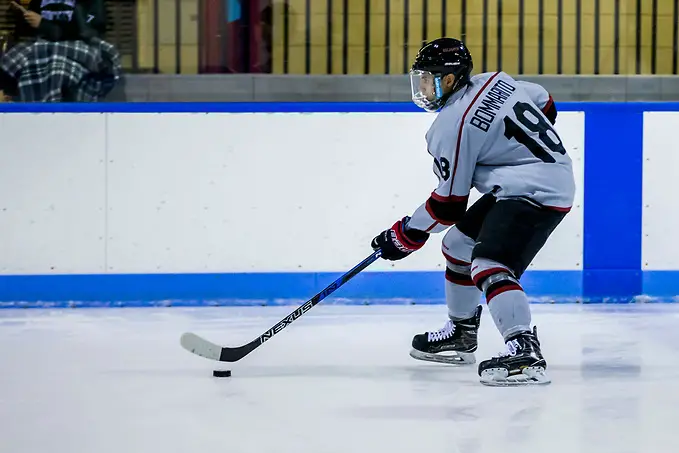 With just four weeks now remaining in the regular season, the focus for every team is to win now and accumulate the all-important points needed for playoff qualification and seeding in conference tournaments. For the Manhattanville Valiants, the road to the UCHC tournament will include a lot of time on the road, as five of the next seven games will be away contests — a challenge their coach believes this team is ready for.
"From first to seventh place, there is just a four-point difference," said coach Arlen Marshall. "There is a lot at stake every weekend from qualifying to seeding and first-round byes. There is a lot to play for. Being in seventh means you missed the playoffs, as only the top six teams qualify. Right now, Elmira sits in that spot, and we saw what a good hockey team they are last week when we played to a 4-4 tie. As far as playing on the road, it is tough to win at home or on the road in this league. We have been good in conference away from our home rink, but we don't do anything different than how we prepare for home games. We have the same routine, but maybe there are fewer distractions for the players when we travel."
The tie with Elmira saw the Valiants surrender a two-goal lead in the third period. While the outcome was not what the coaching staff would have hoped for, the learning opportunity is something they hope will bear fruit in the critical and final stretch run.
"Ties are better than losses, and wins are better than ties," noted Marshall. "So many things have to go right to earn the win, and overall I am pleased with the overall effort in the game. We had chances we didn't finish, and to Elmira's credit, they kept working and took advantage of a couple of chances in the third period to earn that tie. We really need to focus on our game-to-game consistency and avoiding mental lapses that are costly. These are teachable and coachable moments, but you don't want to see those kind of learning moments in late January and February."
One player who has demonstrated his ability to listen learn and produce has been freshman forward Taylor Bommarito. Bommarito has played in all 18 Valiant games this season with a scoring line of 7-6-13. Five of his seven goals have come on the power play, and his coach feels there is still more to tap into in the final month of the season.
"Taylor is a very driven and motivated person," stated Marshall. "His style of play fits nicely into our team and our conference. He has definitely earned his way into our lineup and after that his role on the power-play unit. He has been very willing to listen and learn, and I expect we will lean on him more as we play these final games of the regular season."
This weekend finds the Valiants playing the second go-around with Neumann and Stevenson. The home games earlier in the season saw Manhattanville down Neumann, 5-4, before dropping a playoff-style affair with Stevenson, 1-0. While there is some familiarity, there is also the expectation that each of the teams are in a different place than where they were back in early November.
"These are going to be challenging games," said Marshall. "Neumann hasn't had a home game since back in November, so they will be ramped up to play in their own rink, and Dominick [Dawes] always has his Stevenson squad ready to play hard every night so these games will be true tests for our compete level and efforts needed to earn those valuable conference points. A good weekend and you can be closer to the top, and a bad weekend could mean you are sitting in that undesirable seventh spot."
The expectations are high and the lessons hopefully learned and soon to be applied to that consistency level coach Marshall and the Valiants are looking for. The opportunity to compete for both a UCHC title and a MAC crown are front and center starting this weekend.